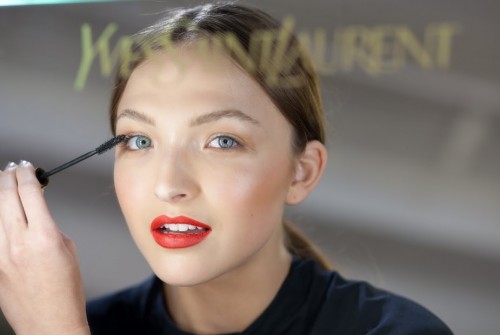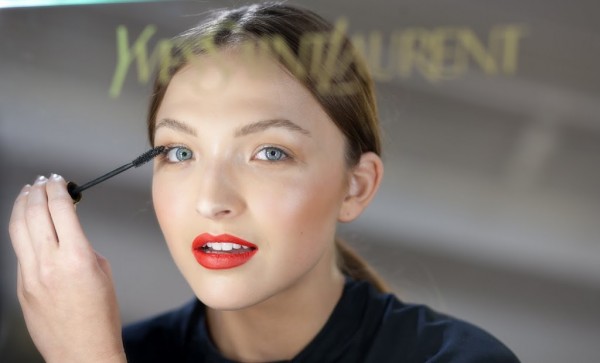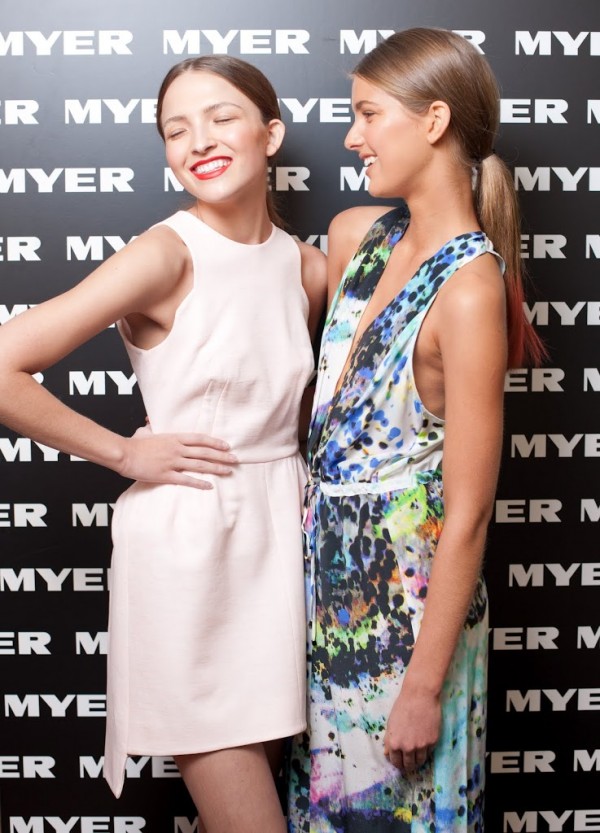 I caught up with Artistic Director Natasha Severino for Yves Saint Laurent, who put together the beauty for Myer's Spring Summer 2013 launch on Thursday. She was kind enough to give me some 'inside tips' on how to achieve these incredible looks.
There are two very distinctively different looks here tonight.
Yes, we have a flash of neon orange, which spasmodically throughout intervals of the parade will come down the runway. Apart from that we have this beautiful bronze and peachy toned sculptured face.
We wanted the makeup to emulate the terrain of the African landscape where they shot the catalogue – such as all the water holes, the rusty sandy desert or the shimmery reflection of the watering holes.
The looks are quintessentially summer
We wanted to sculpture the looks with the bronzing powder and bring the highlights up with the 'dare to glow' and then the two lips, ones wearing the le orange no.13 and the other the no.10 rouge per couture. Two different looks that compliment each other coming down the runway.
What are the key pieces we should be using to translate that into an everyday look.
If you wanted to go down the bold lip avenue what I would recommend to keep makeup down to a minimum. Maybe a gloss on the eye a bit of mascara or a bold cheek, a bold lip – colour should be limited to one place on the face If you wanted to go for a bronzed sculptured look, dont think your bronzer is just purely a bronzer, you can use it on the eyes or mix it into your lip gloss and make a stain with it. The beauty of makeup is that what it is designed for isn't necessarily its only function. That's a really good beauty product when you can use it for more than one purpose.
Biggest tip for a multi-functional product?
YSL's Touche Eclat: you can use it as a concealer, highlighter, to bring light to a tired face- use it under eyes, cheek bones, use it on the brow bone, you can use it on the second lip line and by rimming it around there you are giving the optical illusion of a fuller pout.

What has been your career highlight?
Probably the first time I directed a show for Australian fashion week which was the Romance was Born show four or five seasons ago. That was pretty epic. Assisting Pat McGrath who is obviously one of my highlights and is definitely a mentor and inspiration to me. And the amazing locations I get to go to. I would not have been to half the places I have been to had it not been for my job. I recently came back from India and cannot wait to go back there.

What is in your handbag when your flying?
I carry very little on the plane – lip gloss, YSL eye patches, YSL Touche Eclat plait, refresher and an eye mask.