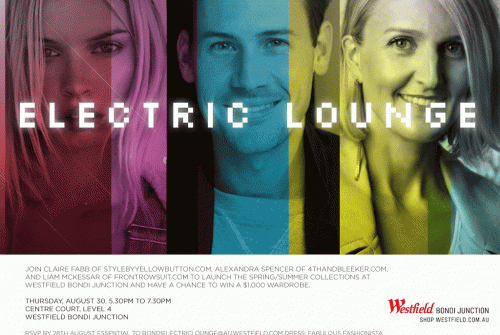 Westfield today launched their Spring Summer campaign partnering with 5 fashion bloggers. I'm thrilled to share with you that I'm one of them.
In fine blogging company, Liam McKesser of Front Row Suit, Alexandra Spencer of 4th and Bleeker, Sarah Willcocks of Style Melbourne and Phoebe Montague of Lady Melbourne and I were asked to create a video or stills-shoot inspired by the theme 'Westfield is my fashion playground'.
I had a ball shooting on a FREEZING cold day down in Bondi and a big thanks goes to Anna and Sarah who were my street models and Shane and Josie for shooting.
If you are in Westfield Bondi or Westfield Doncaster there is an amazing activiation "The Electric Lounge" where you can see more of what we have created, relax in the lounge and interact with each of our sites. (The activation looks pretty fab.)
This is the part where you come in. Next Thursday night there is an event which I would LOVE for you to come if you are free. Here is the invitation and don't forget to rsvp. $1000 schmackaroos for a new summer wardrobe up for grabs!
rsvp: bondielectriclounge@au.westfield.com