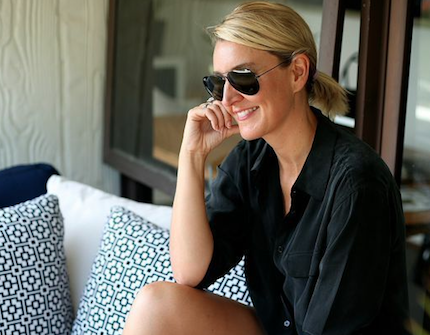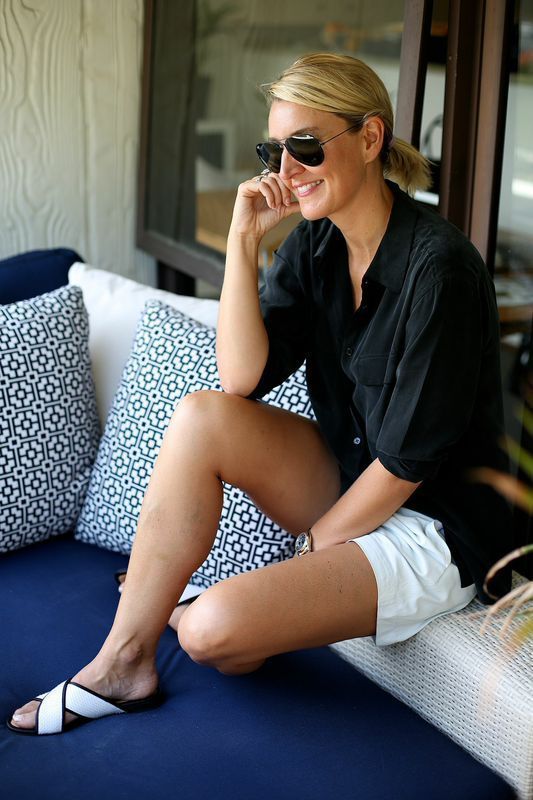 Wearing: Equipment Shirt, THORN Steve McQueen White Leather Shorts, Witchery Slides
There is no wardrobe staple quite like the silk shirt. Completely versatile, seriously classic and never outdated. It's the one item that every woman should own in their wardrobe.
So, what is so interesting about the shirt? What is the current fascination and why does it carry such weight in creating the perfect capsule, well-edited wardrobe? Is it its masculine appeal, its Parisian-esque style or quite simply because it is perennially chic? Personally, the latter is key for me; it's the ever-lasting, classic appeal that has made the silk shirt a phenomenon.
Style icons past and present have legitimised the silk shirt's mark in fashion's history. Cue Katherine Hepburn's signature uniform of silk shirts and high waisted, wide-leg trousers to Lauren Hutton sporting a silk shirt oozing effortless chic. Fast-forward and the silk shirt is reinvented and modernised by Caroline de Maigret whose innate ability to create a statement in a shirt and jean combination comes hand in hand with her cool, Parisian persona. The 60s to the 70s to now, the multi-functionality of the silk shirt is undeniable.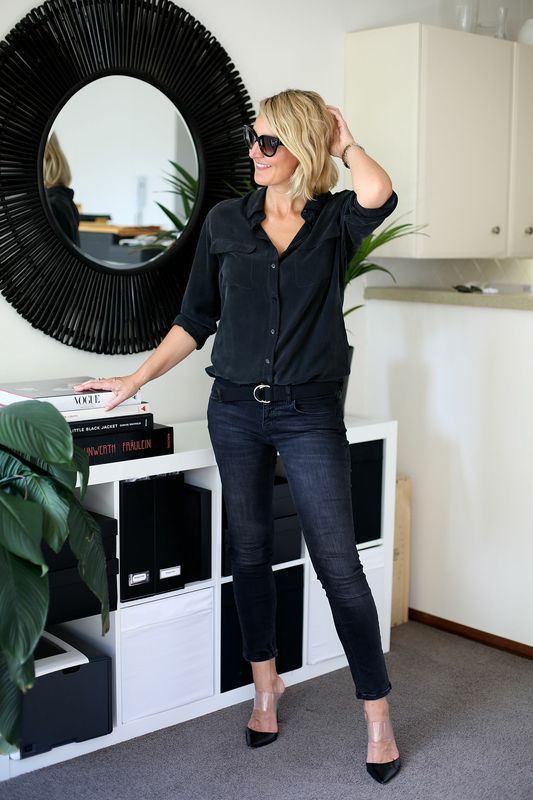 Wearing: Equipment Shirt, J Brand Jeans, Country Road Belt, Gianvito Rossi Mules
Whoever you choose to draw inspiration from when styling a silk shirt, there is one thing that is certain. Whatever you want the silk shirt to be, it will be. Whatever role you want it to play, it will play. Be it casual, effortless, stylish, smart, tailored or masculine. It's the chameleon in your wardrobe.
It's not about having an unrealistic number of items in your wardrobe. Instead, it's about being pragmatic about the pieces you are adding to your wardrobe. Can they see you through all occasions ? Through all seasons? Are they relevant for work wear as well as weekend wear? The silk shirt ticks all these requirements. Worn with denim to leather. Shorts to skirts. Sleeves rolled up or rolled down. Collar buttoned up or otherwise. It's the piece I recommend to every single one of my styling clients.
Click through HERE for my full feature on Vogue Spy Style.