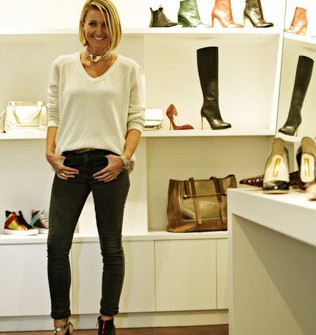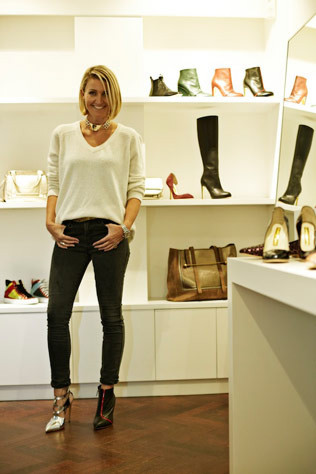 Vogue.com.au #Spy Style
On a perfect London day I walked into the Rupert Sanderson store in Mayfair to interview this accomplished shoe designer. The sunlight was streaming through the windows highlighting the Cinderella creations before me. "Rupert is running a few moments late, would you like to try on some shoes?" Umm…
I was deep in Imelda Marcos mode when Sanderson arrived. We exchanged a few pleasantries, a laugh and then got down to business. Here we chat influences, his late start in design and why his shoes are named after daffodils.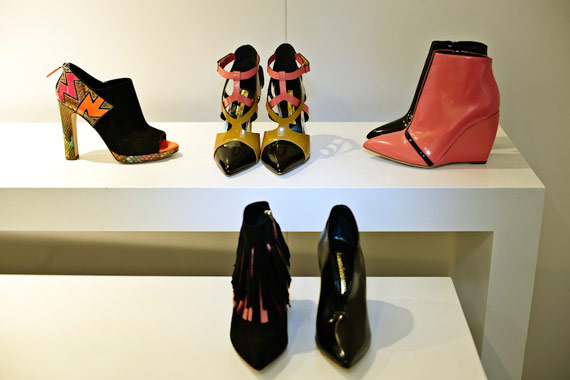 Claire: You started relatively late in shoe design. When and how did you know it was your calling?
Rupert: Well I was working in advertising, which seemed like a good idea at the time but it wasn't really for me at all. I had always been creative and artistic as a child – drawing, painting and making things. I suppose I got sidetracked thinking that's what one did – went to university. One didn't go to art school. So rather dramatically I thought, one thing I've always been interested in is shoes and then I thought why don't I just go and learn how to make shoes. So I went back about four stages by leaving a perfectly good career in advertising to go to college. It could have been an absolute disaster and I would have had to go back and say sorry I've sobered up, can I have my job back? But it wasn't like that at all. Instead I just loved it from the moment I go there. It was almost like a late coming of age. All the stuff I'd been bottling up, suddenly I was allowed to do. I was allowed to make things, design things, create things, ride my motorbike in Italy to go and see factories and I just fell in love with the whole thing. I suppose once you get some momentum and passion in your life things happen really fast. So I went and lived in Italy. I thought it would be nice to learn how to make shoes, men's shoes. And then I went to Italy and discovered there was a whole industry of factories and suppliers that made lots of women's shoes. So I tried to work with as many of them as I could and I set up a year and a half later.
Claire: So if you don't mind me asking, at what age was this?
Rupert: Um, 32. Not too late. Never too late!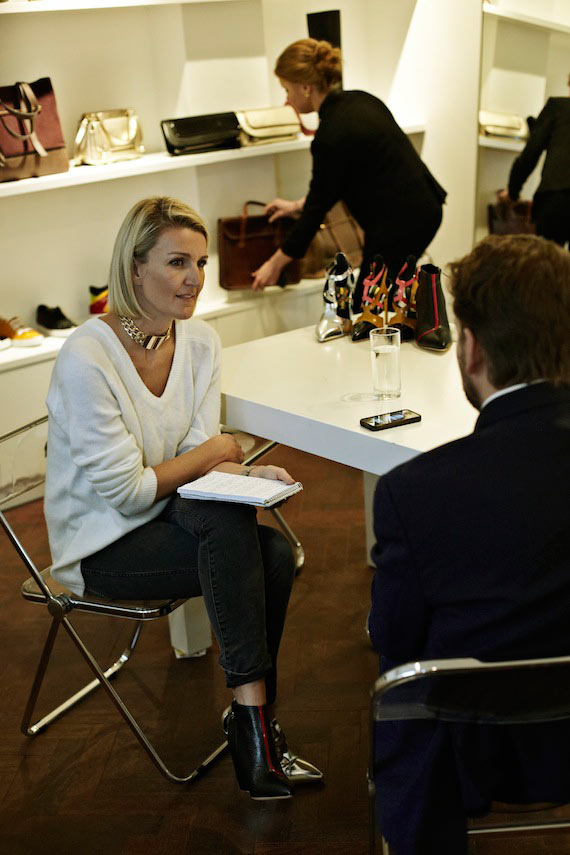 Claire: Your design philosophy is less is more, yet you create some really shoe-stopping heels.
Rupert: Less is more in a sense that there is only one piece of leather and it's cut really sharp and fine and it's not overly embellished. This is my craziest collection ever and actually what I've felt is that I've gone a bit mad and overboard so I'm reining it right back. I'm just more comfortable creating shoes women can wear. My aesthetic is always sort of line, gesture, melody – those things that srt of underpin a good idea, a good design or a good song and you pare it down to the very simple elements rather than going overboard. I think the sort of woman I have in mind would appreciate that, she wouldn't want some crazy concoction that overwhelms her personality. In terms of silliness, you are constrained to certain combinations of colours and accessories. They can be overwhelming. I like to pair things back, like court shoes that are clean. A really high, simple court shoe.
Claire: What moment in time out you on the map?
Rupert: I suppose you neer feel like you're on the map because you're always working on the next stage. You always think the next thing will be really important. I suppose getting some good listings and accounts is important because they can buy anyone in the world and choose to take a risk on you.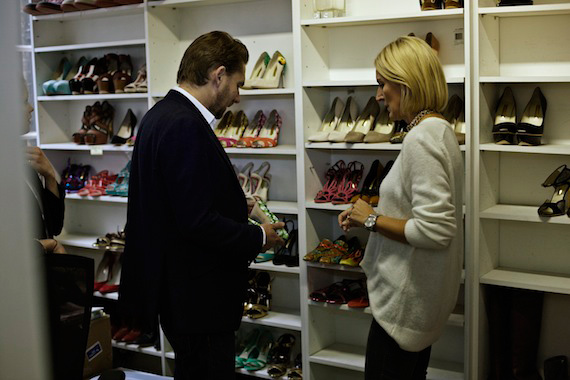 Opening a shop in the middle of Mayfair in London was important. Winning awards among your peers makes you feel like you've done it. You've made a business out of it. It feels like it's all happened so quickly, but it has been 10 years and we have come a long way. There are sort of landmarks along the way. Like buying my own factory. It's an unusual situation finding myself with a factory that I've been working with for five years suddenly in trouble and you think what do I do? Do I go and move everything and get new production and find new suppliers especially when we're doing something so particular? The thought of moving to another factory – I just couldn't afford to let that happen. We had to take a leap of faith and buy the factory.
Claire: Was it a good decision?
Rupert: Yes it was a good decision. It's nice to be there when things are going well. Not so nice when you get a phone call to say it's burnt down! Ha!
Claire: Every shoe has something to do with a daffodil. Can you tell me a bit about that?
Rupert: Well, it was right at the beginning, my first collection. The process of getting your first collection off the ground, like making something for the first time, you're learning everything from scratch. Then at the end of it you say, "Yay, I have six pairs of shoes!" So traditionally you give them all a name and it was only at that time that I had bought a book of a list of daffodil names, there were 18,000 names in this book and i bought it in a junk shop for nothing. There was a light bulb moment. Bing! I know, I'll name my shoes after daffodils.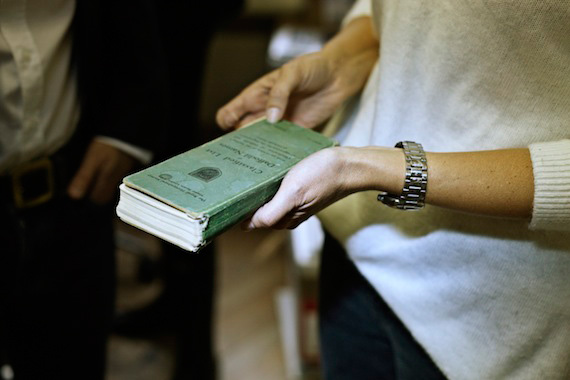 There are the go-to guys in this country for daffodils and they have a show in the spring and I went and saw it a few years ago. We thought it would be great to do something here. So we made a two-metre high shoe out of daffodils for the Bruton Place store.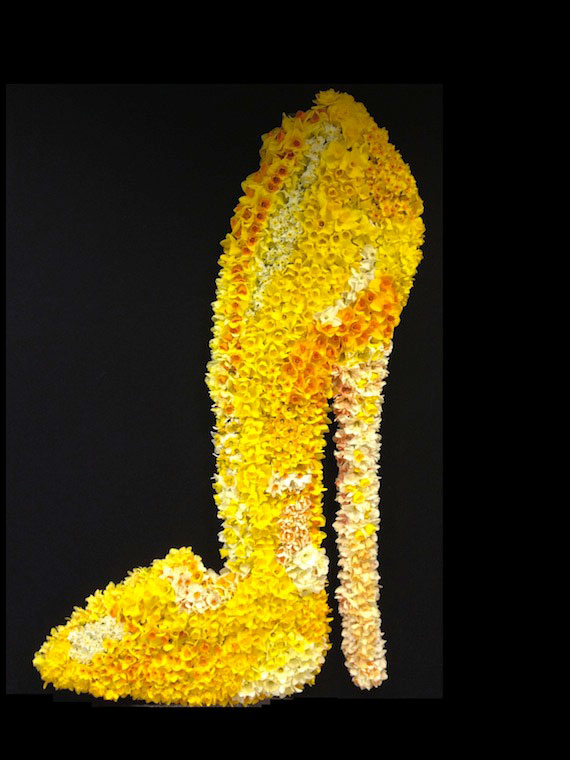 Claire: Who is the woman you design for?
Rupert: My wife obviously! I mean it's not far from the truth. I suppose I design for a woman who buys for herself, someone who is independent and has substance. They may be a journalist or a gallerist. They use fashion as a part of their life. I always think of my customer as a woman aged 35 to 55. She is a traveller. My ideal client is one who is comfortable at, say, a contemporary art fair.
Claire: When and where do you gain your inspiration for your designs?
Rupert: It moves around, as a shoe designer you are not telling a singular story. In ready-to-wear you can send a story down the catwalk, you can build something from a collision of inspirations. But with shoes it's more like telling lots of mini stories because they are accessories. If you did a collection based on one or two stories you would be limiting yourself because you are an accessories brand. The great thing about shoes is that you can start with any silhouette, the bit in the middle, the toes, and the heel height. You can create a silhouette. A lot of that is building on all we've done before: you habe to keep quite true to your aesthetic.
So it can come form anywhere: sushi rolls, modern kimonos, laminate glass, amazing milky green glass, and barbed wire, trying to make a hard thing soft. The silhouette of barbed wire is really strong. You sort of set yourself challenges. We are doing a lot of things at the moment with organic plant matter… leaves of corn, bunches of flowers, leaves from trees. The natural shape of a leaf, how do you incorporate that into a show that's so familiar as a pattern but then you wrap a leaf around the back of a shoe and make the steam the heel. Make it so that it works as a shoe and has a sort of link and connection, it's not so literal. So it works beautifully and adapts it.
Claire: How do you switch off and relax?
Rupert: My family. You can't sort of hang around in the shoe world and ignore family duties. My children are aged six, four and one. All boys. We just hang out and make the most of it. We go to a little house on the coast and fly kites and go cycling.
Claire: If you could be anywhere in the world right now where would you be?
Rupert: My shoe store at 19 Bruton Place, Mayfair, London. I'm exactly where I want to be right now.