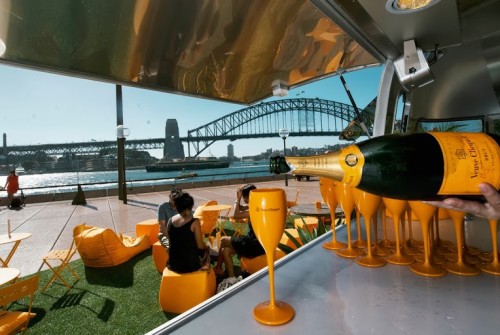 On a scorching summers day last week I visited the Opera House in all of its splendour. Actually it wasn't the Opera House I was visiting, it was the chic, pop-up Veuve Clicquot Airstream bar. The perfect afternoon for icy cold champagne under the Opera House and looking directly to the Harbour Bridge. Even being a Sydney sider who drives across the bridge most days, this location still blows me away. It's so perfectly Sydney, perfectly Australian.
This summer, Veuve Clicquot begins a tour of the country in the glamorous Airstream, a luxury trailer that combines art, food and design in an aerodynamic, 50's-style diner that has kick-started summer parties all over the world. The airstream kicked off its summer tour at the Polo in the City series which hosted over 150 guests in Sydney and Melbourne. From there it spent the remainder of December in central Melbourne at the iconic river terrace venue, Fatto.
The Airstream arrived in Sydney and will be at the Opera House from Saturday 11 January – Monday 27th January.