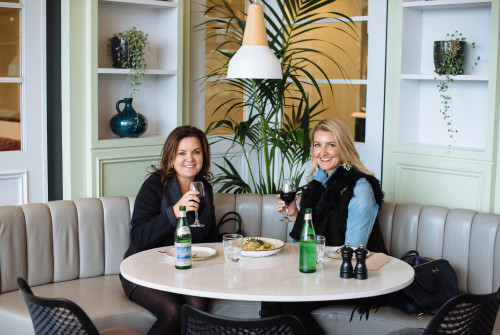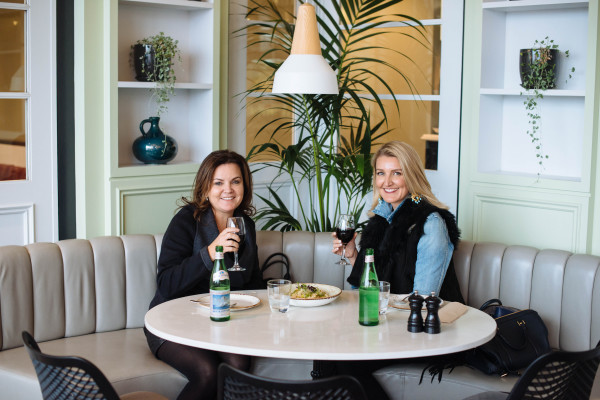 I've recently had the pleasure of catching up with Sam Wagner, the Founder of Sambag at her beautiful store at Westfield Miranda. She showed me through her winter collection including of course, the famous must-have Sambag ballet flats and then we made our way to experience for the first time The Italian Kitchen Miranda. 
I'd heard whispers about the food here and it has been on my hit list, so catching up with Sam was a wonderful excuse to experience The Italian Kitchen Miranda, first hand. And it did not disappoint.
We were looked after by Giovanni, the friendly manager who guided us to our table. Being an interiors nut, just walking through the tables was an experience in itself. The fit-out 'had me at hello'. On our arrival we were ushered under a canopy of balloon-like lighting to a divine leather banquette (which I've decided would be perfect for my house) and then, whilst Sam and I chatted about fashion and life influences we consumed a fabulous Italian feast matched with a perfect pinot noir. If only every Tuesday afternoon was like this …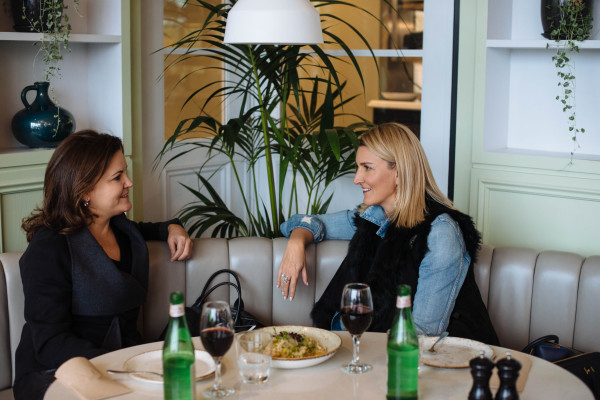 Congratulations on your beautiful store, talk me through Sambag at Westfield Miranda ? 
It's great. It's actually a new market for us. We're building the brand out here with awareness and once we capture the customers they embrace the brand. We're working towards a really successful store here. But it is a whole new market.
What are you hoping to bring to the Shire customer ?
Definitely the ballet flat. They are a main part of our brand and they have such a sense of fashion, style and comfort. Also our knitwear for winter sells really well and I'm sure the comfortability of the brand will be good for the Shire customer.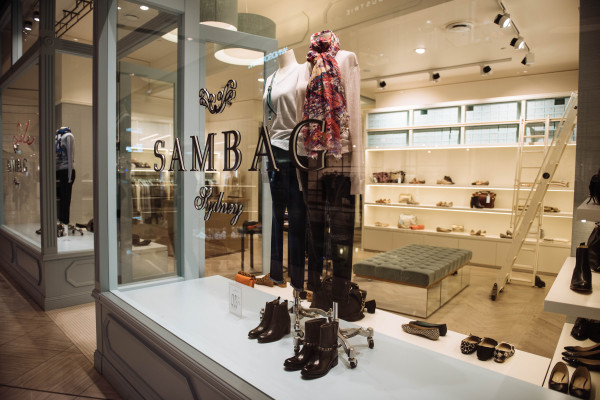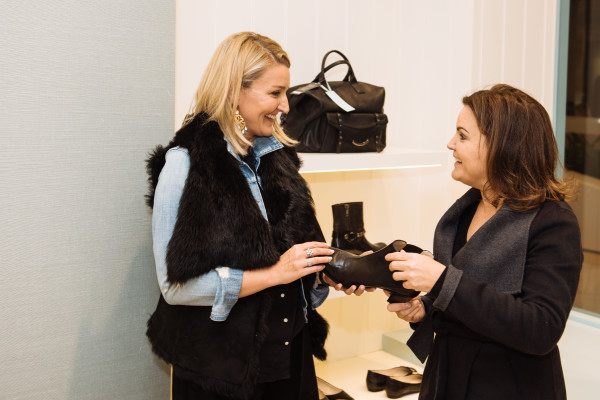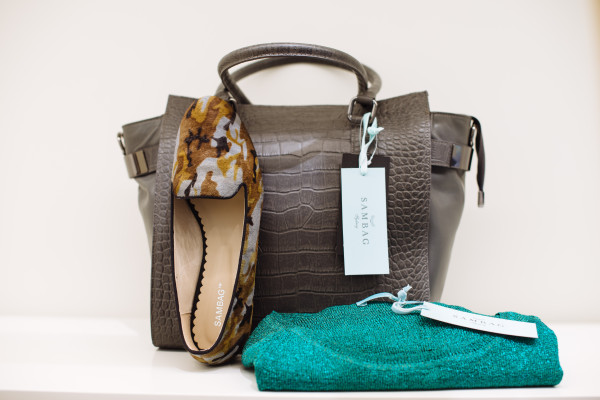 And it's also the ease of what you can wear. Sambag, the brand you have created is so good, the knits are wonderful ! What do you see as the hero piece for this winter ?
We're doing a jacket (that I'm wearing today) that has definitely been a hero. It's a cashmere sort of wrap jacket. And of course, the ballet flats are an iconic part of our brand and they have sold really, really well. There are many different colours, fabrications; leather, pony skin, snake skin.
I love all of the different styles that you have now. So you've got the fashion ballet flat you've shown me today and then you've got the ones that you've built the brand on. 
Yeah, we've got four different shapes now. We base it on the ladies foot and the individual customer so yes, we have a Natalie which is our new fashion ballet. She is soft and comfortable and she has a rubber base and is a lot more narrow – made for a narrow foot and easy for comfort.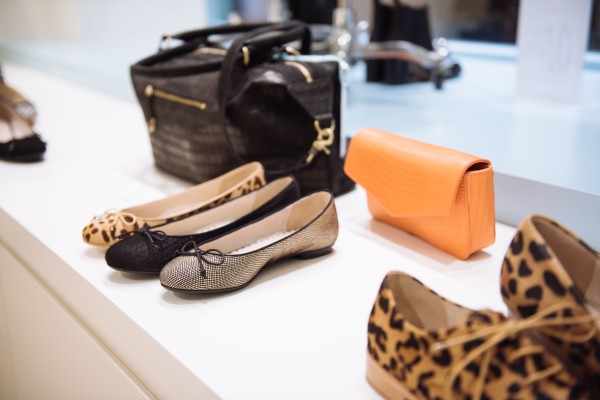 Have you heard of the term toe cleavage ? Is Natalie that kind of girl ?
Ha ha yes ! She [Natalie] definitely has cleavage. And Tina, she's our other ballet that has toe cleavage and she is our most popular selling ballet.
We're here today eating this wonderful food and that's one of my other passions. Are you a foodie ?
Yes ! I love food. I mean I'm no a cook by any means – my children would tell you that. But I love, love, love eating at great restaurants and I always love reading food magazines and great cook books. But I'm not a foodie as in I'm not a cook.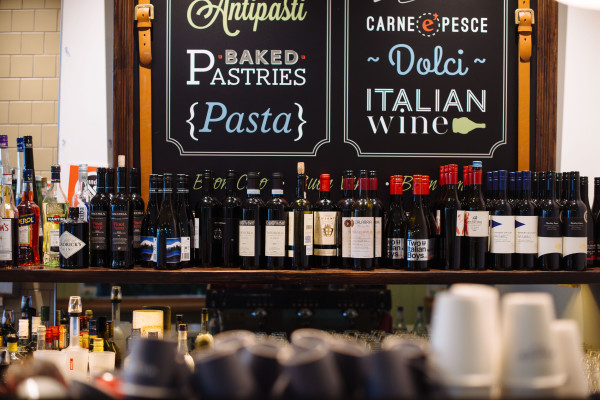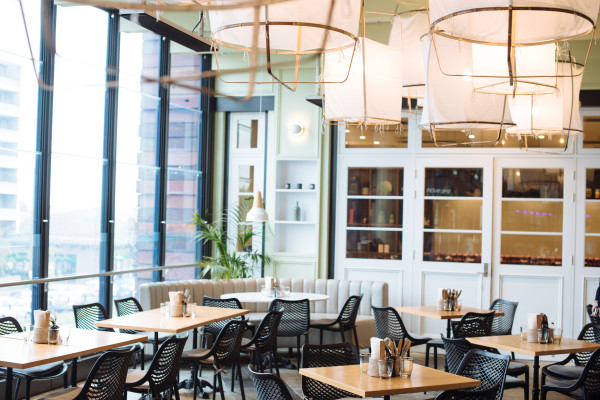 What is your all time favourite meal ?
I would have to say I do love dumplings, in Shanghai. Only because I travel to China and Hong Kong so much for work. I'm addicted to those. I love Italian and Greek food. Lots of Japanese. A bit of everything really.
And of course when we talk food, there is wine and champagne . What do you prefer ?
I love a Pinot with some Italian or a steak. And I also love a cold white wine on a hot summers day. It's glorious.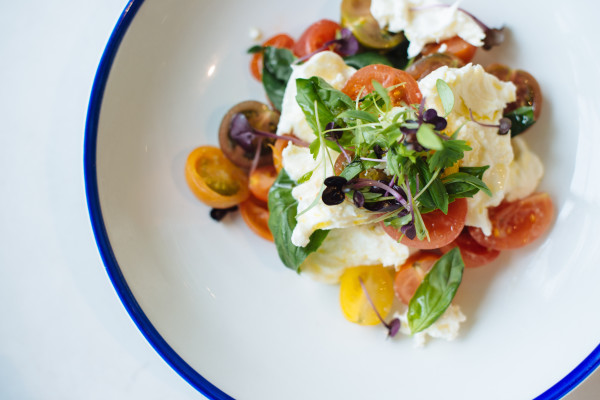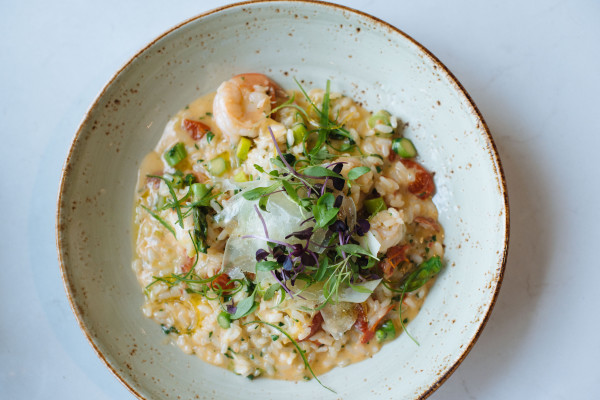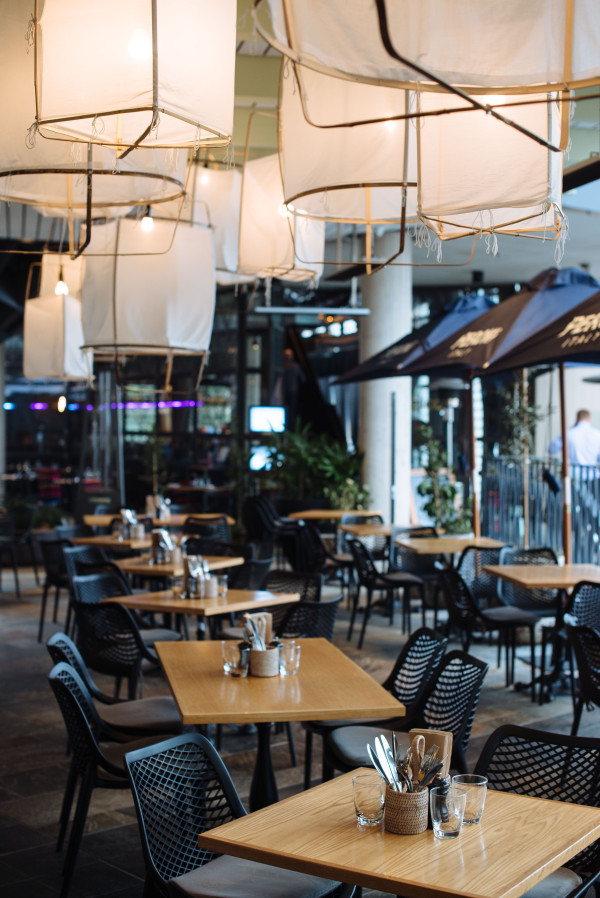 And what about champagne ?
Yeah, I couldn't drink it all the time though. I find it gives me a bit of a headache.
What are your thoughts on cocktails ?
A Caprikoska is an all time favourite. It's so fresh and it doesn't taste like alcohol, which means I can have lots of those !
So, more about you. You're really busy, juggling family and an amazing brand and an expanding empire. How do you relax?
Wow … when do I relax ? I love to do a Bondi to Bronte walk, that definitely calms me down. I try and do that a few times a week if I can, depending on the weather. I love to read and generally just watching TV at night time and switching off. Travelling and movies I love as well.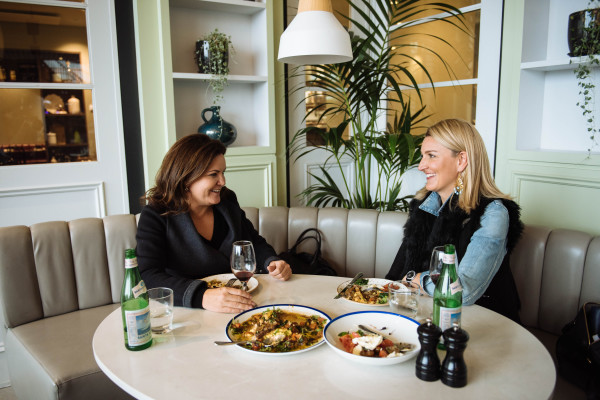 What's your favourite book ? 
Shantaram. It's amazing. It's a long book but it's amazing. I wish they'd do a movie on it.
What is your all time favourite movie ? 
Oh what's that one with Grace Kelly and Frank Sinatra ? Hmmm she plays Samantha. High Society !
What does Winter mean to you ? 
Warm, cuddling up to the fire. Actually I prefer a winter wardrobe to a summer one. I love wearing boots and cuddly clothes.
What should every woman have in their wardrobe ? 
Definitely a pair of ballet flats and a great cashmere scarf which we do continuously from season to season.
Flowers or candles ? 
Candles because you get the same ambiance but they smell. I just love that smell. I know it's synthetic and it's not quite as natural as flowers but that smell ! Diptyque is my favourite, you can't go wrong.
We ate:
Entree: Caprese salad
Main: Veal Ossobuco Milanese and a Risotto of the day
Dessert: White chocolate creme brûlée and gelati e sorbetti
We drank:
Nicosia IGT Pinot Nero and sparkling mineral water.
Sam wore:
Sambag cashmere jacket and leather shorts
Claire wore: J Brand jeans, Thorn fringe vest, vintage gillet, Citizens of Humanity denim jacket
Restaurant: The Italian Kitchen Miranda, Level 2, Shop 2203/2204, Westfield Miranda. 9188 2981.
Sambag: Level 2 Westfield Miranda. 8544 1250