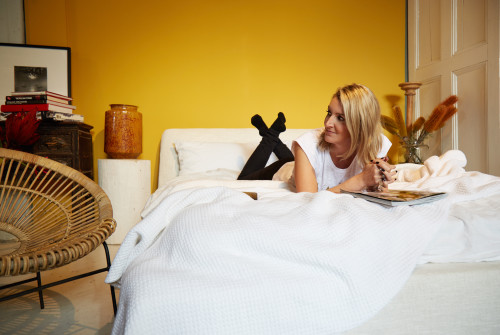 I've always adored fresh white linen. How amazing is that feeling when you've just changed your bedding and you climb into bed smelling the beautiful scent of freshly laundered sheets?  I feel the same way when I change my whole bedding ensemble. No matter what I try and how I mix it up I always revert back to a white story. Layering different textures and tones sets a different mood and when the winter chill sets in (like it has this week) throws become a necessity as an extra layer draped across the bed, or reading or watching television on the couch.
I love how crisp it can look but I also love how 'lived' in it can look too. Crumpled, inviting, relaxed. This week that's my mood…..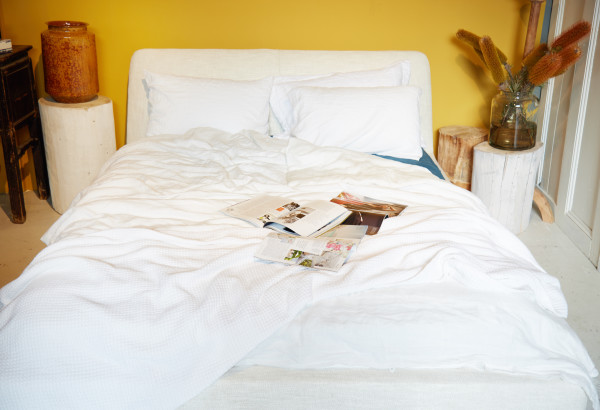 There is a method to my white madness but I thought who else but asking Jo Jaggs, the Head of Designer of Sheridan all about it.
Claire: What is the standout white piece in Sheridan collection for you?
JO: When the Sheridan design team travelled to some of Australia's unique salt lakes, we were taken aback by their vastness. The contrast of the deep cobalt sky against the endless cracked white expanse of the salt lakes is visually beautiful.
A few of our white bed designs were inspired by Australia's salt lakes, including Esperance, which is a standout for me. Esperance is inspired by raindrops falling on the surface of the salt lakes. It is the most beautiful weave; I have it on high rotation on my bed. I love how incredibly soft it is whilst being deeply textural.
The Sheridan designers love this creative process – creating contemporary weaves inspired by organic, natural elements drawn on from around our unique Australian landscape.
Claire: How do you select between a textured white family? Do you have styles that you continue throughout different seasons?
JO: We always have a beautiful selection of white weaves in our collection. We make sure we cover more organic textures as well as geometric patterns and stripes to complement both classic and contemporary aesthetics.
All textures and designs are designed to be layered. Selecting them comes down to your own personal taste and the pieces you want to layer – whether you're looking at the Millennia Collection (classic sateen stripe) or Sabatini (contemporary geometric design) for instance.
A few of our ongoing designs in white include Abbotson Linen, Esperance, Sabatini, Palais and Parish. Choosing between them depends on the thread count and weight of sheeting you prefer sleeping in, and whether you're after a more contemporary weave, or creating classic, timeless feel.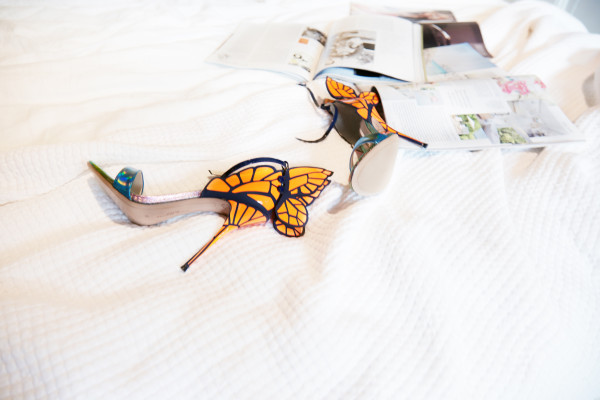 Claire: What are your styling tricks for mixing textures and tones in white?
JO: For a more formal look, I love a classic sateen stripe such as the Millennia Collection styled with minimal elements from within the classic collection. Millennia looks beautiful with structural, layered pillows and a bolster cushion to complete the look.
For styling contemporary weaves, it's all about complimentary textures for me. I love an Abbotson Linen bedcover in white with quilted pillows and European shams layered on top of contemporary weaves such as Esperance and Sabatini. The different types of natural cottons layered on top of each other is luxurious, modern and beautiful.
In addition to white on white, I love adding levels of warm and cool neutrals such as soft greys and flax
Claire: Why is white such a popular choice in bedding? Is this a trend you see lasting for a long time?
JO: White is classic, timeless and lasting. The newness each season comes through how we interpret white, through new types of weaves articulating our designs.
I find white peaceful and serene.  I think it is the lightness and freshness that white brings which makes it so appealing to our customers.
White is also a great base for layering. It tends to open up your bedroom and allows you to layer colour and texture on top.
Claire: For our climate, what is the unsung hero in the collection?
JO: Our Abbotson Linen Collection without a doubt.
Linen is four degrees warmer in winter and four degrees cooler in winter than cotton percale. Linen is the most beautiful texture to sleep in, and is pure luxury.
Linen is ideal for Australians as it breathes so well, is incredibly durable for the whole family, and being such a natural fibre, promotes a peaceful, comfortable sleep.
Claire: I'm simply loving my throws this time of the year and my girls love wrapping themselves in them on the couch. SO much so I've had to purchase one for each of them. How do you care for well-loved items?
JO: At Sheridan we are truly devoted to creating 'everyday luxury'. We want to create beautiful pieces that are easy to care for, great quality, and lasting.
For most of our products, we recommend a warm, gentle machine wash in eucalyptus based detergents. Most of our products can also be popped in the dryer which makes life easier too!
Having said that, the most important thing to do with our whole collection though, is to always read the care instructions on each piece. The instructions we suggest are there to ensure the longevity of every product, to keep them looking and feeling beautiful for longer.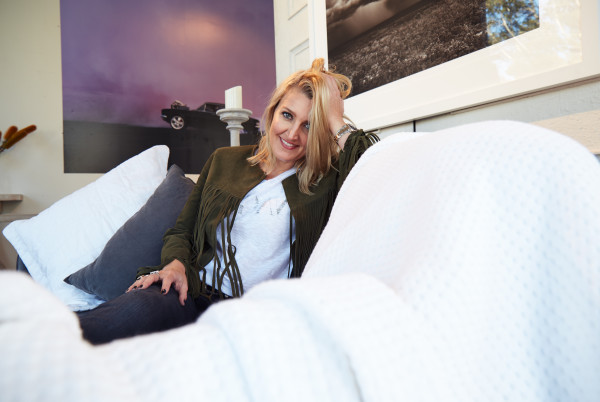 Product featured:
SHOP HERE: Abbotson Linen Tailored Quilt Cover and Pillowcases.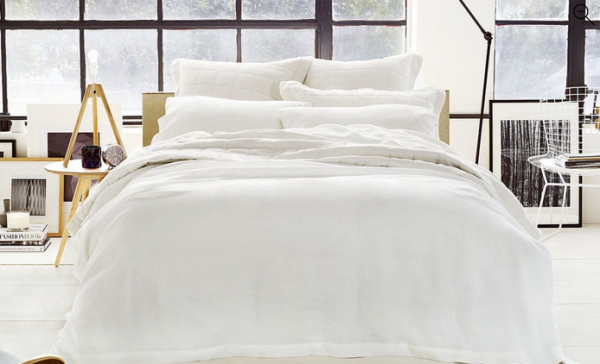 Abbotson Linen European Pillowcase