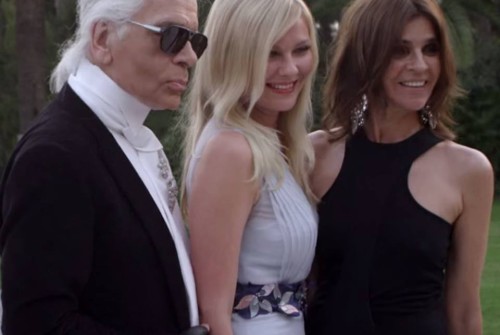 1. Unzipped, 1995
Starring iconic '90s supers such as Naomi Campbell and Linda Evangelista, Unzipped offers a behind-the-scenes look into the fashion world through the planning and execution of Isaac Mizrahi's Fall 1994 collection.
2. Ultrasuede: In Search of Halston, 2010
This doc offers a closer look at the designer who ruled the 1970s fashion scene, Halston. The glamour, decadence and party scene of the decade are showcased in this in-depth exploration of the designer's reign and fall.
3. Bill Cunningham New York, 2010
Embark on a day in the life of New York's legendary street style photographer, Bill Cunningham. This inspiring documentary chronicles the impact that one of fashion's most beloved photographers has had on the New York fashion scene.
4. Diana Vreeland: The Eye Has To Travel, 2011
Spotlighting BAZAAR's own former editor-in-chief, The Eye Has To Travel offers an insight to one of fashion's most influential figures – Diana Vreeland. The iconic fashion editor's journey through the industry is relived through archival videos and a look back at her most extraordinary work.
5. Scatter My Ashes at Bergdorfs, 2013
This behind-the-scenes glimpse at New York's iconic department store features an endless list of fashion personalities, including Oscar de la Renta, Tom Ford, Karl Lagerfeld, Rachel Zoe, Diane von Furstenberg and more. Bergdorf Goodman's legacy – as well as a few hidden gems – are revealed in this fascinating look at one of Fifth Avenue's chicest shopping destinations.
6. Mademoiselle C, 2013
BAZAAR's global fashion director, Carine Roitfeld, documents the journey of starting her own magazine, CR Fashion Book, in New York City.
7. Secrets of Selfridges, 2013
Explore one of London's most sought-after shopping destinations, Selfridges, from its start  by American founder Harry Gordon Selfridge to its incredible success and influence on the British fashion scene.
8. Chasing Beauty, 2013
The world of modelling – both beauty and the danger – are explored in this eye-opening documentary. Fashion and society's standard of beauty are explored through the eyes of models who unveil the good, the bad and the ugly of a model's career.
9. Advanced Style, 2014
Seven incredibly stylish and glamorous New Yorkers are profiled in this film, proving great fashion has no age limit. Advanced Style showcases the seniors who use the streets of New York as their runway – and aren't afraid to dress over-the-top while feeling confident and fabulous in their own skin.
Via: Harper's BAZAAR