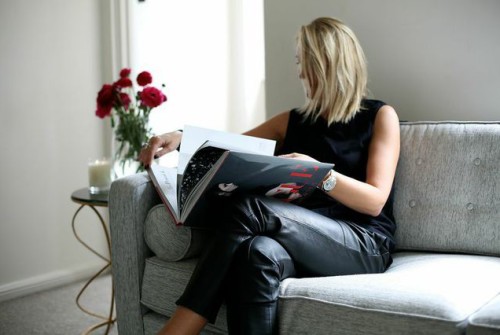 Wearing: Rebecca Vallance leather trousers, Country Road top, Nike Sneakers, THORN wrist cuff.
I adore leather. Love it. I also live for being comfortable and winters gone by I'd wear my favourite fitted Helmet Lang leathers over a structured tailored trouser any day. In fact, truth be told I'd wear them in lieu of my tracksuit pants. Leather pants, jumpers and converse were my winter off-duty go to's.
Leather is such a beautiful texture. It creates a luxe element to the most casual of cuts. I wear it a lot as I like a smart casual look over a Kim Kardashian OTT look. (That, and lets be honest. How much time must it take her to get ready in the morning?? )
These ones have taken the place of my well loved Helmut Lang's. A relaxed tailored leather trouser. Genius. Rebecca Vallance,  you've done well!
Just try and peel these off me….