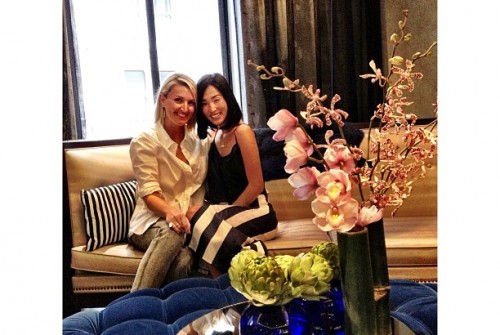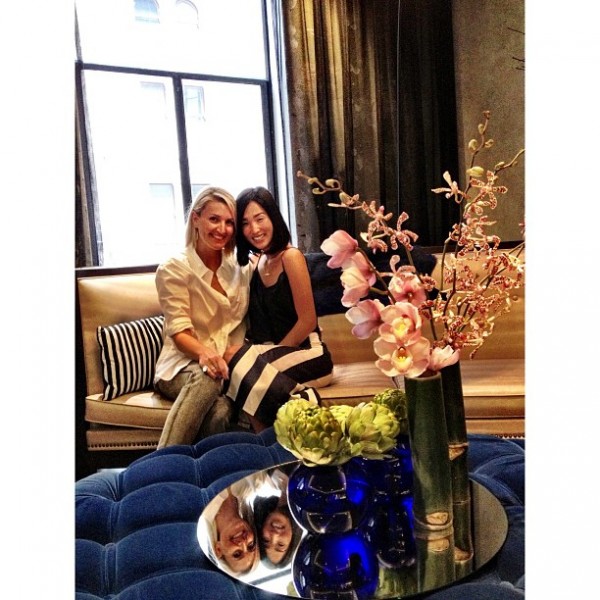 If you're a blogger follower, this lady needs no introduction. She is our very own Australian superstar blogger, Nicole Warne from Garry Pepper Girl.
I love interviewing people and it's even better when I get to ask questions to someone I already know. Nicole was incredibly candid and relaxed and gave a real insight into her life as one of the worlds leading bloggers.
Here we discuss an array of topics and of course, her acting debut as the face of Westfield SS13 with the film launch of #Limousine13.

Nicole, you travel and you always look impeccable. What are your three tips for stylish travel?
Sleep is definitely one of them. I don't drink any alcohol during my flight, actually I hardly ever drink so I always drink water. And my Spring Water spray. My boyfriend basically says its water in a can but its fancy water, its french water. I use a $10 travel one and its really good to refresh you. It's kind of like rose hip oil but its just french water.
Do you fly with make up on?
It depends, I've done shoots and I've gone straight to the airport. My skin is quite oily so it absorbs it really quickly so I try not too because it blocks my pours. But it's about 50/50.
What has been the most amazing experience to come to you thus far in blogging?
This is a really hard question! For me I would say signing with IMG. I never officially announced it or anything. I was proud of myself but at the same time I was more proud of the way blogging was progressing because to have someone as prestigious as IMG backing bloggers, not just me, but believing in backing bloggers. I thought it set a really good example to the rest of print media and digital media as to where the next 5 years are going. There are a lot of highlights but that was a pretty big milestone for me.
We know each other pretty well and you're so likeable. Whats one thing I won't like about you that I don't know about?
Um, let me try and word this right. I can be difficult to work with if I am the art director or creative director, just because I am very particular. I call it 'particular' but my boyfriend calls it painful. So, my boyfriend and I are very compatible but the only time we clash is when we are shooting together because we both are creatives and have different opinions. I think that would be the hardest but at the same time I definitely try and keep it balanced. I think it's a flaw but at the same time its a strength. Sometimes I can be a bit of a perfectionist and it may drive people crazy.
You started Gary Pepper Vintage as a retail store. What has happened to it now?
So it is still online but there is no stock. What happened was, for the first two years I ran it full time and balanced it with my blog. My blog was more of a hobby. I uploaded a blog post maybe once every two weeks. Luckily the content was quite nice because my boyfriend is a professional photographer but I never dedicated as much effort into it. It all went to my store. What happened was, with the phenomena with blogging, I had to choose just because with my store I was very visual in it. I took all the photos, I was in the photos with a self remote timer so I took them all myself, it was very manual labour. I was working as many hours as I possibly could in a day. So to actually run a full time blog on top of that…….
The overheads were too expensive, because I was selling vintage so I couldn't hire full time staff because I had 1 unit of stock to sell not 100. It was too expensive so I had to choose and I'd already missed out on a lot of opportunities by running my store and it got to the point where I thought, you know I did it with my store and quit my retail job and it kind of got to that point again and I thought what is the worst thing that can happen? Blogging doesn't work out and I go back to my store. So I took it offline and did blogging and I haven't looked back.
It's been really interesting trying to build myself personally as a brand rather than building an online store as a brand. Thats something I'm still adjusting to, to be honest. Hopefully the transition goes smoothly but I'm still working towards it.
We're both bloggers and we love what we do and have worked really hard to establish ourselves in the online space. How do you feel about new bloggers who buy followers, likes, comments, instagram followers ect ? There's someone I am aware of whose instagram account went up 80,000 followers in a matter of weeks and this is just one example….
You know I think its a very interesting time and to be honest I can get quite paranoid and superstitious at times so I think it's kind of like (don't laugh) I look at this like beauty surgeries and Botox, you have no idea of what the effects are going to be like in 5 or 10 years time. So not only does it go against morals to actually buy followers, that's obvious, because a lot of people like us, work really hard to get organic ones. I just think, who knows, there could be a policy that instagram sets in place and deletes any account where people have bought followers. Which I think they should do. I also think, the people who have bought followers, it will come undone quite quickly because I think the best thing about blogging is authenticity and if you don't have that there should be consequences. That's just how I look at it. We don't know what the effects are going to be in a couple of years.
I agree. You're being authentic so if you're buying followers you're not being authentic to your readers and businesses, if they employ you to do a job they're not getting the proper engagement that they are paying you to do.
Exactly. And I always think long term, so if say a brand invests in this blogger, they have X amount of followers and they don't see a return, I think that ruins it for the rest of the bloggers because that brand will never invest in us again. So I think it sets a really bad example, not only being genuine but you're not leading by example. So I hope there are laws in place that kind of fix that soon.
#Limousine13. You're an actor!
No, no! Definitely not. It was a really strong team so going into it, the process for me leading up to something that makes me nervous is I just don't think about it. I just think, you know, 24 hours of my life. Get it over and done with and don't look back kind of thing. So when I arrived on set, Al Weekes, the creative director, he gave me perfect direction that made my job really, really easy. The Stenmark twins were a dream to work with obviously and the whole film crew was great. So I felt really comfortable immediately. I actually haven't seen the film yet so I'm a little bit nervous.

It will be amazing! From what I've seen you look drop dead gorgeous. Very sexy…
It's very different to my usual aesthetic, which is what I love the most. People aren't going to expect it which I think is really interesting.
Isn't Al great! I love Al!
He is so nice. He's in Europe at the moment.
What are five things in your handbag?
I actually changed handbags this morning. I don't have any of my lipsticks with me. Ok I have my iPhone with a battery pack, I have a pair of glasses by Illesteva and a collaboration with Zac Posen it's an Italian brand. I have some money. I've got my passport holder by Louis Vuitton I take that everywhere. That's three. I usually have lipstick and that spring water spray. I come down to Sydney, because I don't live here and I usually try to jam in as many meetings in one day so by 3pm I'm so stale it's crazy so the spray is great.
What is your favourite lipstick?
You know what, I wasn't paid to say this even though I am working with them now but I've been using Lancome lipsticks for years. So when I was doing my online store I'd always shot with a red lipstick and it kind of became a signature look for Gary Pepper Vintage store. And I used to have 100 requests asking what the shade was and it was always Lancome. And I've tried a lot of red lipsticks, just because I wear it a lot, and I find that a lot of them bleed or they just rub off on your teeth. So I've used that for years and I usually have one with me. To be honest that was a very genuine relationship because they saw that I was usually the product and our brands really aligned so now that I'm working with them it's kind of a dream come true.
Best beauty trick?
You know what, I have a few. The recent one is the Touche Eclat. I'm probably behind but for me my skin is very sensitive so If I try new products it's quite scary for me and I tried the YSL stick and I didn't actually realise how popular it was. Everyone said that they used it so I wanted to try that. It is amazing, I can't leave the house without it now. I think it makes a difference with my photos, apparently people think it's concealer but it's a highlighter. So I put it under my eyes and use it as soon as I get off the plane.
What is your favourite item that you own?
I own a vintage skirt. It is so delicate it is made completely out of gold foil. It's so delicate that I wore it twice and it started catching on things so now I have it in a box. It was one of the first statement pieces that I found when I was starting my store. I was like $2. It's very, very sentimental to me. I'm very sentimental about a lot of things. That's on par with the first pair of Miu Miu's I ever bought because I'm such a huge fan of Miu Miu but to be honest I can't really buy a lot of it because they go out of date very, very quickly. So I watched these shoes sell out and then I thought you know what, I'm going to just bite the bullet and buy them. I don't wear them anymore because my style has evolved since then. But I still have them, it's another thing that just sits in the box because for me it was a milestone when I decided you know what I'm going to invest a little bit into the blog and for me I loved them but it was also investing. I mean I hate to say it but your readers respond to designer products and they are quite timeless.
When I'm styling I love the sentimental pieces my clients have (and can't get ride of) that replicate a time in their lives.
I'm so cheesy, I always think of every situation. I'm like if my house was on fire I'd grab this box with my Miu Miu's, my photo albums and my cat and I'd just get out of there…. maybe my boyfriend too… ha ha. But I just always think like that.
3 blogs that you follow and love.
Ok, they are always changing because blogging, I don't know why, but it can go through lull. You can tell when everyone is inspired because bloggers are usually inspired by each other so it's kind of like this ripple effect. But they are changing for me.
One of my favourites for a long time has been 'The Cherry Blossom Girl" she is a Parisian blogger, she is stunning.
"Mashable" is just more of a nerdy one, it keeps me up to date.
"The Blonde Salad", Chiara is easily the biggest blogger in the world. I've met her in person and she is the hardest working blogger. People see her for the surface value but I see the more business side of it and I think she is very inspiring and she is really setting the bar high for everyone.
So, Alex's visuals, Mashables information and Chiara's work ethic.
Blogging, everyone looks at it as so glamorous and the opportunities are amazing and we're so fortunate but there is a side that people don't see. It's very time consuming. What is your least favourite thing about blogging?
I guess you kind of answered it in the question, if that makes sense. The hardest thing I find about blogging is the misconceptions that come with it. I think at the end of the day you shouldn't have to justify how hard you work, it should just show in the work you produce. I know that there are a few Australian bloggers that are working harder than international bloggers and that's because we have more to prove because we are further away and we don't have the contacts that people in Europe and America have. We actually have to buy our own flights to get over there and meet people in person and that is an investment so I don't mind spending the money. I think the biggest misconception is that everything gets handed to us. I think as long as I'm happy with myself and know how hard I work, I don't need to voice that to anyone. As any creator, I know the process I've gone through to get to the end result.
What are the 3 things you love about blogging?
I love meeting new people and hearing their stories. Not just people in the industry, but some of the best conversations I've had have been with taxi drivers, you know each one in each country has a different story. I love speaking to everyone and treating them equally despite what job title they have. So meeting new people is a really big positive for me.
Obviously getting to work with brands I admire. That's a dream come true but as well working with them on a professional level and they give you creative freedom. It's so exciting because we are kind of writing the rules now and the next generation can look back at these guidelines. It's exhilarating.
The third is being able to express yourself creatively. Like I said before, people judge our work and are more critical against our work because they see the surface. There are really creative bloggers and they express themselves in different ways, whether it is through styling or photography. I love the photography side so I work really hard with my boyfriend and that's very exciting.