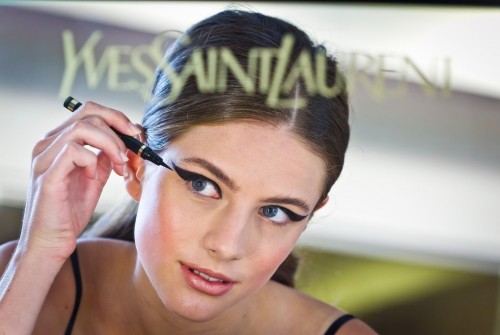 I have to say, one of my favourite parts of the Myer AW13 fashion launch this week in Melbourne was the incredbile 60's inspired wing eyes, created by Natasha Severino, make-up artist and YSL ambassador. I had the good fortune to catch up with Natasha a few weeks before the show and see this beauty creation come to life whilst (more eagerly than usual) taking some serious notes. So I thought you might be as interested as I in the inspiration behind the 'look' and how we can create it on our own.
Q. The winter looks this season?

A. We tend to look at whats going down the runway and this season there is a lot of peplums and leather and florals and metallics. There is also a nod towards the 60s, I'm not saying its mod but it definitely has a nod to it. We wanted to create a beautiful make-up thats not only sexy but would suit all the girls. That feline eye sort of works.
When I was referencing who's this woman, I looked at Tretchikoff paintings and Lynch paintings and images of Jane Shrimpton and Brigitte Bardot, all with that really sexy elongated eye and soft sculptured face and that muted down lip. I guess its really the textures that make this a lot more modern for us, in the sense that the skin is left quiet illumines and fresh. And the eyes, there is a three step process to getting them to this really flat, chalky, matte finish.
But firstly we started by using the Le Teint Touche Eclat as a base all of the face, not the Touche Eclat, the Le Teint Touche Eclat which is the new foundation by YSL, which is emulated of formula of the Touche Eclat, so it has the light reflecting particles and has some really incredible technology to it, the texture of it just glides onto the skin. Then we went and highlighted and concealed the skin with the Touche Eclat and I did that in a shade that was slightly lighter than the skin tone to reflect light, so it actually acts as a highlighter as well as a concealer.
Q. Can we wear this look day and night?
A. I would do it day and night if you are that way inclined to wear foundation and concealer throughout the day, absolutely, there is no reason why you shouldn't. It is sort of a step by step of how to get that perfect base
Then the eyes, like I said there is a 3 step process.
1. The first one is to map out and you can see I've mapped out where I want it to end and I went in a drew that line to make sure I'm working with the symmetry of the face. So I start at my highest point and cut it back down, in line with the eyebrow. It all works with the angles of the face. So when we do the contour we put it on the same angle. Everything is like drawing up and away, to open up and create a more feline effect. Its quiet anti-aging as well, drawing the face up. The tricks of make-up, all smokes and mirrors!
2. Then we go in with the gel, the pop gel, so that goes on.
3. Then we go with the Pure Chromatics in the No.11, which are really great flat colours and with this deep indigo, navy blue we make it really, super matte to juxtapose the luminosity of the skin. This is what makes it a little more modern. It becomes inky and matt. It's quite beautiful.
Then the eyebrows get slightly filled in and mascara is pushed just to the base of the lashes, because if I were to put mascara all the way to the tips it could interfere with this really crisp line, so just to keep definition I just push it into the roots.
Cheeks are then softly contoured with Bronzing powder No. 3 and that really sort of flushed, English rose cheek is done with a mixture of No. 1 and 4 blush radiance, emphasis being on the No. 4 because its that pink. That is applied really into the bottom of the crevasse of the cheek.
Then the lips, a clear soft stain applied with your finger tips of two colours mixed together, the Rouge Volupte Shine no.8 and the Rouge Pur Cotoure no. 43
And voila…. we will end up looking like these gorgeous models.
The hero eyeliner
I also asked Natasha if those of us who aren't 20 years old and might possess some smiling 'lines' around the eye area could wear this look? And the answer is….yes!