You know when you meet someone and they have 'that' unique quality.  Aneka Manners left quite an impression on me after meeting through work last year. She's very passionate and incredibly smart. (You'd have to be to be a State General Manager for leading Australian bank don't you think?) Add into the mix she studied Fine Arts in WA and is also an accomplished artist who has exhibited her work in Italy.
Yep. Accomplished, smart, fun, memorable. And if that isn't all, this year she has launched her eponymous fashion label, Aneka Manners on the side.  (I know … crazy!)
How does this woman tick? Well I had to find out.  Introducing Melbourne based visual artist, designer, photographer and couturier, Aneka Manners.
Being established in your career as a banker, that takes a significant amount of time and energy. When did you realise you wanted to launch a label and how did you come about to starting it?  I didn't know it then but I know it now. I subconsciously knew I wanted my own label at 10 making metallic bustiers out of cigarettes foil for my Barbie, and at 16 when I designed my shopfront and interior. It just took me a little while to figure out that the societal view that I have to choose between art and maths was bullshit.
Who is the Aneka Manners woman?  Me…….and anyone else that hates ironing, love travelling, loves luxury AND comfort, is curious about life and love and doesn't always conform to what everyone else wants but just occasionally does what she wants.
You've exhibited in Italy and you're heading to London and New York next month to present your second collection.  How heavily does travel influence you?  Travel, whether it's physical, or whether it's through literature and music, has inspired everything. As my means improved, my travel could broaden beyond the history page and I'm forever grateful I can travel as I do, the history of our human condition experienced in any way is a leveller and an inspirer in equal measure.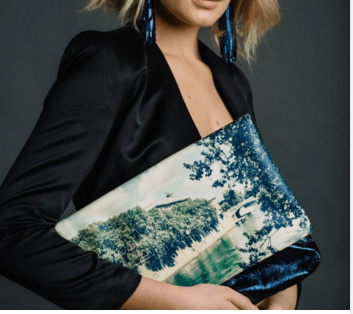 It's incredible the process of your beautiful photography then being printed on to the silk you use in the duster jacket and this clutch above. Can you expand on what this process involves?
I take a lot of photos, 100's of one single view. The creative process requires absolute and instinctive 'collection', no attachment, just follow your heart and collect. Masses of work with no apparent purpose. Then the real work begins. Meticulous and brutal curation with a critical eye, sifting through the heart's findings for the one that 'shines'. Curation results in maybe one key work for a future exhibition and then maybe, maybe, where I see it translate, a few key works that might work as repeat textile prints. I draft how I think the repeat should work and then get people who are better on software than I am to fill the gaps.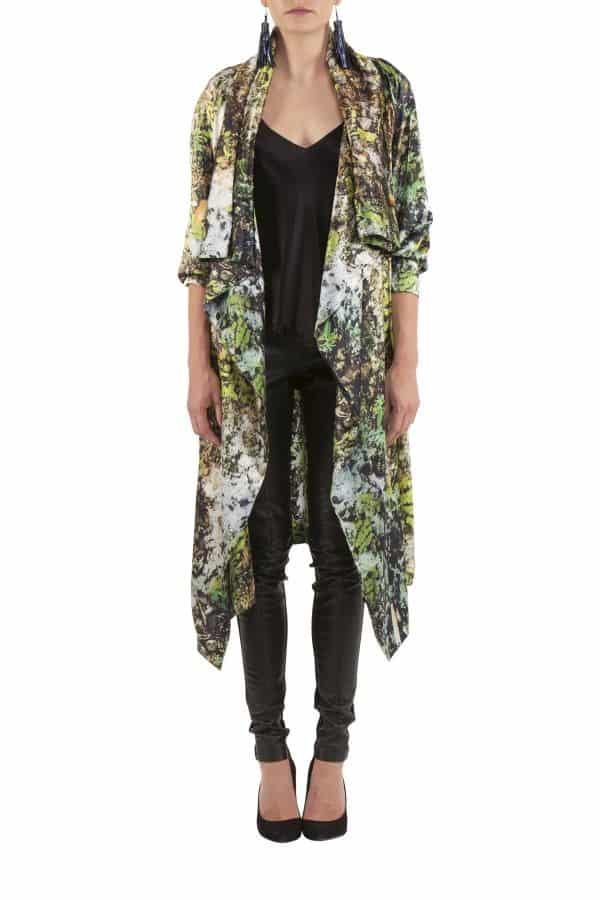 How do you manage your analytical side and your creative side? There are not many people who excel in being both numbers smart and are creatively minded?  Do you know what? I reckon there are more than we think, I just think we are forced to make choices early in life and too many people start saying oh I'm not creative or I'm not good with numbers. The truth, remember yourself as a child before you learned all the stuff you were meant to do, before adults labelled you with their stuff. I love both and I don't think I should have to choose. I did choose for a while and I always felt like I was missing something. The Greeks and Romans said we could have both. Maybe we all lost some things with our progress……
Who has been your biggest influence in your life so far?  Outside my parents who have jointly and thankfully influenced my innate curiosity about absolutely everything, and my aesthetic sense (both of which have saved me from despair on many an occasion); meeting my husband has been transformational beyond words as was experiencing serious illness relatively early in life.
What drives you?  A combination of eternal fear of mediocrity and a feeling in my soul that I'm meant to do some stuff that feels hard and that feels like no regrets, This feels like that.
What are 3 qualities you admire in a friend ?  Integrity, Honesty, Courage.
What do you detest?  If you'd asked me five years ago I would have come up with something. Now, I reckon life's too short to spend energy detesting.
How do you relax? Alone. Movie/Magazine. Popcorn.
Your best travel tip?  The anticipation is as much the holiday as the place. Do the research before you go so you can enjoy your time there knowing you're doing all the things YOU love, not what the guide says you'll love.
Your favourite flowers? Peonies for looks. Frangipani for the ability to transport via smell.
Your favourite food?   Not possible, I'm always discovering new things and life is too short to limit to one favourite. On the short list ie, things I won't walk past on a menu = St Helens Oysters, Duck, Celeriac Remoulade, Bone Marrow, Offal done in creative ways. Baccala, Bottarga on anything.
Your favourite place to eat and drink ?
MELBOURNE:
Smalls Wine Bar – when I rock up there for a drink and they're referencing the same book as by my bedside ' The Drunken Botanist' you know you're onto a good thing. 20-22 Yarra Place, South Melbourne, 3205
Belotta  – near by for full dinner, quail egg and blood sausage Scotch Eggs and wine to take home. 181 Bank St, South Melbourne VIC 3205
Kirk's Wine Bar – for charcuterie snacks and Jacquesson 739. Crn of Hardware Lane and Little Bourke St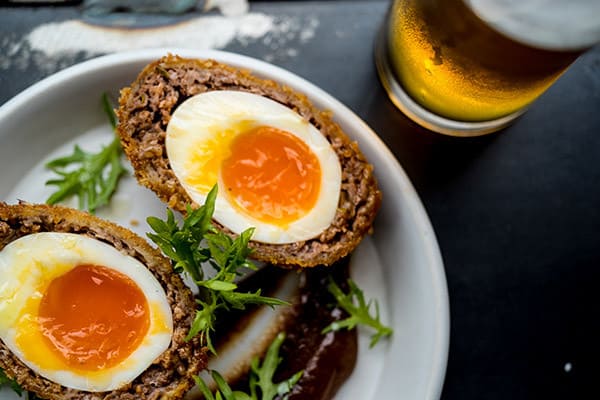 SYDNEY:
ACME= best ever pigs head Carbonara. 60 Bayswater Rd, Rushcutters Bay NSW 2011
Farmhouse  is amazing for an all-in experiential meal…..particularly if you're at the bar outside when the rain is falling. 4/40 Bayswater Rd, Rushcutters Bay NSW 2011
What is your winter uniform? Leather pants, camisole and amazing jacket
What are your favourite pieces in the collection?  The print Duster jackets for sure. (Image above) Every time I wear them out I get a comment, regardless of which global city; they're luxurious to look at, comfortable to wear and stylish across borders, tran-seasonal whether with a singlet or cashmere turtleneck or as a dress and they don't look like anything already out there. I've worn them in winter in Melbourne and will be taking them to London and New York for the summer.
On the bedside table? I generally try to read a chapter of three books each night so I can get through content regardless of mood. The magazine is for slow nights when I still want content but shorter attention span.
Tools of Titans – Tim Ferris
The Age of Insight-the quest to understand the unconscious in art, mind and brain; from Vienna 1900 to present – Eric Kandell
The Other Side of the Tiber – Wallis Wilde-Menozzi
Landscape and Memory – Simon Schama
The Land Where Lemons Grow – Helena Atlee
Popes, Peasants and Shepherds: Recipes and Lore from Rome and Lazio – Oretta Zanini de Vita
Lucky Peach Magazine Fall 2016
To find out more on Aneka Manners and view her collection visit Anekamanners.com.au