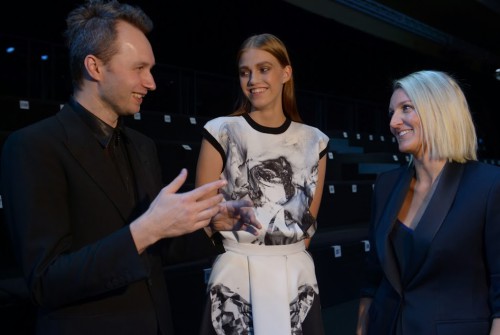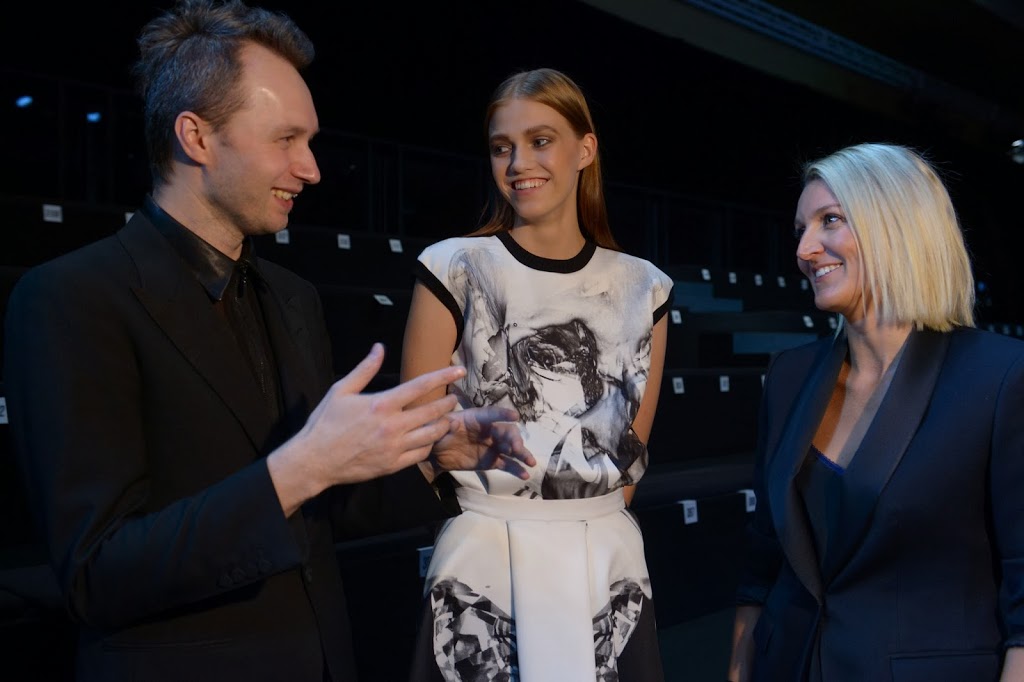 It's aways a thrill catching up with Toni Maticevski. He is incredibly talented and one of my favourite designers. I caught up with weary Toni before the Myer show, who had been awake for days and nights on end getting his collection ready to show in Paris this week.

Claire: So lets just talk about why you're so tired?
Toni: I'm so tired because I'm getting my new collection ready to go to Paris on Monday.
Claire: And you're going to be working through the night until then?
Toni: Yep. Pretty much.
Claire: Well tonight we are here for the Myer Launch and I've got a few questions for you…
How would you describe this collection ?
Toni: This one started off as a progression of the last one but it kind of ended up taking a bit of a darker turn in terms of like, last season was the tomboy heiress and this is like a sugar cane mistress. So she became a bit more independent and took her own risks in terms of how she pieced the collection together and how she put colours together. I think it was a bit more of a challenge for me in terms of how to make it still look feminine and elegant but still not so obvious.
Claire: I love that you're cutting edge but you're still so feminine at the same time. Which is really unusual…
Toni: That's important for my brand. I think a lot of brands are either one or the other. I haven't noticed too many that are in between.
Claire: No, you marry them really well. So I quite like this because it carries on from the mistress. So describing what this collection is about, the tomboy girl goes mistress. Who were you thinking about when you were designing this?
Toni: Um, I really wasn't. It became this thing where, and a lot of it happens when I drape and work with the fabric and I was just noticing a common thread in terms of the silhouettes and I was like ok, well she feels a bit more mature but she is still really young at the same time. It's kind of like she has grown up more mentally rather than physically and it's kind of this idea like ok she's had a taste of money, life, excess and all these things and now she is going on her own way.
Claire: I like it, so deep! This is really insightful, the more collections you do, do you think your style has evolved? I don't mean in terms of what you're designing but your personal style.
Toni: I think so. I'm finding that I'm pushing my ideas and fabrications a lot more every season and developing things for my customers to keep them on edge so that they are not falling into the routine of – ok well I ordered this last season. I think so many brands think ok that worked last season so we'll repeat it. But who is going to buy the same dress in a different colour? That's boring. So I kind of like the idea of evolving that customer into the different identity of every season, just in small doses.
Claire: Going back to what you described about this collection compared to the last one, about her, how she has tasted the good life and the excess. Do you think that has influenced or has some analogy towards what's happened to you? You suddenly have had so much attention and you're doing so well.
Toni: Maybe, the thing I was conscious of was that it wasn't that she WAS the mistress but a little bit mistress. She has become more independent and more self assured. And maybe that is an analogy for what I've been doing.
Claire: Toni Maticevski the brand. You have a cult following. What is your favourite part about having your brand?
Toni: I love that I see women buy these clothes, and it's not because it's a trend or anything, It is because there is a piece that they kind of feel like they need to own because it references them in some kind of way or adds value I guess to a person.
Claire: They choose you to help them reflect their personal style.
Toni: Yeah, to help them reflect what they are feeling and how they want to portray themselves and that's the most important thing for me in terms of why I do what I do.
Claire: What's your least favourite part?
Toni: Probably working with lazy people.
Claire: What is your favourite thing to do off-duty and what do you do to relax?
Toni: Oh gosh, I don't think it happens anymore. Even a simple luxury like watching a DVD is kind of a nice thing. Curled up on a couch for half an hour and then that's it – back to work. That's the nice little luxuries.
Claire: Is it hard to stay creative when you're working all the time?
Toni: No. I think it's more finding enough time for it to be fulfilling. As the business grows, the more opportunities that come so you're kind of like constantly jumping and sort of swerving to make sure you're on the right path. It's really exciting and the whole team is buzzing and we're all exhausted but I think it's at that point where we are like ok we need to find a medium.
Claire: What are your top Melbourne places to dine?
Toni: I love cedar wine shop, it's really casual and they have a great schnitzel. There's a really cool local place just around the corner from mine called The Cornershop in Yarraville. It's just comfort food.
Claire: What are your most used apps?
Toni: Probably Instagram. I refuse to get anymore.
Claire: What are you listening to on rotation at the moment?
Toni: I've been listening to Jessica Mauboy a lot. I love her.
Claire: If you weren't a designer, what would you do?
Toni: I probably would have gone into music. The production side.