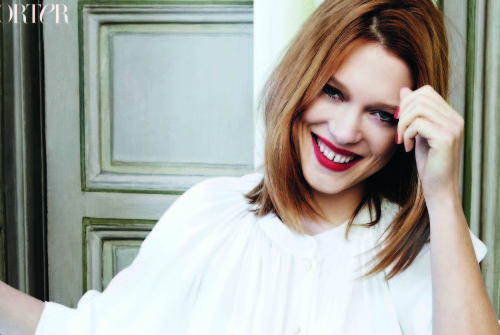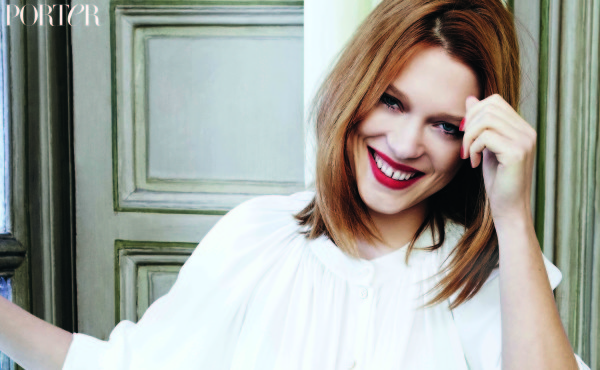 Léa Seydoux has an impressive list of admirers, from Quentin Tarantino to Tom Cruise (who has a "giant crush" on the French actress). Now a global star thanks to that lesbian love story, she is about to dazzle in Saint Laurent. Brought up among the Parisian bohemian élite, her lodestar has always been big sister Camille, the stylist behind her red-carpet triumphs. Natalie Evans-Harding meets the magnetic sisterhood.
After dinner last night Léa Seydoux, tired and full of sneezes, slept over at her elder sister Camille's house in Paris, with her nephews Luna, 8, and Ethan, 5. Léa had just wrapped two months filming the thriller The Lobster, with Colin Farrell and Rachel Weisz, in rainy Ireland. The Seydoux girls regularly catch up to gossip, offer advice, occasionally squabble. Their relationship would be unremarkable if not for the fact that the sisters have shaped their successful careers around each other – both creative, both making waves in their fields. Léa, who at 29 is now an international star, beloved by the critics since the release last year of the Palme d'Or-winning Blue is the Warmest Color; Camille, at 32, one of France's most successful personal stylists.
Léa and Camille were "bound together", says Léa, by their parents' estrangement when Camille was six and Léa just three. They began traveling between their mother and father's separate homes, always leaving and arriving as a pair. Camille used to take care of Léa, getting her ready for school, dressing her, doing her makeup for her first teenage party. Today, this dynamic continues in some respects. When Léa was stuck in Vancouver in 2011 filming Mission Impossible, with just weeks to prepare for the Césars, she turned to Camille – fashion-obsessed from a young age when she would devour her stepmother's Vogue magazines from cover to cover – for help.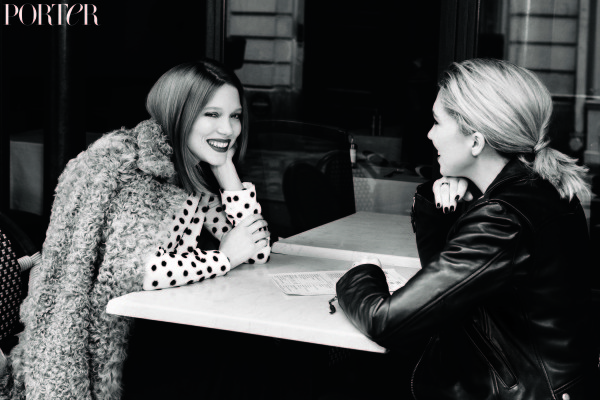 Such was the success of the dramatic Elie Saab gown Camille sourced, looking better on the red carpet than it had on the runway, that Camille became her sister's full-time stylist. She shaped Léa's aesthetic ("Old Hollywood with edgy details" explains Camille) and partnered with fashion houses from Louis Vuitton to Prada (Léa is the face of all Prada Candy scents, including its newest one, Florale, for which she shot a short with Wes Anderson and Roman Coppola). And Camille is hands-on about dressing Léa. She will head into the most prestigious design studios armed with mood boards, swatches and sketches to create gowns from scratch with the team. "We used to have all these glamorous women on the red carpet – Brigitte Bardot, Catherine Deneuve… But now, there's no one really glamorous. That's why the French love American actresses," Camille sighs. "If you ask a 14-year-old girl whom she wants to dress like, she will say Gwyneth Paltrow or Jennifer Lawrence." Camille has set about changing that. "In France, we do not have personal stylists. If you have to go to an event, you tell your agent which designer you like and he will call them and ask to borrow a dress. Not personal at all," she says, disapprovingly. As Léa's fame has flourished, Camille's client list has grown to include leading Gallic actresses from Bérénice Bejo and Valeria Bruni Tedeschi (Carla Bruni-Sarkozy's sister) to Léa's Blue is the Warmest Color co-star, Adèle Exarchopoulos.
It was this film that marked the breakout moment for Léa. "When I was doing Blue, I didn't know it was going to be so big and sometimes it was hard, shooting was difficult," Léa recalls. A raw and powerful story about a love affair between two young women, the film saw Léa and Exarchopoulos garlanded by critics, and alongside director Abdellatif Kechiche, picking up the top prize at Cannes. Kechiche, renowned for his demanding work ethic, had kept Léa and her co-star on set for five months, instead of the two and half months agreed. The actresses were required to stay in character around the clock, re-filming scenes hundreds of times. When a dinner scene needed several retakes, they had to consume the meal over and over again, starting at eight in the morning. Other retakes that lasted for days included the graphic, lesbian sex scenes. "I told [Camille] I didn't know if it was worth it," Léa says now. "She told me, 'You know, I think it's going to be something. It's going to be a big transition for you.'" Her sisterly support not only gave Léa strength at the time, but was remarkably accurate – Blue would be Léa's transformational film, one that projected her acting talent beyond her native France to a global audience. Despite English being her second language, Léa has been called up by many of the industry greats: Wes Anderson, Quentin Tarantino, Jean-Paul Goude and Tom Cruise, who handpicked Léa to co-star in Mission Impossible: Ghost Protocol after reportedly admitting to a "giant crush" on her acting capabilities.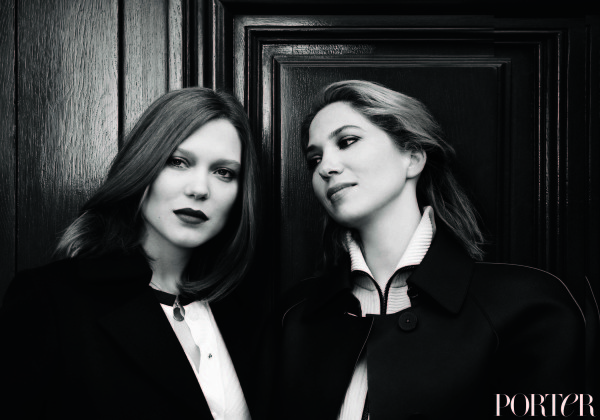 Camille and Léa grew up in Paris. Their large family – the sisters have five other siblings – has been through multiple divorces and re-marriages, but only Camille and Léa share the same parents, Valerie Schlumberger and Henri Seydoux. Schlumberger, once an actress and costume designer, is now a philanthropist campaigning for fair trade in Africa. Their father is the founder, CEO and chairman of Parrot, a successful French technology company. Other branches of their bourgeois bohemian family tree include their grandfather Jérôme Seydoux, the chairman of film production giant Pathé, and grand-uncle Nicolas, who holds the same position at Gaumont Films. Their stepmother, Farida Khelfa, was a model and actress, and the likes of Azzedine Alaïa, Jean Paul Gaultier, Christian Louboutin and Phillipe Starck would often come for dinner when they were young.
Not that either thought this remarkable as youngsters. "It was part of our education, but we were more observing from afar; we were the children in the corner," says Léa. "I remember the first time I saw Mick Jagger. We were on holiday in Mustique and he was driving this little car around the island in his flip-flops. I turned to my sister and said, 'Is he really famous?' and Camille said, 'Yeah! He is as famous as Michael Jackson.' And I was like, 'No way!' because Michael was my god at the time."
Many of Léa's film roles reflect the sisters' shared childhood experiences. Obsessed by Jean Cocteau's Beauty and the Beast as a child, Léa chose to star in Christophe Gans' La Belle et La Bête for her grandfather's studio Pathé earlier this year. Camille used to smuggle an underage Léa into Woody Allen movies, and, after a > meeting over Skype, the American director flew Léa back from LA overnight to appear alongside Owen Wilson and Rachel McAdams in a lead role in Midnight in Paris (2011). This fall, Léa stars in Bertrand Bonello's biopic Saint Laurent, playing Loulou de la Falaise, the iconic muse to the designer. De la Falaise was part of the Seydoux social circle and Léa turned to family and friends when she was researching her character. "When you create, you have to expose. If you don't expose yourself, it's not very interesting," she says of her artistic approach. "I must have an extreme empathy with a character. I am expressing a part of myself, it's a part of me."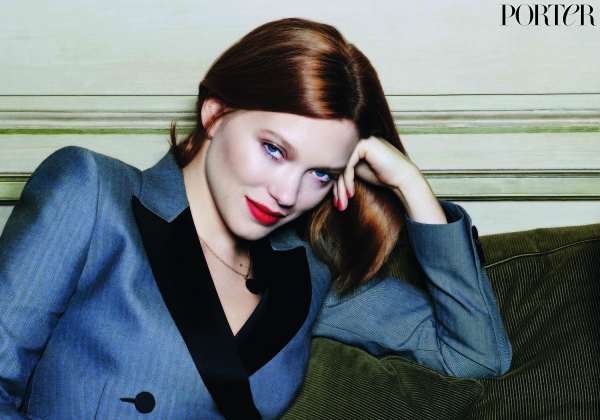 Despite her growing fame, Léa and her sister can easily pass for each other. In fact, to look at, the Seydoux girls are almost identical. Camille's hair perhaps a little wilder; Léa with a small gap between her front teeth, noticeable in her infectious grin; Camille a touch more rock'n'roll in her style, a nod to her rebellious teenage years, and Léa's features marginally more feline. But such physical differences are slight – they have swapped passports to test it, without the authorities suspecting any mischief. As personalities go, however, they are very different. Léa considers herself to be "more tortured than Camille". The older sister is bubbly and peppy, she speaks quickly with a light-hearted sense of humor, laughing often, determined but with an upbeat, can-do energy about her. Léa is more sensitive, meticulous, thinking carefully before she speaks, keen to articulate her thoughts accurately and fairly. Léa, despite being the younger sister, says she has an old soul. "It was hard growing up, when my parents got divorced, so with Camille, we were like…" Léa trails off. "It was magic."
During their childhood, the pair escaped together to their own fantasy worlds – inventing games, climbing trees, dressing up and dreaming up stories, creating outfits and building homes for their Barbies, watching Charlie Chaplin movies and reading fairy-tales. "Oh, we were real girlie girls," Camille remembers. "We used to love Cinderella, Beauty and the Beast."
"They were like a refuge for me, Camille too," says Léa, adding that she found strength in these fairy-tale heroines: "They have their own destiny, their own struggle. They fight for their rights in a way. There's a happy ending, but they are female leading characters. When I was little, all these stories of girls who become women… it's very psychological." She stops, exhales and looks away.
Léa describes her relationship with her sister now not as a friendship but as an accomplice and ally: "You can love your friend, but you are not from the same blood. Camille and I are very close, we have a certain complicity, we share something strong, something that only belongs to us," she confides. And, promptly, stopping herself to glance at the time, she rises, keen not to be late for her next appointment. Stealing a glimpse into the Seydoux' tight-knit sisterhood has been entrancing, a privileged insight into a bond rarely shown to others. "Call me anytime, though!" Camille offers, not wanting the Seydoux world to appear too exclusive.
Saint Laurent is released on October 1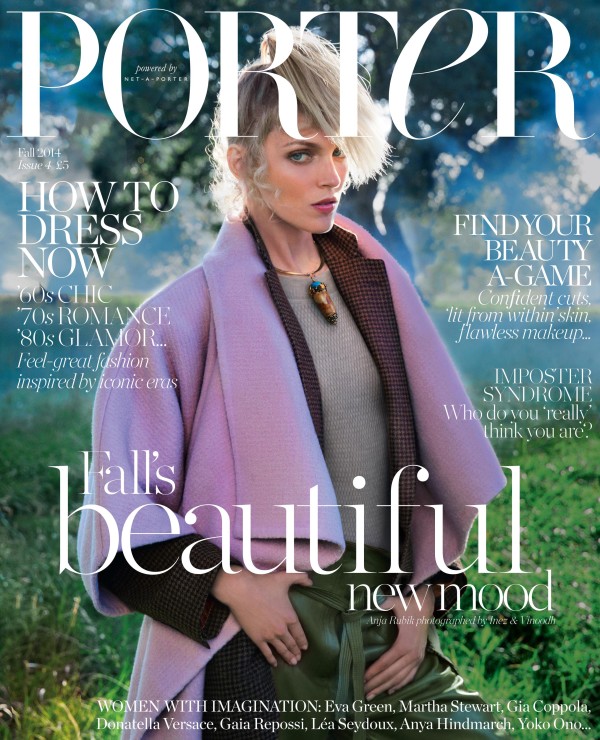 Interview in Porter magazine available on newsstands now.
Anja Rubik photographed by Inez & Vinoodh.  Image courtesy of PORTER