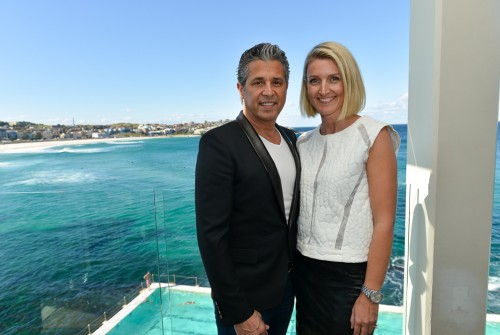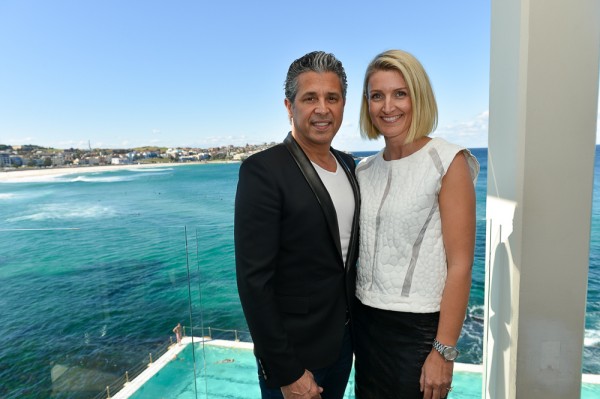 A few weeks ago I attended the Financial Review Bespoke conference at the Opera House. The day was filled with presenters each leaders in their fields talking about their businesses and careers. One of the most impressive speakers of the day was Jeff Rudes, Founder and CEO of
J Brand
.
To back track a little, J Brand was co-founded by Jeff, a denim manufacturer who has had over 30 years in the industry and former stylist Susie Crippen in 2004. The two set out to create timeless, classic and sophisticated jeans with the emphasis on fit and the result? A wining combination of style and comfort.
In 2012 J Brand introduced a Ready-to-Wear collection designed with luxurious contrasting fabrics while continuing the simplistic attention to detail and sensibility which embodies this brand.
The Friday after the conference on a beautiful Sydney day I sat down with Jeff in Bondi to find out more about the brains behind the brand and what we can expect to see next.

Claire: How do you split your time between Los Angeles and New York?
Jeff: I wake up very early so I work from home in the morning. I have my structure and I take home work. Of course there is a lot of communication and emails to get through and it's a good time to do it between Europe and New York. It's quiet. Me and a few dogs. At this time of the day there are no interruptions, the manufacturing issues come up all the time and the design team know that if there is something they need to show me they've got a licence to knock on the door.
Claire: So you're really hands on?
Jeff: Oh yeah. Very close to the product. Very hands on in the business. I've been doing this 35 years and I would say I'm pretty experienced in all sides of it, manufacturing, finance, distribution – anything that we can have a problem with I've experienced that problem. So if there is some solution that I can contribute to – sometimes it IS the solution.
Claire: You've obviously got a very rich history in denim and starting this brand in 2004, what was the vision? Have you reached the goal you wanted to with the introduction of Ready-to-Wear?
Jeff: Well reaching it would expand it to the next level of retail, product expansion and arriving to it being an established fashion brand and we've started that from the platform of the jean brand.
The vision. It was to have a clean, minimal, sophisticated look. I aspire to what Ralph Lauren does, and the look that Ralph does. I've never really worn logos in my life. The co-creator of J Brand and I have a very similar aesthetic.
I used to be a tournament tennis player as a kid. I wore two logos, Fred Perry and Lacoste every once in a while. You couldn't give me anything else from those young days with a logo that I would wear. I just wouldn't do it. So it was about clothes rather than the identity of the brand and the identity of the jean, which would be the back pocket design. It was about the person.
What our original goal was from a fashion point of view – we had that customer in our sights from day one. She's aspirational because she's classic and approachable, but she's chic in a way and she can be casual.
Claire: Do you think that is why you have such a cult following. Anyone who is anyone wears your jeans and so too do most fashion savvy women. Is it because of the understated branding and quality J Brand is known for?
Jeff: Yes and she can, as a canvas, dress herself. So it's a different experience. Its not about ' how do I dress the jean?' It's 'how do I dress myself using the jean?'
What is the jean ? It is minimal, it is clean, it's nothing that screams anything and the fit is incredible. If a women wouldn't know (who has any sense of style) what to do with that, she needs to learn a little bit about style…… Which is not a bad thing.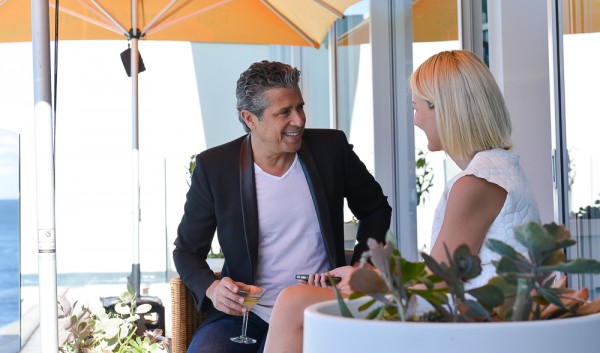 Claire: To quote you yesterday: 'The jean is a canvas to create a style' I absolutely love that. A jean is a wardrobe essential. What role do you see the jean playing in 50 years time?
Jeff: Ok well lets go back 100 years, that jean as we know it was a 501 and went till the early 70's until the french jeans and the fashion jeans (which is kind of what we are doing today).
I was inspired by a jean that I made back in the 70s, which was from a french jean. Same thing we are doing now, clean, dark, incredible fit but it was ridged so you had to lie on the floor and squeeze to get them on – that's what mum did. So its got long-geverty. Now what's the modern going forward? Its about beauty and style. It wasn't about this back then, it was more casual. The jeans were a weekend thing back then. Today its' chic, you can go anywhere and be wearing a jean. Every restaurant 10 years ago people would say 'I have to put my Alaia dress on because we are going to a chic place. ' Now, they could wear a great blazer, blouse, and a pair of jeans and the right shoes and they might be one of the most fashionable people in the restaurant.
So it is about fashion. Where is fashion going to be in 50 years? My mums capri pants are things that they are going to wear tomorrow (I use my mum because it goes back to the 60s). But every thing is cyclable. Jeans are a fashion piece, it's that canvas, it's comfortable.
But here is the secret – it's that thing that women feel beautiful in and they feel sexy but not overtly sexy, they look beautiful and this is not going anywhere.
Claire: You also mentioned collaborations yesterday, I'm big on this and you've done some great ones. Where has that put you where you otherwise wouldn't be?
Jeff: It's about doing something special that gives you credibility. You wage yourself above the rest of what America is doing. The stores want something special because there is no exclusivity anymore. Most stores have the same thing – what Barneys have Bergdorfs have. So today what the stores want is as much exclusivity as they can have and then the consumers want that. One off, can't get it everywhere, its limited edition, its got maybe their two favourite brands together making this product. So its a great thing to do and something we love to do because of the experience of working with the designers. But what have we got? Well, the press loves it, it's not a revenue generating project because we do contribute back, as well as we aren't shipping enough to make money and the development costs and all of that are high. But people use that word 'cool factor'. There is a cool factor around building a brand doing projects that are considered unique and cutting edge.
Claire: Who is on your wish list to collaborate with?
Jeff: Ha ha, Wow!! We are working on it. We have met a few times but we aren't at liberty to say.
Claire: Can you give me an initial?

Jeff: No. But I can give you a country… Botswana! Ha- No, France.
It will be probably like with everyone we've done, brilliant… Christopher (Kane), speaks for himself, we spend a lot of time with Christopher, he is like family now, family to the brand.
But this will probably top them all. It's not a really grand, global brand because we never choose to do it that way. We wanted them to be established and the emerging part was jumping to the next level. Like a season after we finished with Christopher and we knew that he was going to either get bought or build himself to becoming an incredible designer brand. PPR comes in and buys and invests. So we kind of pick – who is the next to go to that level and who should we partner with because you know all the press we get, benefits them.
Claire: When do you see this being announced?
Jeff: Somewhere by the end of the year and it will probably be for our Fall 14 or Spring 15. We want to keep the spotlight on our RTW line and what we are doing internationally. A lot of the jeans, the new technology of fabrics that we are adding (as we have added 5 new fabrics in the last 2 seasons) and there is a lot of technology in denim. Comfort, stretchability and feel that is completely different in how we knew it even a year ago.
So we want to put the focus on that, especially with RTW, and we might do something like a presentation in London or go to Europe with a presentation before we do this collaboration. To give the attention to what we are doing. Because once we do this collaboration, believe it or not, all the spotlight from the press is going to be on this collaboration.
Heres another thing. We are looking at some local collaborations, maybe in Italy, someone special and close to home. We might look to do something here (Australia) with someone. The 5×5 we did in London; Peter Pilotto, Christopher Kane, Erdem, Meadham Kirchhoff and Richard Nicoll. We had an Australian and he was the best selling jean of all of them! His was a coated jean to the thigh (like a thigh high boot) and then regular black denim the rest of the way. Every jean was brilliant. But one is going to out-sell the other and he was number one. So our experience already with an Australian designer is great!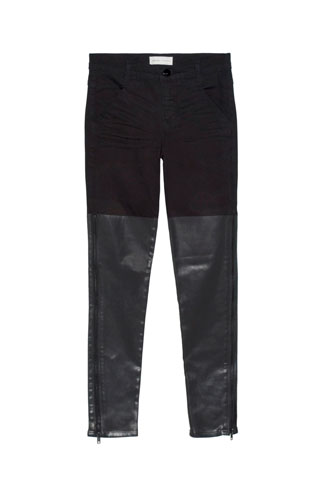 We are shopping stores tomorrow and looking at a few local designers and checking the market to get a feel for who's doing what.
Claire: What is the next trend that we are going to see in jeans?
Jeff: Fashion is a big part of what we are doing, which means that's what the customer wants. We speak to the customer. Yes there is your 5 pocket jean, give me a new fabrication if its summer, this year this very cliche lighter blue, its all about the right kind of blue thats a big part. Its the white t-shirt, and that jean and the right shoe and you're ready to go for the summer. Indigo is very strong right now. Colour for us is back to neutral, we don't want to see anymore brights! We always do great with neutrals. Off-whites, navy, blush, khaki, greys. That's our colour pallet.
And then the fashion, and the fashion is the fit of our jeans so everything is inspiration to our fit, but its novelty via fabric. The jacquards. Internal jacquards and there are some woven jacquards and they are so perfect because its for our customer. They are not loud and they are some what geometric. That will keep the customer curious and interested.
Claire: We've spoken a lot about work. Yesterday you said 'The simplest things are often the hardest to achieve' how does that relate to you personally?
Jeff: Thats a great question. I have this saying, 'don't try too hard' because when you try too hard its obvious. And that could be anywhere in your life, the way you dress, in your home, in your recreational choices. So its always keeping yourself in check and not trying too hard because it's easy in this business to over board, go wide and end up with too much. Its like that menu at a New York deli thats like 5 pages and you turn it and go what?! Then you just go next door for a pizza. And you're like why didn't you give me one page of great stuff!
Its about keeping it simple. I try and keep that simplicity in my life as well. There is a lot going on and it's very easy to let everything get to you. Humility, being connected, available. You know you go to stores in New York and they treat you like a rockstar and I leave and laugh and say all we do is make jeans, we didn't just cut a movie, we didn't just perform on stage. Its nice to dress Madonna and Mick Jagger and Gwen and so on- and it could be very easy to let that go to your head.
I drive a very humble 12 year old suburban to my office every day because I love it. It's a way to keep myself grounded, even though things change you don't need to let everything change.