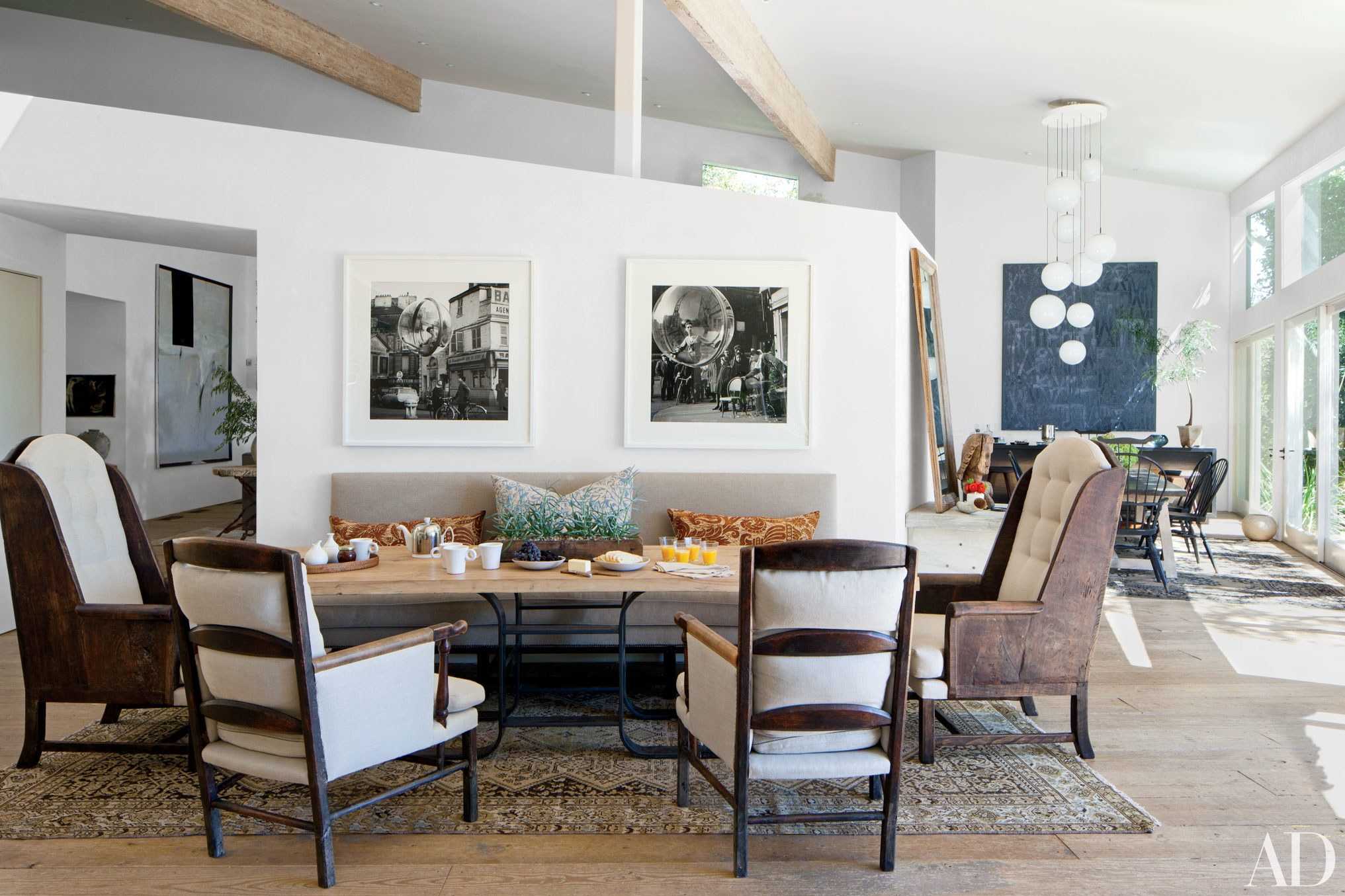 In Patrick Dempsy's Malibu, California, home, fashion photographs by Melvin Sokolsky are displayed in a dining area outfitted with chairs from Lucca Antiques and a custom-made Teak Nicholas Design table; the homes decorated by Estee Stanley Interior Design.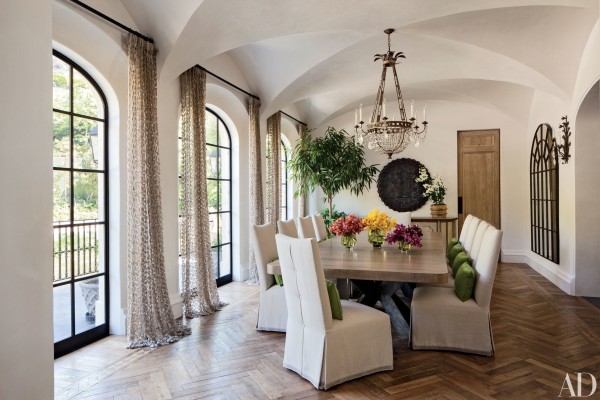 A chandelier and sconce by Dennis & Leen grace the dining room in Gisele Bundchen and Tom Brady's Los Angeles home, which was decorated by Joan Behnke; the curtains are made of a fabric by Marcie Bronkar and a Kerry Joyce linen covers the chairs by Behnke, who also designed the table.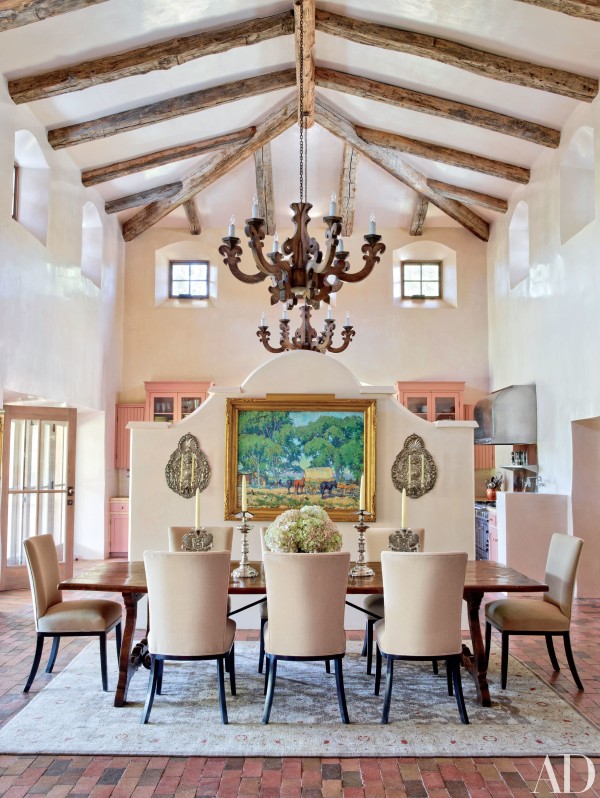 A 1992 painting by Alson Skinner Clark overlooks the dinning area at Jane Fonda's New Mexico ranch the table is set with two pairs of Spanish Colonial candlesticks, the smaller of which was owned by the fashion icon Millicent Rogers, one of Fonda's relatives.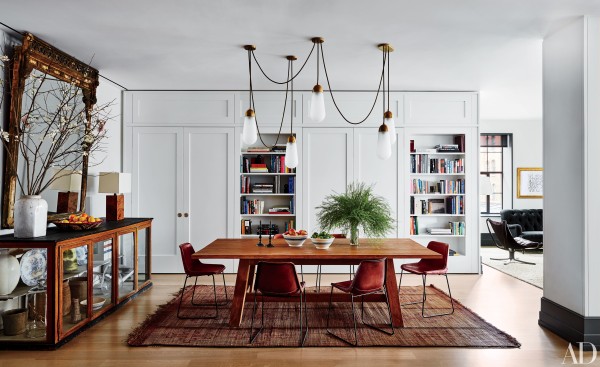 Lights by Apparatus Studio hang above a Ralph Lauren Home table and Sol y Luna chairs in the dining room of Naomi Watts and Live Shreiber's Manhattan Apartment, designed by Ashe+Leandro. The mirror and cabinet are antique, and the Tuareg carpet is vintage.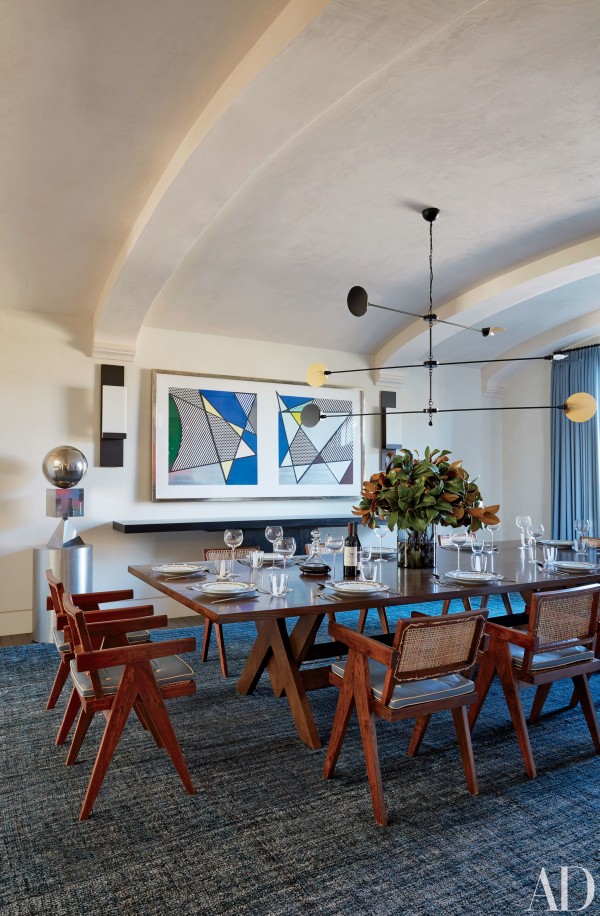 In Kourtney Kardashian's Calabasas, California dining room, decorator Martyn Lawrence Bullard placed a bespoke table and a suite of vintage Pierre Jeannette chairs from JF Chen under a Jose Esteves chandelier from Interiors; the framed artwork is by Roy Lichtenstein, the James Preston metal sculpture at left is from Blackman Cruz, and the carpet is by Mansour Modern.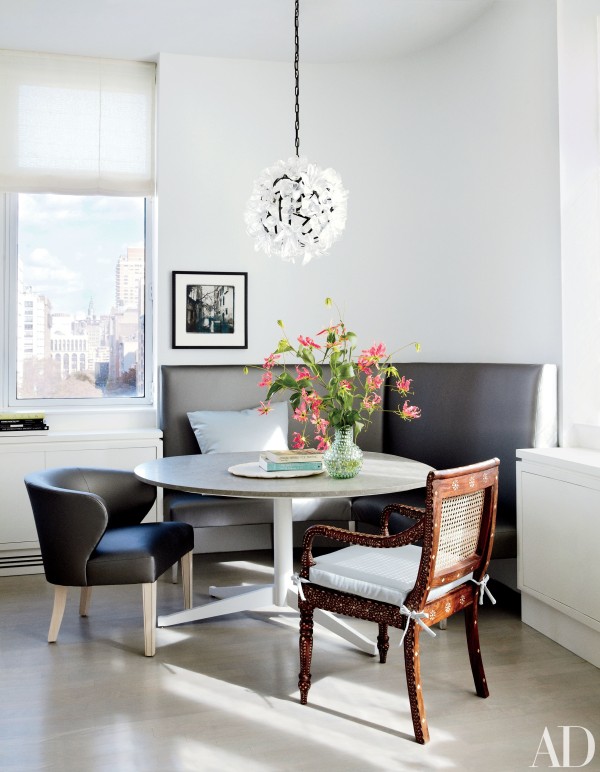 Artist Elizabeth Lyons created the light fixture that hangs over the limestone-top dining table in Julianna Margulies's New York apartment by Vicente Wolf; the bone-inlaid Indian chair and the low armchair (clad in a Maharam fabric) are both from VM Home.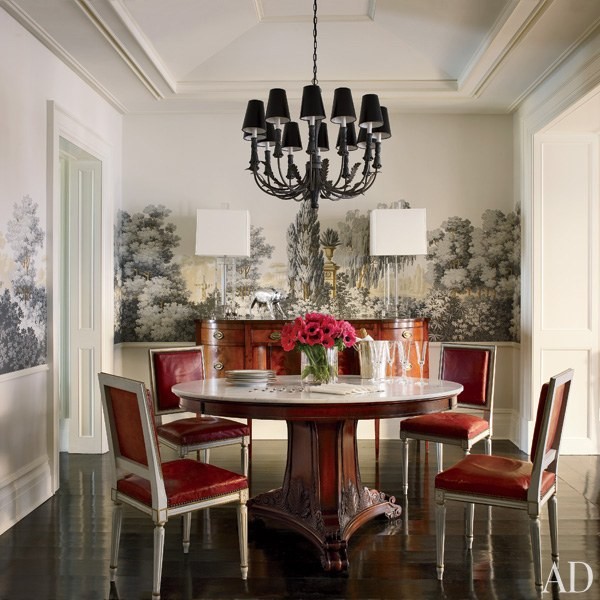 Brooke Shields collaborated with decorator David Flint Wood and MADE architects on the Manhattan townhouse sha shares with her family. Zuber's Les Lointains pattern evokes an enchanting mood in the dining room, where a tole chandelier is mounted over a vintage marble-top table by Ralph Lauren Home and chairs by Jansen.
Sting and his wife, Trudie Styler, revamped their early-18th century London townhouse to accommodate more living and dining space on the lower level. Architect Lee F. Mindel of Shelton, Mindel & Associates worked with restoration architect Anthony Close-Smith on the extensive protect. Model recalls, "We asked ourselves,How can we make each room seem spacious and connected to the outdoors?" A large skylight was installed to bring natural illumination to the dining area.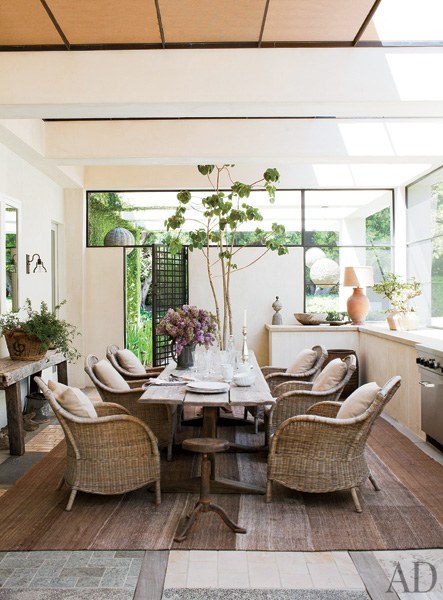 The screened porch of Portia de Rossi and Ellen DeGeneres's Beverly Hills estate includes a 19th-century trestle table wicker armchairs for informal dining. The house was designed by California architecture from Buff & Lensman and later expanded by decorator Melinda Ritz.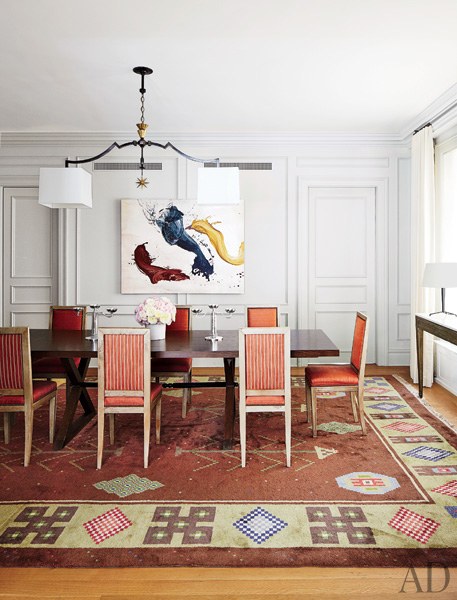 On Manhattan's Upper East Side, Carlos Aparicio renovated the decorated the Manhattan apartment that fashion editor Nina Garcia's shares with her family. A '20s Swedish light fixture from B4 complements a Jean-Michel Frank table and chairs, which are upholstered in a Lee Jofa silk and a Stark striped fabric; the paintings is by James Nares, and the Jean Despres candelabra are from Karl Kemp Antiques.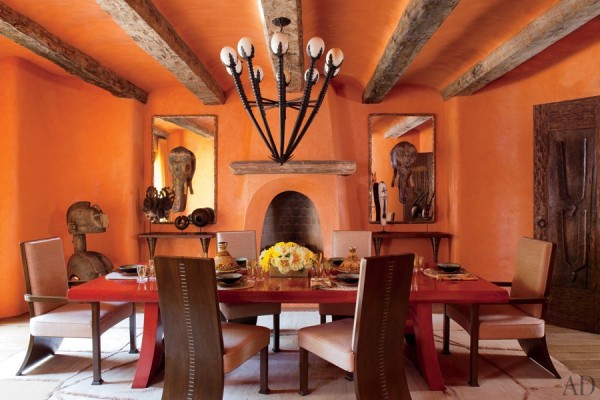 Will and Jada Pinkett Smith created a family haven near Calabasas, California, with the help of architect Stephen Samuelson and interior designer Judith Lance. In the dining room, a custom-made table sheathed in lacquered linen is surrounded by walnut chairs, which are upholstered in a Beacon Hill fabric and accented with bronze-staple detailing; the rug is from Woven Accents.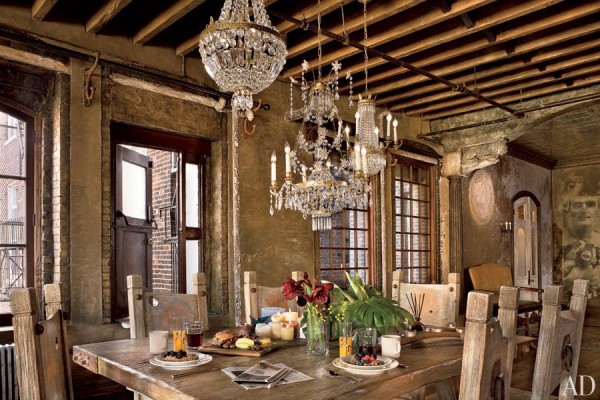 Actor Gerad Butler created an old-world home in Manhattans Chelsea neighbourhood with the help of architect Alexander Gorlin and film designer Elvis Restaino. "I wanted something elegant and gorgeous and at the same time rather masculine and raw," Butler says. A heavy custom-made table is the heart of the 3,300-square-foot loft's dining area.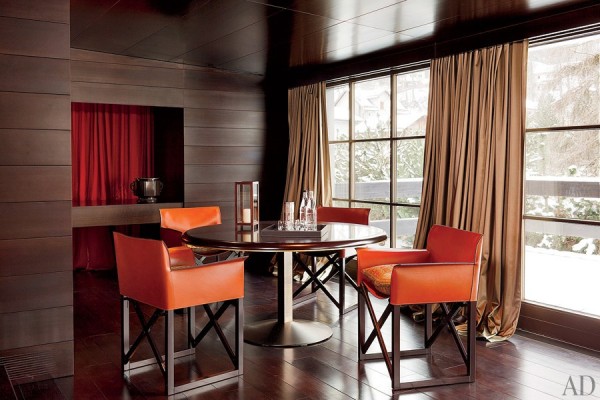 With the help of his design team, Giorgio Armani transformed a 17th-century barn near Saint Moritz, Switzerland, into a luxe retreat. The winter garden's dining area contains pieces by Armani/Casa, including a table accented with a bronzed-brass base and director's chairs covered in Bulgarian leather; the room is clad in mahogany, which lends to the masculine feel of the home.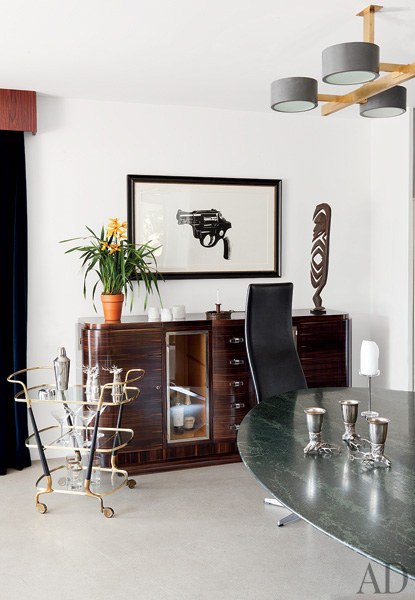 Mark Haddawy decorated rock star Adam Levine's restored 1940s ranch-style house in the Hollywood Hills. A vintage Italian bar cart sits in the sleek dining area beside a French Art Deco cabinet from JF Chen and an Andy Warhol silkscreen; the table is by Florence Knoll, and the chairs are by Arne Jacobsen.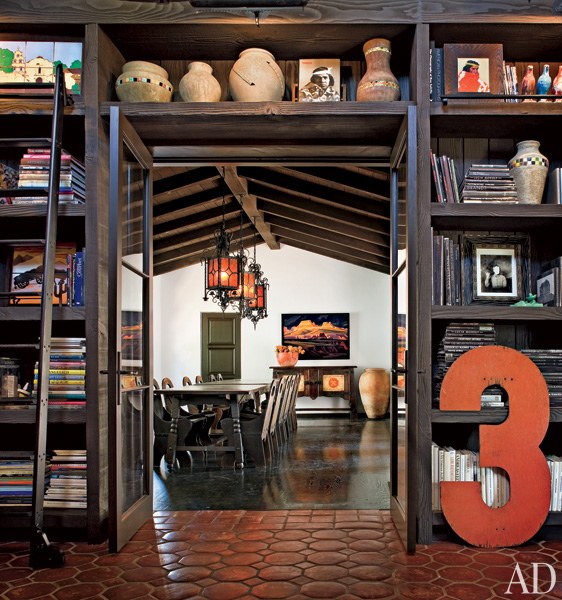 An Ed Mell painting titled Storm Mesas hangs in the dining room of Diane Keaton's Beverly Hills residence. Keaton worked with friend and designer Stephen Shadley to make the early-1920s structure by architect Ralph Flewelling her own.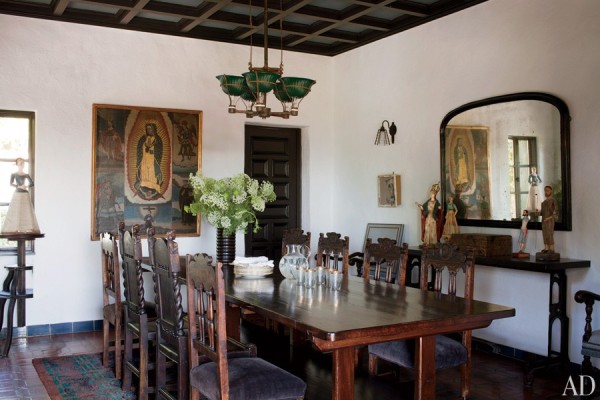 Sheryl Crow furnished her 1926 Spanish Colonial hacienda in the Hollywood Hills with many items she collected while on tour. The antique dining table was once used in a linen  factory, and the light fixture is  from the '30s.
Images and text via: Architectural Digest