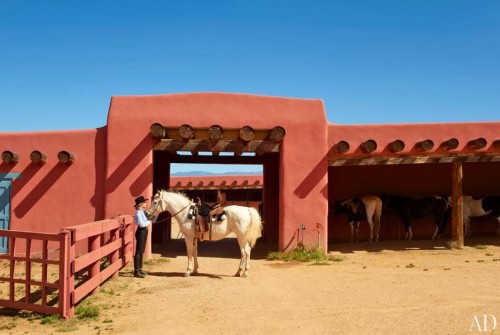 Jane Fonda with her Arabian mare Gitane at Forked Lighting Ranch in New Mexico. The barn was designed in 1960 by the firm of Santa Fe architect John Gaw Meem.
In the living room at River House, the property's main residence, the carved-wood chandelier has arms that echo the antlers of the mounted elk, Fonda's quarry from a Montana hunting trip. The fireplace surround features the rach's Forked Lightning emblem; wood candlesticks from Santa Fe rest on the mantel. Two Marion Kavanagh Wachtel paintings flank a set of French doors, and the lamps are circa-1900 Handel.
In 1922 painting by Alson Skinner Clark overlooks the dining area; the table is set with two pairs of Spanish Colonial candlesticks, the smaller of which was owned by the fashion icon Millicent Rogers, one of Fonda's relatives.
River House's upstairs galleria displays some of Fonda's Navajo rugs; the saddle in the foreground belonged to the actress Greer Garson, a onetime owner of the ranch.
The actress designed the headboard in the master bedroom; the bed linens are vintage, and the ceiling fixtures are Italian.
A 19th-century Mexican religious painting hangs above the fireplace in the master bedroom; the wood sacristy cabinet is 18th-century Mexican, and the double doors are antique.
A Navajo rug lines the floor of the master bath.
River House was built according to the architectural vernacular of New Mexico, with a tin roof, a bell tower, and deep-set windows; the brick used throughout is in the four shades inspired by the sunset.