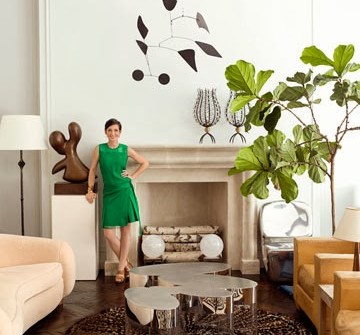 Interior designer Delphine Krakoff's sophisticated New York townhouse that she shares with her designer husband, Reed Krakoff, and their children.
The library, with a Tiffany lamp above and a Marc Newson chair in the corner, is often transformed into a 16-person dining room.
Delphine leans on a 1930s Serge Roche table. In the background is Frank Stella's 1974 painting Concentric Squares and sconces by Maria Pergay.
The upstairs sitting room features a mirrored mantel by Serge Roche, circa 1930, which he made for his own private residence. Emilio Pucci pillows offer a spot of colour.
In the living room, Alexander Calder's 1971 mobile Two Black Discs and Six Others floats above a Jean Ary sculpture, Andre Dubreuil candelabras, and a Guy de Rougemont coffee table.
In the master bedroom are an Emile-Jacques Ruhlmann vanity, a 1920s-era bed by Jean-Michel Frank, a table by Marc Newson, and Claude Lalanne's Pomme Bouche apples (on the mantel).
A corner of the airy living room features a screen by Serge Roche.
In the sitting room, the walls are decorated with Allan McCollum's abstract installation Plaster Surrogates. Joris Laarman's silver Bone chair sits in the foreground.
Source: Harpersbazaar.com