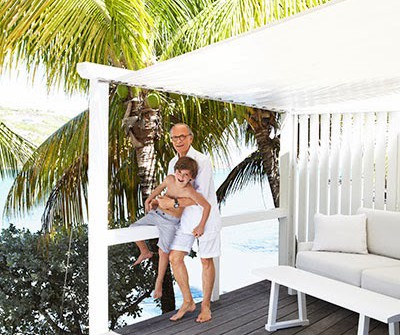 30 years ago, when the Parisian interior and furniture designer Christian Liaigre began vacationing here in St. Barts, life in paradise was a lot more subdued. "At the time, most of the homes on the island were simple wood cabins and cottages", he says.
When Liaigre decided to build his own house on St. Barts, his goal was to re-create the simplicity that drew him to the island in the first place. "I wanted a house that was basic and surrounded by nature", he explains. " Essentially, what I set out to build was a fisherman's hut".
Liaigre has often said that true luxury boils down to three essentials: air, space, and light.
Liaigre designed furniture specifically for this house, and then supplemented it with many of his classic pieces. Nothing is superfluous, from the living room's while slip-covered seating to the dining area's spare table in teak and black oak to the bedroom's minimalist platform beds topped by mosguito nets.
While the home's overall palette is stark, Liaigre injected touches of red throughout, froms stripes on a dresser to the living area's varnished sliding doors. "It's a little note to bring equilibrium to all the while and black", he says. "When we close the doors in the evening, it feels like there is a lot of red, and it warms things up."
While is can get quite hot on the island, one thing Liaigre won't abide is air conditioning. "It's not necessary," he says. "We have plenty of fresh fresh air from the sea. That is part of the charm of coming here, to sleep with the doors open and feel the wind on our bodies. We have everything that is essential: air, space, and light."