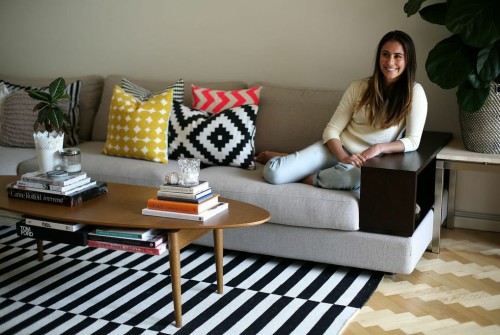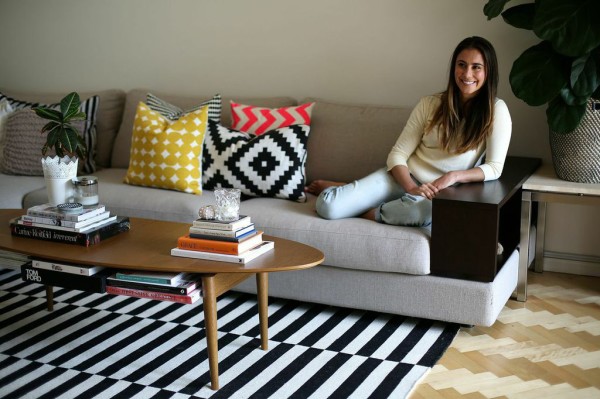 When you meet someone and they have that certain quality you can't quite put your finger on. Then after getting to know them a little better you 'get' it. That was my meeting with Jodie. Humble, incredibly smart and to me, very inspiring. Intelligent, savvy and not too shabby on the eye. I'm  thrilled  to have Jodie as our very first  'Inspiring Woman' which will be an ongoing feature on the blog.
Claire: Tell us a bit about your professional background – what did you originally study ?
Jodie: I studied Law and International Business. I went on to practice as a banking and finance lawyer and work in advertising before co-founding Shoes of Prey.
Claire: You are a co-founder of Shoes of Prey; a concept allowing women to create their very own bespoke pair of shoes online. How did you come up with this idea and how did you bring this concept to reality ?
Jodie: I was solving a problem of my own – I'd always liked shoes, but I never loved them because I couldn't find exactly what I was looking for. Either it wasn't quite the right colour, there was an embellishment I didn't like, not quite the right heel height … anyway, when I was travelling, in the same way that you find someone who will make a custom suit for you, I found someone with whom I could commission shoe designs. My shoe collection became really exciting, and my girlfriends asked me where I was getting my footwear. When I explained, they asked me to create shoes for them too. Concurrently, my two business partners Mike and Michael were at Google and becoming really excited about the opportunities in online retail. I wouldn't have thought about turning this into a business had it not been for Mike and Michael. They just needed an idea. We all came together and Shoes of Prey was born.
We started to make it a reality by just taking one step at a time. Firstly, it was to think about how it would work. To understand if there were competitors out there. To see if this was something that women really did want. Once we knew these things, we then looked at suppliers and understanding how the operational side might work.
Claire: 5 years on from launching Shoes of Prey, are you still very involved in the design process and the day to day happenings of the business ?
Jodie: Much less so. That transition was (and still is!) hard. I still work on the design collaborations and mood board work at the beginning of the development process. The business is at a stage now where while it's possible to be broadly across the business, it's not possible to be in the everyday. I've found it really hard to draw those lines and I'm sure I've frustrated my colleagues along the way to learning this !
Claire: Where do you draw your creative inspiration from ? 
Jodie: There's no one place. I find inspiration in observing shapes and colours coming together in nature or by happy accident – in paint peeling off an old wall, in mismatched decor in a street food vendors tent in Thailand – anywhere really.
Claire: Shoes of Prey have collaborated with Romance Was Born, Carla Zampatti and TOME. Who would you next love to collaborate with ?
Jodie: The list is long ! If I think just about Australian designers, It would be either Ellery or Dion Lee.
Claire: Lawyer turned advertiser turned entrepreneur. Do you think the skills you gained studying law and advertising have assisted in your achievements and success as an entrepreneur ?
Jodie: Most definitely. Being a lawyer gave me a fantastic grounding for the etiquette and language of doing business. Advertising taught me about processes, budgeting and mostly – how to work with people. All of these skills have been critical to the journey as an entrepreneur, and I keep learning and building on these skills as I go.
Claire: What is one piece of advice you would give to people wanting to start their own business ?
Jodie: Do everything before you are ready. If you don't you'll never start – or even worse – someone else will execute your dream.
Claire: What 3 things do you always have in your handbag ?
Jodie: Outside of the usual wallet, keys, iPhone, the essentials are: Clinique Chubby Stick Baby Tint in Poppin' Poppy, Tom Ford Translucent Powder and Headphones.
Claire: What does your typical Sunday look like ?
Jodie: A sleep in, no alarms allowed on a Sunday morning. After finally prying myself from bed, I head to a Barre body class then brunch with my lovely boyfriend. I might do some little house chores or just enjoy being home for the morning, then I normally work Sunday afternoon/ evening (interspersed with a short afternoon nap or swim).
Claire: Instagram or Twitter ?
Jodie: Instagram.
Claire: What is next for Jodie Fox ? 
Jodie: More Shoes of Prey (the love of my life) on an international scale.