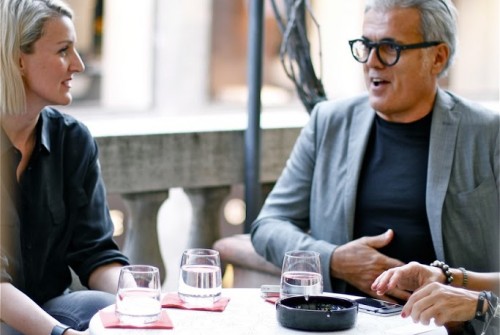 On my recent trip to europe I travelled down to Milan for the day to interview the charming and witty Giuseppe Zanotti.  Giuseppe is a leader in luxury shoe design and has a cult following of fashionistas and celebrities alike. Giuseppe's first boutique opened in Milan in 2000. Additional boutiques then opened in the major fashion and luxury capitals of New York, Paris, London, Moscow and Dubai and today there are about 50 stores scattered around the world. Still today he works with brands such as Balmain, Proenza Schouler, Thakoon, Christopher Kane and Delfina Delettrez in a synergy of creativity.  Over the years his spirit has remained the same – naïf and rock 'n' roll – whilst keeping one eye on the past focusing on manufacturing tradition and the other on the future and research. His creations are true to his initial inspirations, where art and music are essential ingredients for his creative designs.
In person Giuseppe is quite fabulous. Italian, passionate and of course very talented. And he tells great stories.  When you read this you have to imagine listening to him speak with a thick italian accent.


Guiseppe, thank you so much for your time.
Giuseppe: Thank you for having me on your blog. I love Australia and I think there are some people who like my shoes there??  I think Australians are very, very cool. I have one customer who buys the special most particular shoes in my collection and she has for a very long time. Australia has much success. LA was incredible 15 years ago and now I think it's Australia. Sydney has so much going on. It's a new world with communication and is so fast now we can be everywhere at once and experience it all.
Anja Rubik is such a great brand ambassador. Your campaigns are some of my all-time favourites. The images so powerful and those legs of hers that go on forever.
Giuseppe:  Yes I think she is very cool too. Here I'll show you something from last night before all the vodka (he says laughing and reaching for his phone and showing me photos.) Anja came after she finished the Gucci show and Theolopolis London, do you know him?
Claire : Erm yes (Love him)
Giuseppe: And Chris Brown too. Yes, we had fun with all these guys, before the vodka…(laughing).
Giuseppe Zanotti the man. How would you describe yourself in five words?
Giuseppe: I better not… ha ha ha. I'm not happy until I find balance. I want more and I find something I'm missing all the time. When I'm bored I always find something around me that I could improve and make better. Like in the movie the Blade Runner, the character has such a short life.  I feel like sometimes I don't have enough time to do what I need to do. I never stop, I have a passion and want to do better  and better all the time.
And I want to be able to cancel all the bad restaurants in the world.
What is this collection about?
Giuseppe: There is the first part that is very pop colour, obviously what resort is always about. It's a lot of things that become signature for us. But spring to me is incredible, you can kind of see an evolution there, the next direction. There's a lot of strong contrast like incredible lines, much less platforms and more about the new heel that is fantastic and details in black against metal and gold hardware.
And you're now doing jewellery and bags…
Giuseppe: I think this started 2 years ago to create something close to my shoe collection. Like a little universe. I'm a shoe designer not a fashion or clothes designer. I think a women wearing a t-shirt and jeans involves a sequel of elements like accessories, jewellery, sneakers and bags. The sneakers are incredible things, it was the first time in my life I designed the sneaker, because before,  they were terrible sneakers. But now it's time to behold the sneaker!
My sneakers are very expensive because they are produced in my factory. They are fun, sparkling. Sneakers, bags, jewels, shoes – they all work well together. This is the idea, to not only have shoes for evening and fashion, but to have something for day as well. Universal but with my DNA. I don't jump from story to story, it's my kind of aesthetic.
 Is the construction of a sneaker very different to the making of a normal heel, flat or boot?
Giuseppe: It's like an art of its own and even if you look at a sneaker they all have the elements from the collection. It's like translating all elements of the Giuseppe Zanotti design collection into a street wear shoe. Along with the comfort they also need to have a fashion element. I think every woman is celebrating the sneaker, especially with the wedge inside.
This season we think about this woman – the original African woman. In the 60s and 70s motown era  or like Diana Ross. I like to have the idea of the colour of Africa for the fashion girl on the streets. It's a global woman, not one nationality, not for one person, but it's a girl who loves sneakers, fashion, shoes – they like to mix and match everything.
When I designed this collection, the colour of the African sunset, the colour of the middle ground was inspiration. I moved this atmosphere with the combination of suede, brown, gold, terra-cotta in the sneakers. I also moved some metallics on the sneakers.
It's not about the sneaker or shoes or jewels it's the same DNA. In a sneaker the construction is more sturdy and I have latex on the inner sole which makes them very soft. And the zipper is so cool. The skin is also so soft and good quality and when you open the box I put vanilla perfume on the bottom of the box. It's a unique thing I do. It's a special add-on.
Where does the inspiration come from? Is it from seeing a movie, or travelling…? 
Giuseppe: I work very close to the land on the ground. My inspiration is Africa, and the origin of music; rock and roll, RNB, jazz, blues, all this contemporary music originally is from Africa. The power and energy is from Africa, (or maybe from Australia), but it is from the land, the original land. Natural sunsets, animals and seasons. In this case I think about the story – the story of Africa. I write the story before, a script before I design. You can't have a movie without a script. When the slaves went from Africa to the USA they used the bongos on the boats like in the forest, they sang songs about the change of culture or a forgotten culture and slaves. I feel a lot of energy from rap music.
I like to dedicate this collection to these generations – first the 70s. Within music,  Jimmy Hendrix, Lenny Kravtiz – with their crazy looks and their tattoos. My collection is not a rap collection, it is a feminine collection with elements of rap.
The next collection for winter is another story. In every story there is something from the old story. I don't forget this story. I don't forget the African story for next winter because I don't jump from story to story.  At this moment in my life culture plays a big part.  Before it was more superficial, more empty. Now I'm older and deeper and I want to think more and anything I want to present,  needs to have something to tell. It needs to express something.
Are you aware of what others designers do?
Giuseppe: I don't look in newspapers and magazines because I don't want to be conditioned by others. When I started this collection it was last June and now I see on the runway some designers have an African touch. In this industry other designers feel the same. It's not to copy somebody but it's the reality. I don't look at fashion magazines when I design, I don't want to. When I'm on the plane and travelling I read magazines but before I design the shoes me and my team prefer to feel isolated and to think about it.
So many other luxury brands are doing diffusion lines. Would you think about doing this with the Guiseppe Zanotti brand? 
Giuseppe: I like cheaper lines but in my case I don't like to do cheaper lines because for the moment I want to better my work in my line and collection. Already there are cheaper lines that copy my shoes and I'm happy. Some girls don't have 1000 euro to spend on my shoes so if there are cheaper versions why not? But that's not my story. My story is to find myself and my opinion of myself. I'm a psychologist to myself and thanks to my collection and my shoes I can do that. They are like my son in the way that they end up teaching me.
Where do you see your brand in five years?
Giuseppe: I think the idea to have more representative stores around the world is my top priority. To show my product very well. If you have three shoes in one department store it does not represent myself or my brand well. With my collection you need to have a lot of things in the store. I want to show my story in a store. I would like to change the normal distribution so I have more representation of my brand and my work.
I want to work around the universal product of accessories. I like a woman with their own self esteem, a strong woman. They don't need any fashion designer to decide for them but one that can work with TopShop or Lanvin, be able to mix luxury and high street. I believe in new balance in an outfit. Any woman has the opportunity to change themselves and create their own style. I love when I see women dressed in the Japanese style, the gypsy style or like a tom boy. It's brave and fun. I think the women are stronger than in the past. Because of the sensibility of the woman, it is better to work with women than men. I learn from stylists and press editors and women. I'm influenced by other people and then I  decide myself what I need to write for each story. Influence of society, music, style, sensibility in this story.
…..end.
**Giuseppe was describing his SS13 collections which have not yet been released however you can see fall winter 12 right here featuring Anja Rubik.
If you would like to see the rest of the Milan trip you can view it on Vogue.com.au 

photo: Josephine Willcox