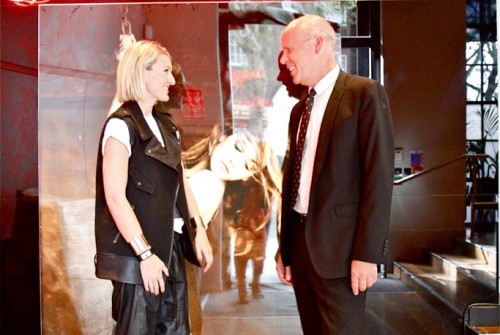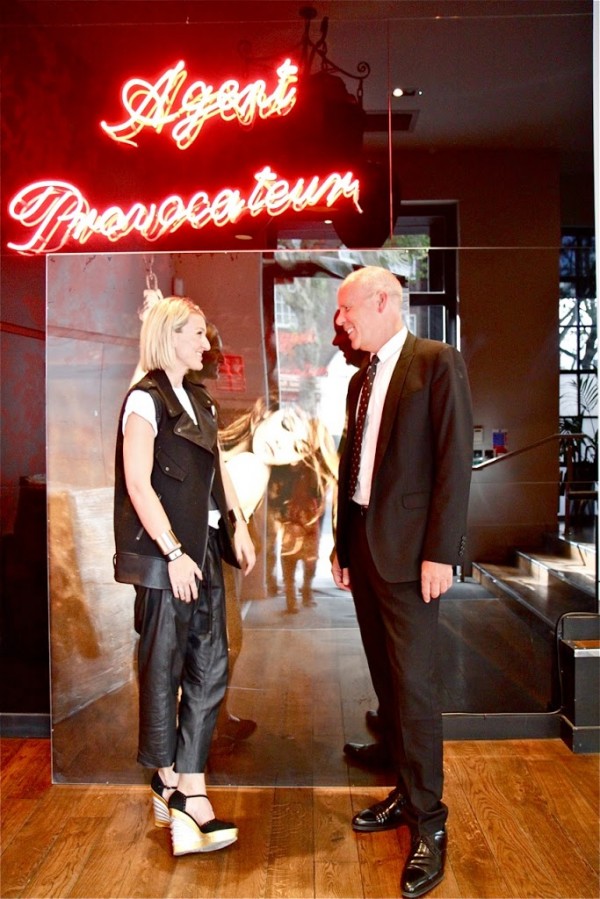 Whilst in London late last year I interviewed Garry Hogarth, CEO of luxury retailer Agent Provocateur. Garry was incredible to talk to as he gave great insight into the company, campaigns, the heritage of the brand and the future direction for Agent Provocateur.
As you know I love a great commercial success story especially around a brand that I personally love. Agent Provocateur has a colourful history having been founded by Vivienne Westwood's son who then sold to a private equity firm in 2007. Garry Hogarth took over the reigns at this time as CEO.
I've been waiting for a few months and now I'm thrilled I can post this with the announcement that Agent Provocateur will be opening its doors in David Jones this month.
The expansion is global. The brand, sexy as hell and it's finally landed on our shores.
(At the time of our interview AP had just released the Monica Cruz campaign which you can view below.)

Q: Who is the Agent Provocateur woman?
A: Really it's all women that we aim for. The company changed a few years ago when the founder left and was sold in 2007. I appointed Sarah to be our creative director, she had been with us for 10 years. She came here from Saint Martin's and worked under Joe and Serena who founded the business. In the end it was becoming a little too much for men and it was also becoming a little sleazy to be honest. And the whole point of the brand now is to empower women, to make them feel comfortable and sexy. Designed by women, for women. It's really about women.
Q: I think your marketing campaigns are so clever because it can be 'either' 'or'. The men buy pieces for their women and the women buy them for themselves.
A: Have you seen the recent one with Monica? It's really cool. Its about a women finding her inner most true self with a magic camera. She goes in an old room, into the Victorian times and she is wearing a beautiful to the neck white lace dress and an old photographer says "this is going to photograph your true self". And when he starts the camera going it turns around and she's wearing underwear and dancing. There is a bit of humor so we try and be funny and sophisticated and a bit edgy.
Q: How do you know when it becomes too sleazy?
A: It was really to do with the old regime and it was more for blokes and that is not always what women want to wear. They have to feel attractive, they have a better understanding of their bodies. They want to wear it for themselves. It is a fine line but its having an element of edginess and naughtiness, but still sexy and attractive.
Q: With the recent success of Fifty Shades of Grey has there been an increase in sales?
A: It's really weird about a year ago I was in a shop in Madison Ave and one of the girls said another customer came in about Fifty Shades of Grey. I asked what it was and they said "Oh it's this book and we're mentioned in it and it says Christian Grey sends his people out to buy underwear from Agent Provocateur". So we would get people coming in saying "I've read about this in Fifty Shades of Grey." As recently as two weeks ago another customer came into New York and spent $6000. He didn't know about the brand but he had read about it in Fifty Shades.
To answer your question what we are selling more of world-wide is riding crops. We have Swarovski crystal riding crops and we are selling little eye masks and blind folds. Those sort of things have increased. It has made people more aware of sexuality and experimenting. And its more spoken about.
The signature pink uniforms designed by Vivienne Westwood
Q: Will you be opening any stores in Australia?
A: We are opening 2 concessions in David Jones, one in Sydney and one in Melbourne. January or February 2013. We thought that was a good way to start. The concessions we have here are with Harrods and Selfridges. So its our staff, our stock and we are in control of the merchandising and the girls.
Q: In terms of expansion – you are in 24 countries and have how many stores?

A: We have 65 stores today and then by the end of the financial year in March 2013 we will be at about 72 stores. We have one more in London which is sort of the flagship type store of London it's on the corner of Grosvenor St and Bond St. It's probably the only one we'll open in the UK. We have a few more opening in the states and Canada and we have a 7th opening in Moscow – Moscow is crazy. Asia we have a concession in Crawford in the IFC building and we're opening in December Kantong Rd. We will be opening in Macau, Shanghai and Beijing next year. We had an issue for a while over our name in China. Someone had registered our name. So we had to take time to get the name back.
Q: Where do you see the brand in 10 years time?

A: I think that at the moment we only sell in our shops or on our website. We have one wholesale customer in the world and thats Net-a-Porter. It's great brand alignment. Its probably the best luxury website in the world. I think we will continue to do that for our main collection. In our pipe line we have identified areas – probably looking at ultimately 150-200 shops. I think what we will look at in time is probably doing a diffusion range which we wouldn't sell in our shops but we would wholesale. I think there is a gap in that market and it is dominated a lot by Elle McPherson. When Elle McPherson launched it was amazing but I don't think its quite the same. And I think in that sort of price area which here is around £40 – there is a big gap there we could exploit. And if we had diffusion we could spin off that.
A friend of mine runs Alexander McQueen and they just opened McQ and they are very excited about McQ because ultimately McQ I think will be bigger than Alexander McQueen.
I think that there is amazing potential for AP. Relatively its small, but people have this perception that it's much bigger. We have done loads of outfits for pop-stars. We did Madonna's tour and she is wearing our stuff on the cover of her album. We've done Beyonce, Katy Perry, Christina Aguilera Scarlet Johansson, Rihanna.
In your marketing campaign – with the women in the window…?
That was Mark Rohnson's wife – Josephine De La Baume.
Q: In terms of marketing and new initiatives is that something that you look towards in terms of branding?

A: Yes. The campaign we did with Monica is all over YouTube. And it's getting our key message out there. The key message to get out really which is always our biggest struggle is getting people into our shops. Because so many people always think oh there's nothing for me its too sexy, I haven't got the right body. But in fact there is something for most people. We have a huge range of sizes we have 27 bra sizes, nightwear, corsets, hosiery. Once we get customers in they are hooked, they stay. But its getting customers to think "Wow, I should go in there".
Monica Cruz: Agent Provocateur Commercial
Q: What is the most popular product each season?
A: We have a Classic range which we redid and relaunched this year. The Classic range is a range of lingerie, pyjamas, different things. It's never out of stock, its never marked down and is always available. This accounts for about 40% of our sales. And that is very successful. Then the fashion range is five collections a season, and we have swimwear and nightwear as well.
Q: Is there a time of the year where people buy lingerie? Is it seasonal?
A: I mean we peak at Christmas and Valentines Day. But generally its pretty much all year around. Of the purchases its a little over 70-75% of our purchases are by women. Which is great!
Q: What is the biggest hurdle you had to face when you took over the company?
A: It was probably the supply, the factories. Because I think the brand before was started by Joe Corre, Vivienne Westwood's son. He did an amazing job creating the brand and getting the brand awareness, he wasn't into the sourcing and technical side. So I think that some of the factories weren't the best. The supply chain needed to be changed. Also technically, to be honest, not everything fitted brilliantly. There wasn't a technologist in the company. My background, I had a company I sold years ago, I was a very big supplier to Marks and Spencer, so all of that factory checking, ethical checks, fits is vital. I suppose when it started, with 2 or 3 shops it wasn't so important.
As we were growing I got in a key women to help. She was about 65, she had retired.She had started doing bra patterns when she was 50, and she is still here. And it changed her life and ours. We got another women in who had been 30 years in bra technology and lingerie. And they come in and say to our young designer "No dear you don't make it like that, you can make it this way and you get the same look". So now our fit is so much better. It's great! It has to look good and feel good but it also has to fit well. And now with so many shops and a bigger business it's so important.
The disciplines of the brand so you can grow it and slightly changing the image back to edgy and sexy, and for women. They were the key things that had to be done.

Q: How would you describe the culture of the company?
A: Its passionate, a little crazy particularly with so many creative people, and women. I think most people like coming to work and thats great. They work hard. I just had a team that came back from a long factory visit and they all hung out, they are mates. Its lucky to be in a company like this. There is loads of potential and we are going in the right direction.
Q: What is the key message you want to get across to consumers?

A: The message is to get people to go in and have a look. Don't be afraid. It can be a bit intimidating. I was with a women, a famous women, who was about 50. Great figure but was like "gosh my daughter would go in and have a look- not me." She did go in and had a look and she sent me an email and said it changed her life. She felt so attractive and that was great!
With all of our stores and managers there is such passion for the brand. The girls that work here love the brand. They are customers, they all wear it. The best way to check if something is ok is to wear it. We have all shapes and sizes of women in this building and they all try it on and give feedback and its just a really nice environment.
Kylie Minogue: Agent Provocateur Commercial which was banned
And the latest campaign – for Valentine's Day.
No woman would be disappointed getting a little Agent Provocateur package. Would they?
First Photo: Josephine Willcox