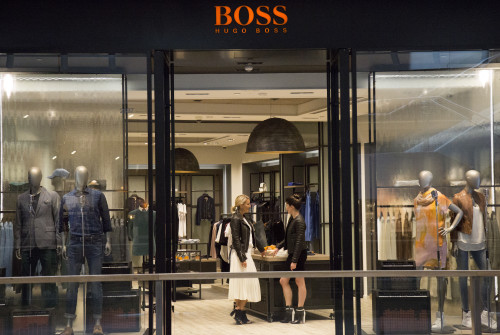 This month for our Fashion and Food series I had the pleasure of lunching with Erin Simpson, the Womenswear buyer for Hugo Boss. It's always a guilty pleasure of mine catching up with inspiring women. Erin is just that. Modest and uber talented. My favourite combination. This sunny Monday she gave me a tour of the new collection within the Hugo Boss store in Miranda and then, making the most of the sunshine outside, we visited the food precinct and went to one of my favourite eateries, Luxe. Fresh tulips and a witty waiter greeted us. (To me that is always a good sign of an enjoyable meal coming up). The food is incredibly fresh, full of flavour and always leaves you feeling healthy. We shared a selection of fresh goodness including a mouth watering chicken salad, breakfast bowl, salt and pepper calamari, and the quinoa and zucchini falafel dish, then washed all that goodness down with coffees and cakes. On a Monday? Why on earth not?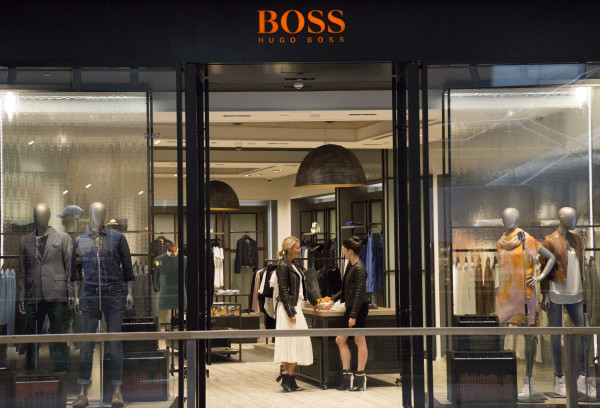 Claire: How have you found opening Hugo Boss here at Westfield Miranda ?
Erin: It's been really great for us. I suppose it's a nice point of difference. We're one of the only countries in the world to start launching in Westfield Centres so we're really starting to claim it globally. Hugo Boss being a German company I think It's something to be really proud of. We've also got a store in the Emporium in Melbourne.
Claire: What are your favourite items for this season ?
Erin: I think we always do amazing leather and leather is something that is really functional in a wardrobe and you can wear it a lot of ways. So every season we always do amazing leather jackets. Denim is something that is a growing area for us at Hugo Boss.  There is a huge market for it in Europe but in Australia there is a lot of competition when it comes to denim. So we're really just upping the anti in our assortments and offerings.  And I suppose the fashion element of denim as well.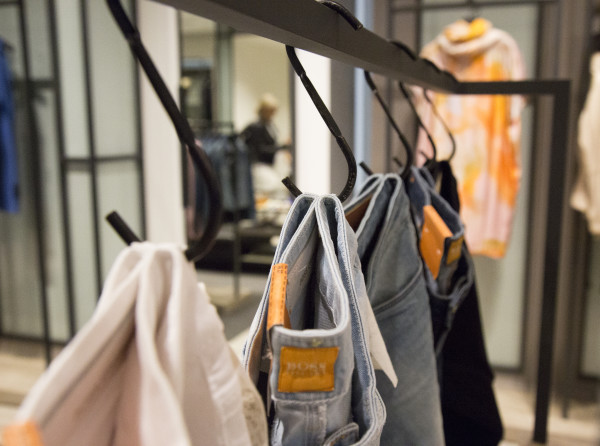 Claire: Yes, I love the printed denim !
Erin: They are a point of difference and are really unique to Boss.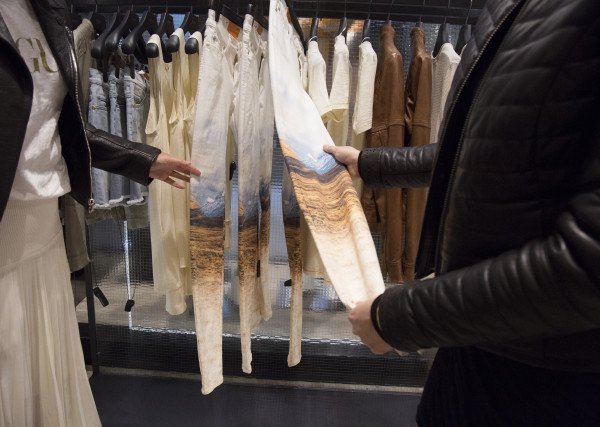 Claire: What are you hoping to bring to the Shire ?
Erin: We don't have a free standing Hugo Boss store here so when we thought about opening a new store we really thought about the demographic, who's here and who's shopping here. I think we decided on an orange store because it's a beautiful lifestyle brand, really easy to wear, comfortable while still having those luxe stylings but in really easy pieces that both women and men can throw on. For people who like really beautiful things but don't want to dress up all the time.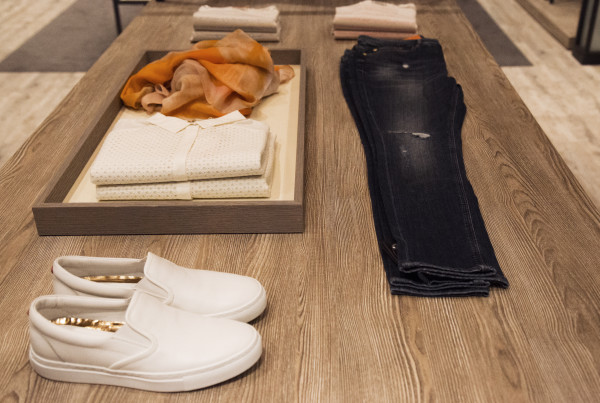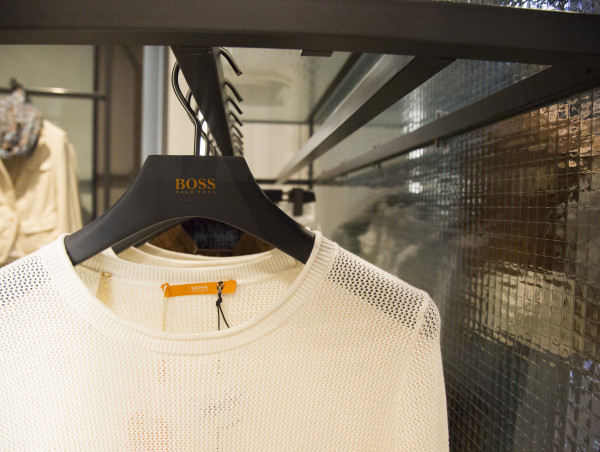 Claire: What does summer mean to you ?
Erin: Summer is absolutely my favourite time of the year. I find winter is tough. I'm from Melbourne but I'm lucky because I get to travel a lot so I escape winter. Summer for me is about being outdoors, being with friends and I think in terms of fashion it's about being really free with what you're wearing.
Claire: So how do you relax in your off time ?
Erin: I find it really hard to switch off. So for me in the last 6 months, yoga has been a good thing. I used to do it but I stopped for a long time so yoga is kind of a new thing again. Otherwise it's with family and friends. I love eating out but I do it a lot when I'm travelling so when I get the opportunity to eat at home I find it really relaxing. It's all about the small things.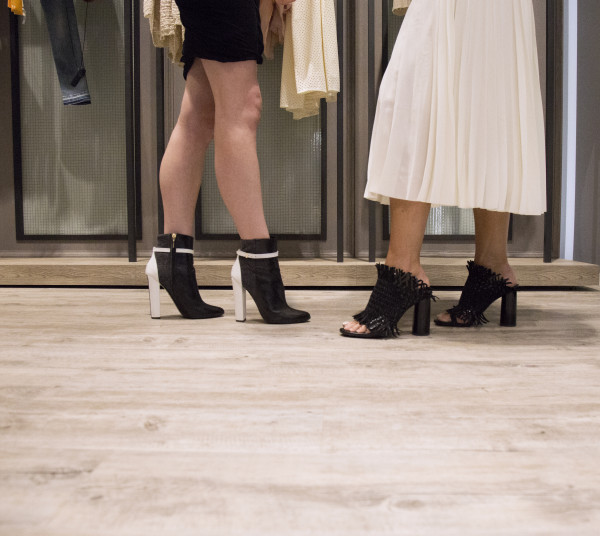 Claire: So are you a bit of a foodie?
Erin: Yes! I love food! So I've grown up with really good food in my house, my mum has always loved food. I could eat cheese every day of my life if I could.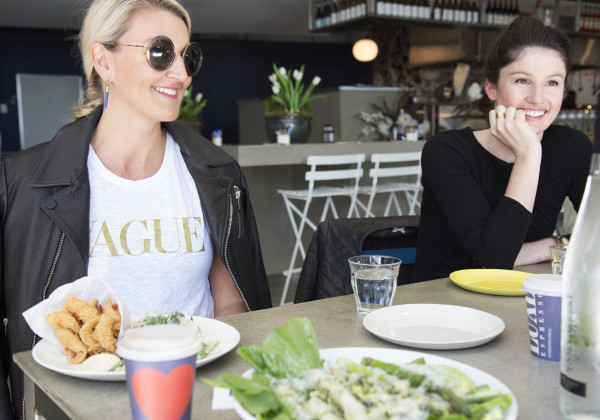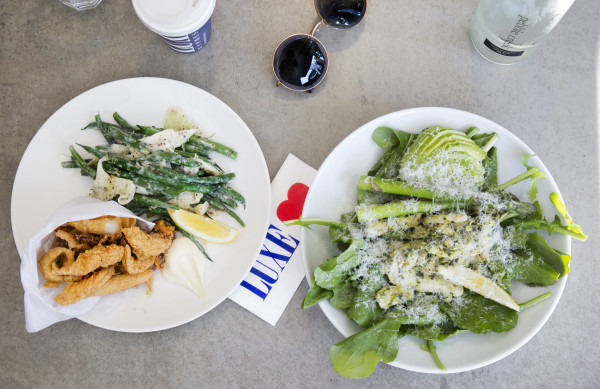 Claire: What's your favourite cheese?
Erin: A triple cream brie! Or a d'affinois.
Claire: Bubbles, red or white?
Erin: Definitely white. I love champagne but … white.
Claire: Your favourite cocktail?
Erin: I don't really drink cocktails. I might do a Gin and Tonic but that's about as far as it goes. I would probably take a really good glass of champagne over a cocktail any day.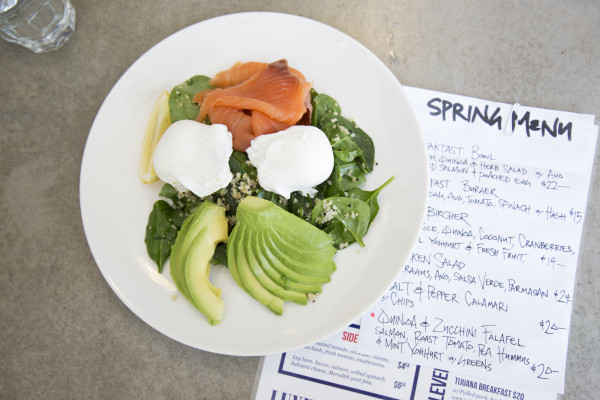 Claire: Flowers or candles ?
Erin: Flowers all the way. They're aesthetic and visual.
Claire: What should every woman have in their wardrobe ?
Erin: I think there are a few really key pieces every woman should have. 1) A great leather jacket. 2) A really great statement heel. I know it might not be something that's timeless but if you can introduce a new new piece like that once a year or every season, it's a great way to update your wardrobe.
Claire: Sun or snow ?
Erin: Sun !
Claire: If there was one drink to describe you what would it be ?
Erin: I want to say champagne, but it's probably not right ! Ha ! I think so. Probably that because it's a nice way to treat yourself, it's consistent, it's classic and a bit of fun.
We ate: Chicken salad, breakfast bowl, salt and pepper calamari, and the quinoa, zucchini falafel dish, a selection of mini cakes.
We drank: Sparkling water and coffees.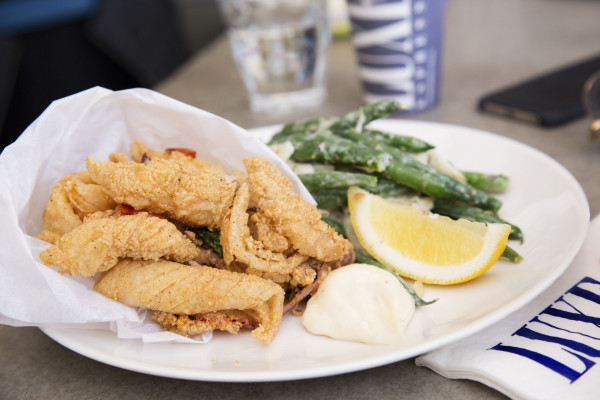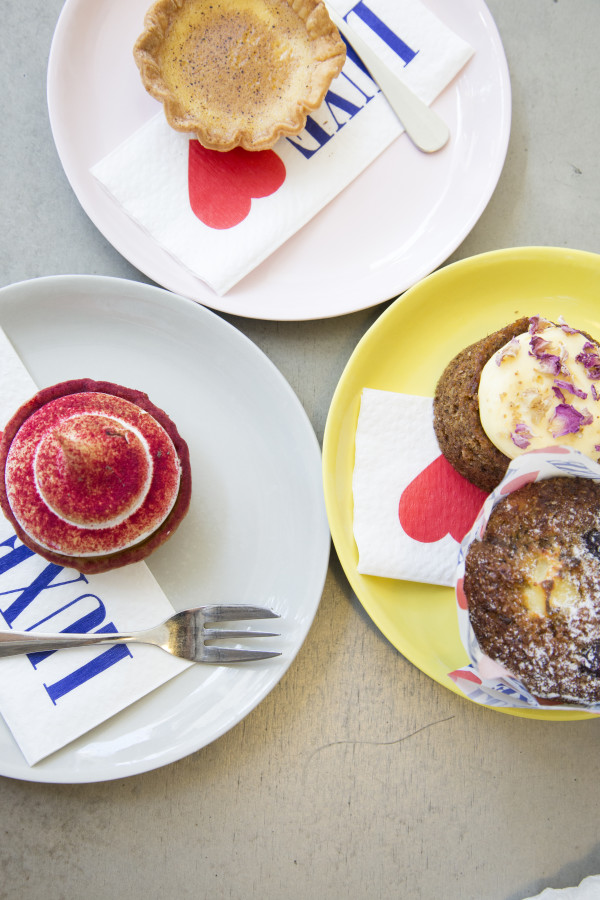 Hugo Boss
Level 2, Westfield Miranda
600 Kingsway, Miranda 2228
9531 6000
Luxe
Level 2, Westfield Miranda
600 Kingsway, Miranda 2228
0411 967 226