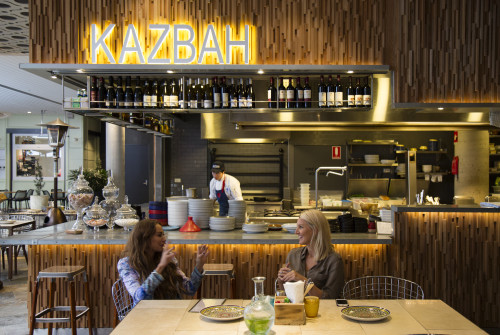 This month I caught up with the magnetic Camilla Franks at Westfield Miranda in her spectacular Camilla store and then we headed to lunch at Kazbah.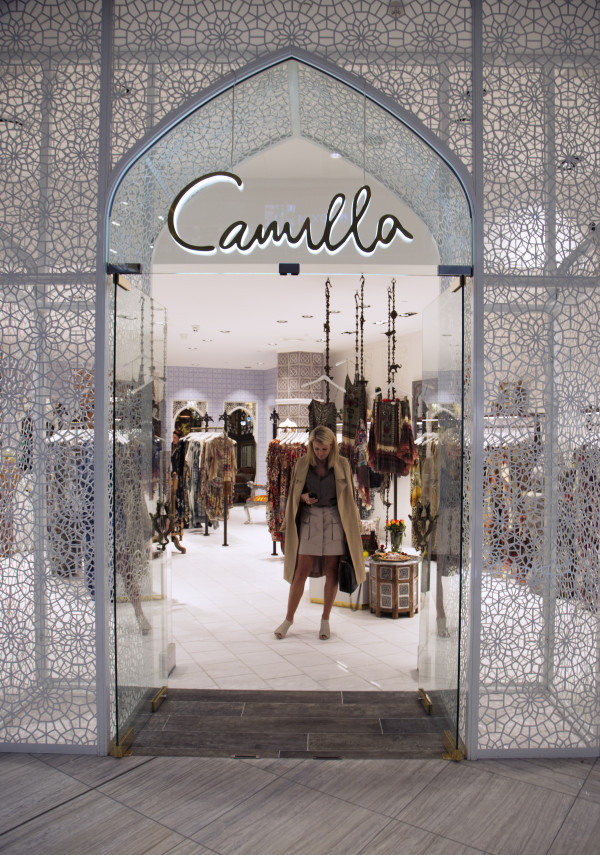 Her Camilla store is a treasure trove and re-creation of her fondest memories from her favourite travels and adventures. That was just the fit-out ! The Istanbul inspired change room was my favourite and instantly took me back to last month when I was touring the impressive Topkapi Palace in Turkey. So how do you make a change room reflect a palace ? Good question. (I want that designers number!) From the fit out to her latest collection 'My Wandering Heart', it was a truly amazing experience.
After talking me through the collection and the inspiration behind each of the pieces (the names of each piece are quite insightful to the influence these destinations have on Camilla's design) it seemed only appropriate to continue this creative, Middle Eastern journey upstairs to the Kingsway Restaurants, destination Kazbah, to experience the culinary offering of this premium food destination.
We sat down on this wild and wet Monday and the lovely waitress asked our preferred drink, a Bloody Mary, extra spicy replied Camilla, make it two I responded. It wasn't a usual Monday, so why on earth not ? (Ok, they were alcohol-free).
For a wonderful middle-eastern meal this is the place to come. Located in the dining precinct next to Italian Kitchen (featured here) our table is soon full of colour. From the colourful mosaic china mixed with textured clashing glass, it's a feast for your eyes even before the food has arrived.
Next comes the festival for the tastebuds. Hummus, tasting plates, soft-shell crab, halloumi, lamb. The dishes kept coming and coming. It was an ever-evolving meal and conversation. Camilla gave me an insight into her wonderful world, from travels to spiritual healers, meditation and yoga to barefoot entertaining. This woman has boundless energy and vitality that she has built her empire upon. Camilla is a powerhouse of ideas and is simply inspiring.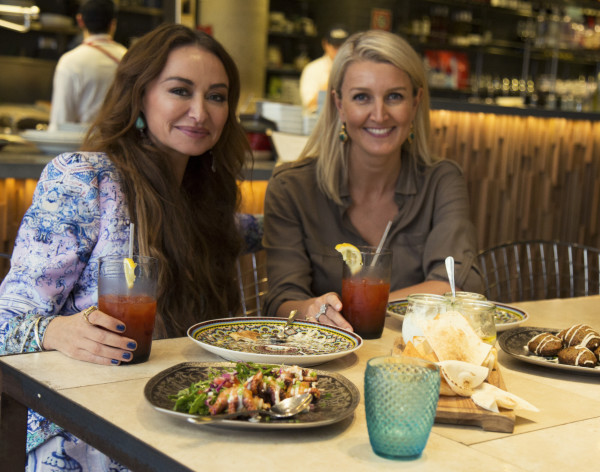 Claire: How have you found opening a Camilla store at Westfield Miranda ?
Camilla: It's been amazing ! We have been wanting to be a part of Westfield Miranda for a while now but we were trying to find the right location, so I wanted to bring a bit of us to around here, I mean Southern Shire people are all beach people, so they're my kind of people! We have this beautiful shop that we've designed to transport you into our world and everything that it represents and so you know, we have different artefacts that I've collected from around the world and obviously personal experiences within each change room – what inspires me.
Claire: Oh I love that ! Going from Mexico to India to Turkey (my favourite).
Camilla: So for me it's like a travel journal. I want to take people into that world and it's a bit of escapism. I think when you walk through those doors you feel like you're overseas without jumping on an plane.
Claire: How have the Shire customers responded to it ?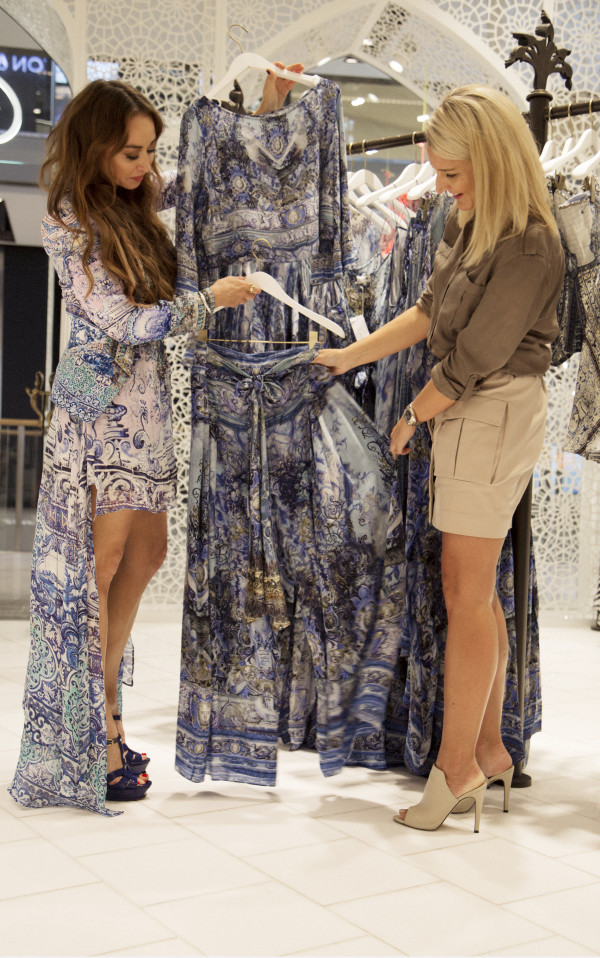 Camilla: It's been amazing. It's been a long time coming as I've said. I think with the Shire woman, there is this real sense of woman power here. And my label's philosophy 'is every woman has a right to feel beautiful no matter what age, shape or size' and it's about all women; the mother, the daughter, the granddaughter.  So they have really embraced my tribe and have opened up their tapestry of community to us. It's been really rewarding.
Claire: It's quite interesting even just being in your store just then, there were so many different aged women who walked in. There were some older ladies there, some young girls. Everyone was picking out different pieces.
Camilla: It covers all different demographics and different types of women. And the way you wear the garment – we don't really tell people how to wear them, we embrace the whole idea of wearing it in your own unique and individual way to represent you.
Claire: What are your hero items in the collection ?
Camilla: This collection is called 'My Wandering Heart' so it's based off a pilgrimage I did through some of Europe; Greece, Turkey, Spain, Portugal. So some of my key prints and pieces I showed you were the flared trousers with the top, and that was based off an afternoon I spent in the most amazing house. It was owned by a Duke and Duchess, they had these deliciously debaucherous dinner parties where they'd finish their food and smash plates on the ground and stick them everywhere. Then they built this amazing cave all made of shells that they had collected from surrounding beaches and they had all of these beautiful tile work of mermaids and Zeus and I just walked in there and was like 'this is where I need to live'. So, I wanted to capture that amazing memory. Then obviously Turkey stole  my heart and in Istanbul  I spent so much time sipping on apple tea in little rug and kilim stores so I was blown away by the stories behind some of these kilims. And one piece that I love is the woven prayer which is the rug that they weave to practice their prayer. So I wanted to showcase that.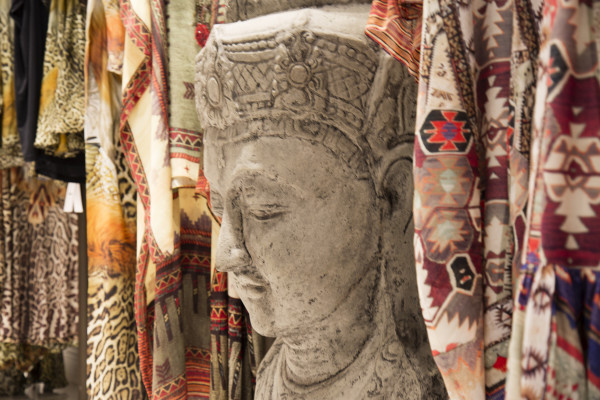 Claire: What do the red tassels represent ?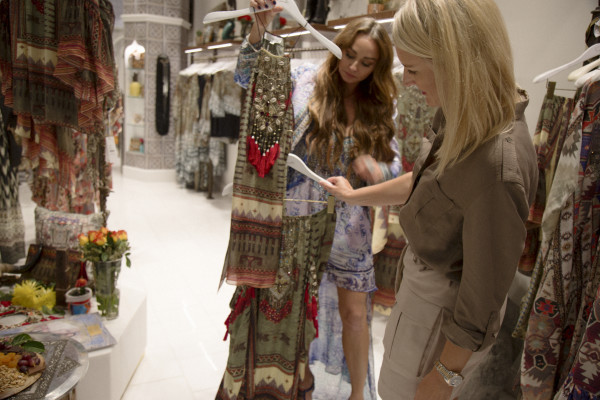 Camilla: The tassels are based off inspiration in the Bazaars, you see little trinkets and artefacts and tassels and beads hanging – I collected a lot of that stuff and the tassels are my interpretation of that electric madness.
And then I take you on a little journey to Seville. So Seville was one of the most beautiful little towns in Spain and I felt like I'd stepped back in time when I arrived there. We were driven around in horse drawn carriages and it was so romantic. I arrived to Plaza De Espana a beautiful square in the middle of Seville and basically I was blown away by the tile work that represented all the different places in Spain and the colour work and the detail in them and that particular square.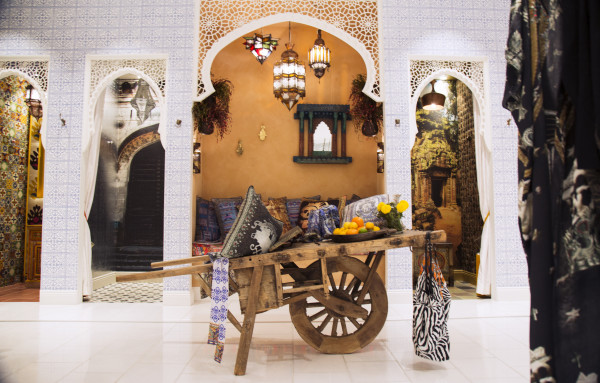 Claire: Do you have the photos that you've taken while travelling and take it to print ?
Camilla: Yes, so when I'm travelling I'll take like 20,000 photographs and then it's weeks and months of cataloguing those and turning them into prints. So that's the road to Seville. I think I showed you the corset, the jacket and the pencil skirt.
Claire: And the thing is, you're right, everyone can interpret it in their own way. Like if someone doesn't want to do the whole thing – you can wear that pencil skirt with a white top.
What does summer mean to you ?
Camilla: Summer for me means the barefooted gypsy in the sand beside a teepee and a bonfire. It means the glamazon sipping on champagne on her super yacht. It's free, wild, colourful and playful.
Claire: How do you relax ?
Camilla: I'm not great at it ! Ha ! I'm not the type of girl who can just sit on the beach and sit still. My mind if very active, so for me relaxing is practicing spiritual practice. Whether it's mediation or yoga. It's also laying on the couch with the puppies in front of the fire. And it's walking in mother nature. I love just throwing myself off the beaten path and going for long, adventurous walks that last for 6 hours.
Claire: You're really earthy ?
Camilla: Yes, really earthy.
Claire: How do you spend your time when you're not working ?
Camilla: Cooking, I love cooking. Also, I've got 2 different spiritual healers. One is an intuitive energy healer, so I really get involved with that side of me – the hippy side. I've also got another one which is also an intuitive energy healer but they work on different areas. One is more reiki and the other lighter, so I spend a lot of time with those girls. I do a lot of mediation, I've got a little shrine at home which has candles and flowers.
Claire: Do you practice a particular kind of mediation ?
Camilla: I'm varied, subject to what I need for that day. I have a couple of guru's that I follow. One being Gab Bernstein, who happens to be a dear friend of mine. If I need to practice forgiveness or I need to let go of something, or let go of any negativity – I'll just click on to those different things I need to concentrate on and that's what I'll do. Guided mediation works best for me because I get very distracted and just sitting their breathing can actually drive me more insane so for me having music already puts me in a state with someones beautiful voce getting me to visualise things – that's when I get a better result. So definitely mediation and yoga. And I do angel cards. Angel cards are kind of little positive affirmations. So every morning I'll wake up and you have a deck of angle cards, you go through them and you think about something you want to improve on right now or in the future and so I put my hand on them and the card sort of chooses me. Then I open it and it has like a painting, like an affirmation and what you need to work on internally. We were all born on this earth to improve ourselves so we all work our bodies but we also need to work our minds and our hearts so it sort of teaches you those little things. I also do yoga, so I have this amazing husband and wife team that I do yoga with. One is called props yoga – with weights and bands and balls and everything. And then the one is more of a traditional yoga – mindfulness.
Claire: So depending on how you're feeling and what you want to do ?
Camilla: Yes. And then I have my amazing Pilates teacher who comes to my house, Christine. She is incredible. She's more of  a rehabilitation trainer so she knows everything about the mind, body and soul. So you get a bit of everything with her. We do a bit of mediation at the end of training with her as well. She's incredible. I had two torn shoulders so yoga became very difficult for me but she's rehabbed those so they're all fine now.
Claire: Food ? Favourite foods ?
Camilla: I'm such a mermaid. Ha ! So for me, I love seafood. I was bought up on seafood, I think by the age of 1 I was eating oysters. I had a competition with my dad of how many oysters we could eat. He did 12 dozen and I did 7 dozen !! I was probably about 12. Whenever I have a first date, I love to go to a seafood restaurant, just to really test the man. Because I'll order a crab or lobster and like I've got juices flowing everywhere, I'm messy ! And they either run or they're like wow !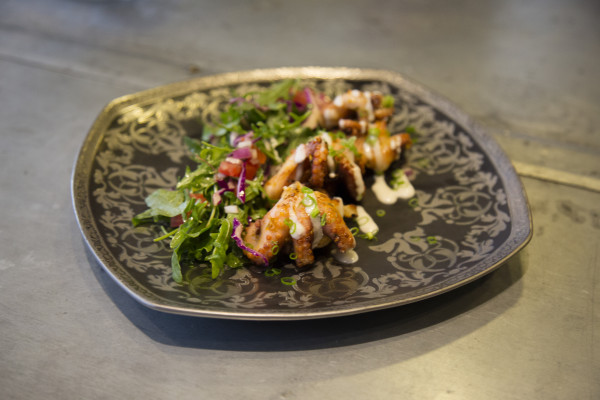 Claire: Bubbles, red or white ?
Camilla: I don't discriminate. Ha ! I'm actually in the talks of doing my own collection of wines. As I said I love entertaining and cooking and I love the process behind wine making and the taste. I love complimenting the wines to the foods. So stay tuned !
Claire: Do you dine out much ?
Camilla: I prefer home cooked meals. I travel so much and there's a lot of dining in fabulous restaurants but there is nothing better than sitting at home with my dogs and to be able to cook what I really want to eat. I love to cook and I'm a good cook. I love simple seafoods and doing ceviche, grilled scampi with lemon, thyme and olive oil. Stuff like that. There's not too many restaurants that do that type of cooking. And if you do go out – you have to get changed and I love to be in my ugg boots and trackies.
Claire: What's your favourite cocktail ?
Camilla: A Bloody Mary ! It's like a meal. Especially when they're done properly.
Claire: So who does the best Bloody Mary in Sydney ?
Camilla: Me ! No, there are a few places that do good ones. Bondi Trattoria do a really good Bloody Mary and freshly shocked oysters.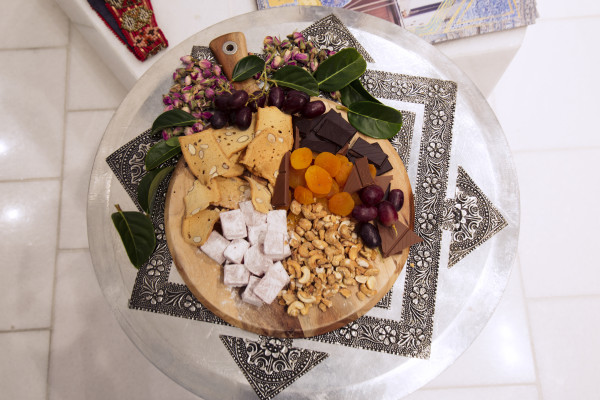 Claire: Flowers or candles ?
Camilla: Oh … If I had to choose it would be candles. I do love flowers but I light candles every morning and night, I'm always surrounded by candles. It's like a ritual. And it does create that sense of peace and obviously with my little shrine, lighting the candles puts you into that mediation zone. And I've just finished working on my own collection of candles which go into store later this year.
Claire: What should every woman have in their wardrobe ?
Camilla: A kaftan ! Because it can take you from desk to date, from beach to bar. It's versatile !
Claire: Sun or snow ?
Camilla: I follow the sun but that means the snow also.
Claire: When is your birthday ?
Camilla: 15th March, why ?
Claire: Well I'm the same as you, a traveller but we are not the same star sign. And I'm terrible in winter. I'm a Sagittarius.
Camilla: See I love winter as well but I love a sunny winter. So for me, I love the snow. I travel so much that I never really get much of the winter, but I'm in Queenstown next week, that's the ultimate – snow and sun !
Claire: If there were a drink to describe you as a person what would it be ?
Camilla: It would be a Bloody Mary shooter.
Claire: Why ?
Camilla: Strong, colourful, saucy and spicy with a touch of mermaid in it.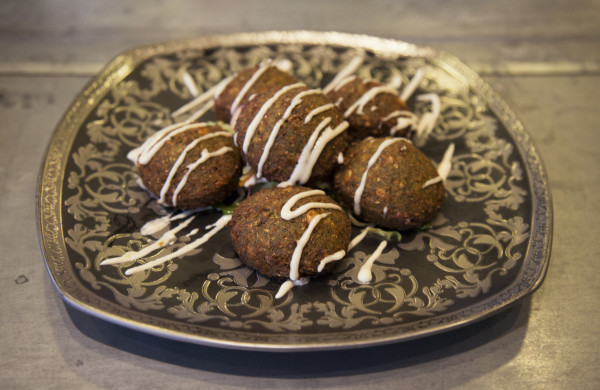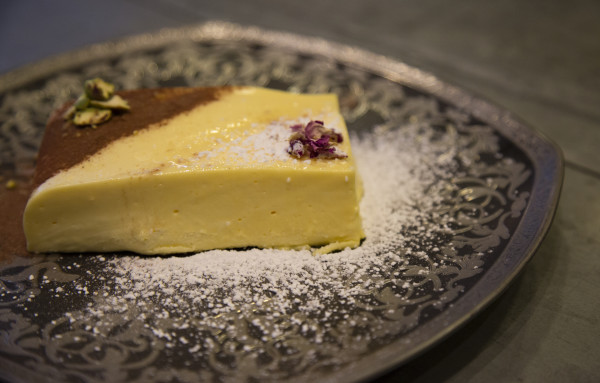 We ate:
As shared plates:
Dip bread board
Hummous
Falafel
Ribs
Lamb
Soft shell crab
Octopus
Dessert:
Turkish Coffee Chocolate Tiramisu
We drank:
Virgin Dirty Martini's
Sparkling Water
Visit:
Kazbah Miranda
Shop 2205
600 Kingsway
Miranda
Ph: 9555 7067
Camilla:
Level 2, Westfield Miranda
Ph: 02 9525 6344