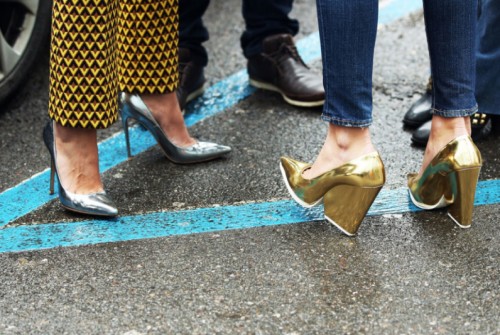 Proenza Schouler
Holographic Leather Sandals
$664
Marc by Marc Jacobs
Techno Holographic Vinyl Wristlet Pouch
$108
Maison Martin Margiela
Metallic Trainer
$543
Stella McCartney
Metallic Top
$914
Saint Laurent
Metallic Trim Clutch
$995
Linda Farrow
Luxe Mirrored Aviator Sunglasses
$1,054
Neuw Denim
Marilyn Skinny Precious Metal
$159
Milly
Mirrored Python Pencil Skirt
$443
Giuseppe Zanotti
Metallic Tasseled Slipper
$595
Tory Burch
Miles Perforated Sneakers
$184
One of THE easiest ways to update a look is by throwing on some metal.
The beauty about this trend is, even though it is a bold statement – it's really not difficult to wear or to style for that matter. All you have to do is:
1. Have the confidence to pull it off. Confidence is key.
2. Think of one item you would normally wear. A clutch, a pair of shoes or even a top. Then select it in a metallic fabric or shade.
3. Pair it back with anything in your normal wardrobe. Just because you're adding metallic it doesn't mean you have to make the rest of your outfit crazy. Denim is fine. Leather is fine. A white t-shit is great!
If you do it properly you will end up looking like a walking, talking fashion editor. Or just that really fashionable girl in the coffee shop who you enjoy looking at what she wears each day as much as getting that takeaway coffee……