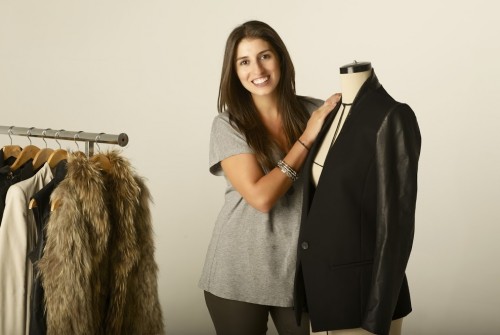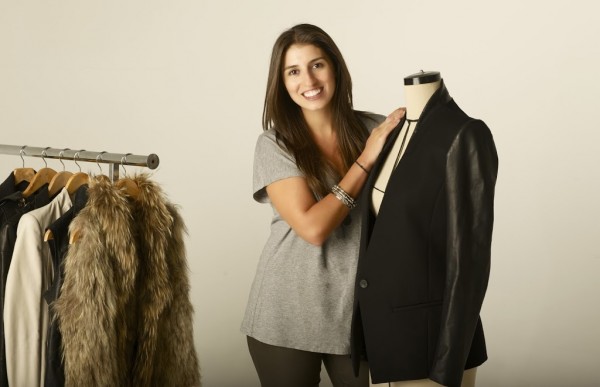 Fashion is a really competitive business, no matter where you are in the world. I find it particularly inspiring to watch someone brave enough to follow their dreams and start their own venture. Meet Violeta Tentomas, the brains behind the brand West 14th.
C: What was the point where you thought "Ok, I need to do this" and start the business?
Violeta: February 2012 was a defining month for me. I finished a role that I was professionally and personally invested in and decided to take some time off before pursing the next step in my career. After completing a 40 day yoga challenge and dedicating time to exploring what my next move would be, it became very clear that I was finally ready and confident enough to pursue a life-long goal to start my own business. I had the knowledge of business management, experience of working in a start-up and the mental clarity to turn an idea into reality. I laid the foundation of a business plan and structure. The aesthetics seemed to have been predisposed from my years of planning for this moment after rummaging old sketch book, inspirational images, and textile swatches. I approached the start as 'I will keep going until someone says no', so I sought out resources to create the brand; leather tanneries, a manufacturer, a wholesale manager, PR agency, photographer, and a graphic designer. Everyone saw my vision for West 14th and came on board, and so the West 14th team was born.
C: How much influence do you feel your time as a buyer at Ralph Lauren had on you taking this step in creating your own brand?
Violeta: I am very fortunate for my past career experiences. Each role led to this moment. Ralph Lauren offered an incredible foundation of business management, structure and exposure to big business systems. The most incredible influence from Ralph Lauren was the making of the aspirational branding and marketing. No matter which division, label or sector of the business you worked in we all believed in the dream – the American dream documented through its campaigns to the public – and driven to achieve this as a work community. I walked away with a true understanding of the importance of taking care of your team as they will take care of your business.
C: Why leather?
Violeta: Leather has always been a passion of mine. On my business travels, I would constantly seek out new leather jackets, most of my investment pieces were made of leather and my design sketches were always of leather jackets. I even introduced leather to past businesses because I have always been drawn to this versatile material.
Leather also represents the 'investment' element of West 14th. I want our customer to invest in a timeless piece with a twist that they could wear for years to come and feel confident and empowered. I had this vision of a leather collection made of a variety of textures and treatments work as layers.
C: What are 3 words to describe yourself?
Violeta: Tough question! (I have to consult with the peanut gallery for input here.)
Driven, passionate, creative.
C: What do you think is unique about our Australian style?
Violeta: I am always impressed with the smooth transitions of urban-street fashion to casual-coastal dressing. It's done effortlessly. And difficult to replicate!
C: What is it that you want to create for your brand? Where do you see the brand in 5 years?
Violeta: West 14th is an obtainable luxury brand with a primary focus on leather. We connect with our customers through all channels-digital, wholesale and retail and are easily accessible. We want to provide the vehicle for our customers to create their own stories in our designs.
In 5 years, West 14th will have the recognition of quality craftsmanship, leading designs in the global market. We hope to expand to a full ready-to-wear collection, still keeping leather the primary fabric, which is obtainable through distribution in most major markets. We see a passionate and committed resource team working away in Sydney-based offices and spending time in New York city. Our customers will still have a personal connection through our digital channels, and our loyal Australian customers will have a branded store to touch and feel the buttery-softness of our leather.
I just want to collaborate with creative, passionate professionals and have fun in the process!
C: What has been the standout highlight so far?
Violeta: There have been many standout moments since the inception of West 14th. We're so lucky to be a new business in that most of our 'news' is a first or record breaking result so the energy in the office is always positive and congratulatory. I remembered the feeling of pure enthusiasm (and lots of jumping) when we received our first wholesale order. It was later in the evening while making dinner and our wholesale manager was texting the figures. I honestly couldn't keep still. It was a true start of the business.
The most recent moment however occurred while shooting the Autumn/ Winter 14 collection in New York with the final location shot on 14th street. We were stopping traffic to get the shot with the street sign, yellow taxis and white cross walks. The team was filled with energy and we all started to form tears of pride. (Especially since we had fans circling around us looking on). The moment sent chills down my spine.
C: How did you come up with the name West 14th?
Violeta: It's my favourite place in New York! So many great memories were created on the corner of 9th Avenue and West 14th Street (the start of the Meat Packing District) – meeting the girls for after work drinks or shoe browsing at Jeffery's, I met my partner at Market (now the apple store), bought my first pair of designer shows… many special memories of my life before moving to Sydney and then travelling back as a buyer were created in this little district. So I named my business after a place that reminded me of freedom, exploration and happiness.
C: What are three things you couldn't live without?
Violeta: Easy question – lip balm, trident bubble gum (imported from USA) and my iPad!