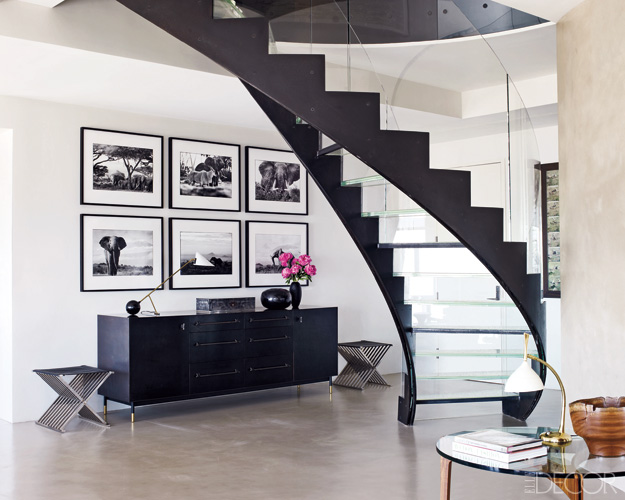 Forget central park. From the 49th-floor duplex near Columbus Circle where Theory founder Andrew Rosen lives with his girlfriend, Jenny Dyer, you can see past the industrial wasteland of Paterson, New Jersey, and the commuter outlands of Parsippany clear to the rolling green hills of the Poconos. Very few New York City residents live at such an altitude, and even fewer have the chance to witness painterly sunsets from floor-to-ceiling windows the way Rosen and Dyer do most evenings.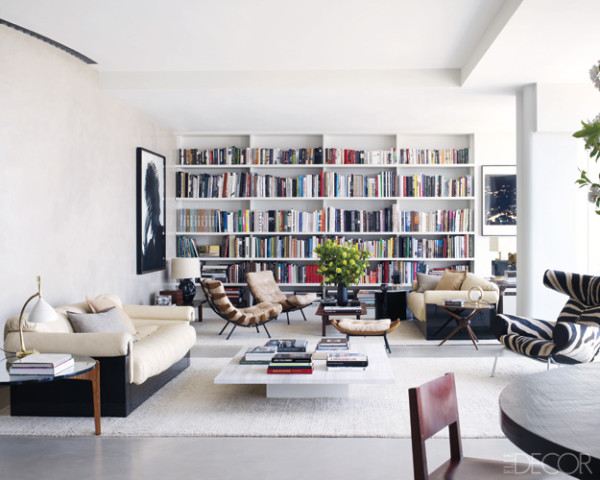 The task of "cozying up" a place dominated by such views might intimidate a decorator, but Dyer had no problem transforming the vast, concrete space into a home with character. Of course Rosen's professional "home" is his growing fashion empire, which includes Proenza Schouler and such indie brands as Rag & Bone, Helmut Lang, and Theyskens' Theory, a collaboration with Belgian-born designer Olivier Theyskens, Theory's new artistic director. And because most of these boutiques are located below 14th Street and have a downtown edge, the first step in designing Rosen's personal space was to re-create the feeling of a downtown loft. "When Andrew bought the apartment five years ago, it was a rabbit warren of rooms," says Dyer, whose previous residence had been a charming garden apartment firmly rooted in London's Notting Hill. By the time she arrived on the Upper West Side of Manhattan, all that Dyer had to work with were poured concrete floors, a suede wall in the bedroom that was Rosen's idea, and the infinite views west.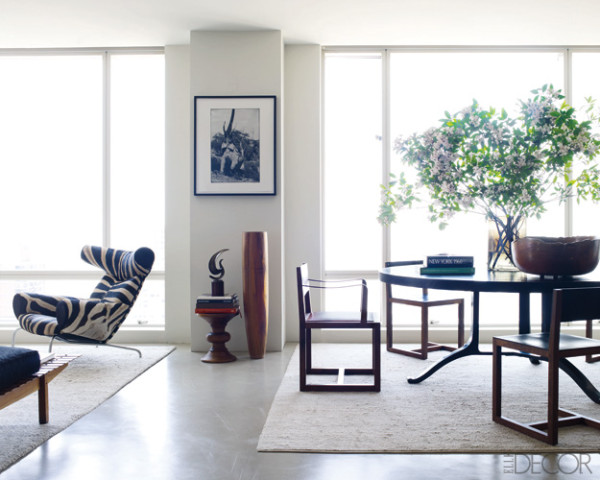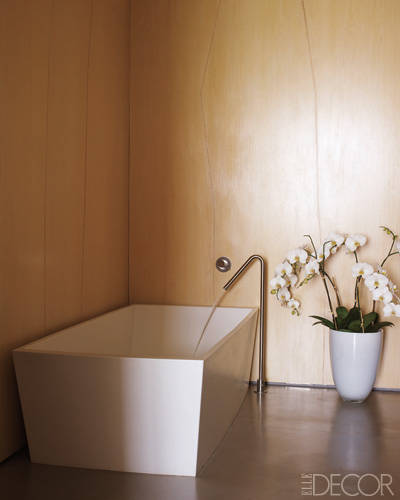 Dyer, who had been a set decorator in London and later designed her own fashion label, met Rosen when she came to New York to ask him for advice on her business. They got talking about architecture and decorating and, before she knew it, she was advising him on interiors. Her love of design comes from her architect parents. "My father emigrated to San Francisco in the 1950s and so was very influenced by the style of that time," she explains. And many of the pieces in their living room—including two Brazilian chairs from Espasso and a vintage lamp—evoke that same midcentury-modern sensibility. To warm the place up, she threw in a few surprise elements, including a zebra skin–covered chair and a series of Anish Kapoor prints that adds a shot of color to a long hallway.
From the outset, what was less obvious architecturally (and more problematic) was the staircase—originally a more traditional structure that Rosen hated. "When I realized that I could do something more interesting, I decided to buy the apartment," he says. It took him and his architect nine months to conceive and complete the striking glass-and-steel spiral staircase that floats between the two floors, serving as a kind of sculptural centerpiece in the space.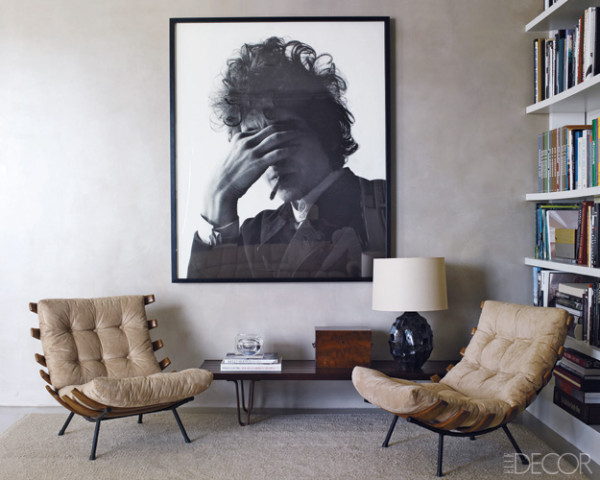 The staircase was only the beginning."I was going nowhere interior-wise," Rosen jokes. "I had two Vladimir Kagan chairs in the bedroom, and the suede wall. Jenny really softened everything up." Rosen, who had lived at various addresses in the neighborhood, wanted to stay close to Central Park. "But we're not traditional," he says with a laugh. "We're not Park Avenue people."
Rosen's less-than-conventional taste is also reflected in his photography collection, which includes a series of huge Peter Beard elephant images lining the entry walls. These are matched in scale—if not ferocity—by an oversize Jerry Schatzberg portrait of Bob Dylan in the living area and a Jack Pierson seascape rising up alongside the staircase. Rosen now has his eye on the purchase of a set of Yul Brynner photographs—one is of Frank Sinatra—which speaks to his penchant for the Rat Pack era, as does a pair of low-slung '70s sofas that Dyer rescued from the Palm Springs home of Rosen's mother and recovered in soft cream leather. "I was always inspired by Palm Springs in the '60s and '70s—it was such a stylish time," says Rosen.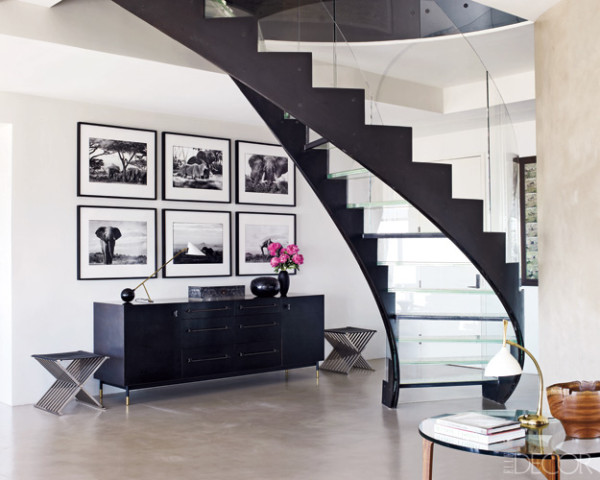 If the first floor is dedicated to elephants and the suave style of the Rat Pack, the second floor is all about horses. Rosen and Dyer commissioned a series of horse photographs from Michael Eastman, which hangs in the upstairs hallway. They complement Peter Beard's elephants downstairs, but they also reflect Rosen's lifelong passion for horse racing and breeding. His father, Carl Rosen, was a famous breeder whose racehorse Chief's Crown won the first Breeders' Cup ever run, in 1984. Rosen now has his own stable of horses, including one named Theyskens' Theory.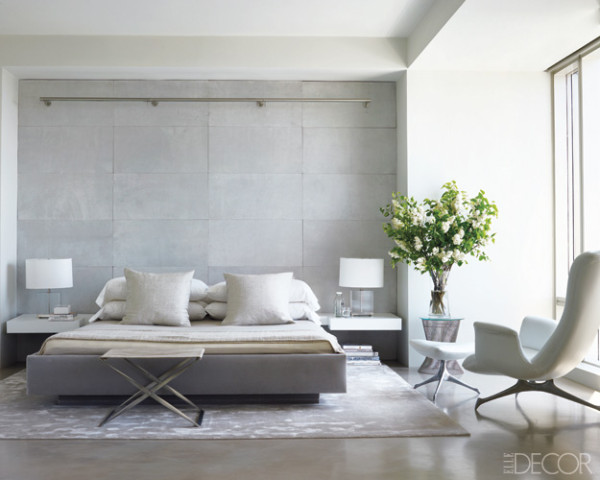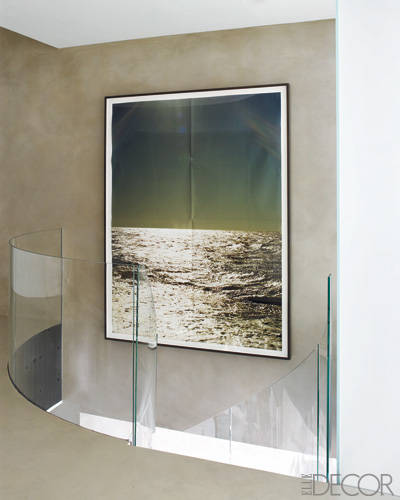 Images and text via: Elle Decor