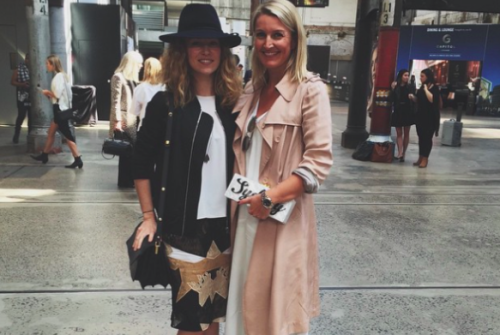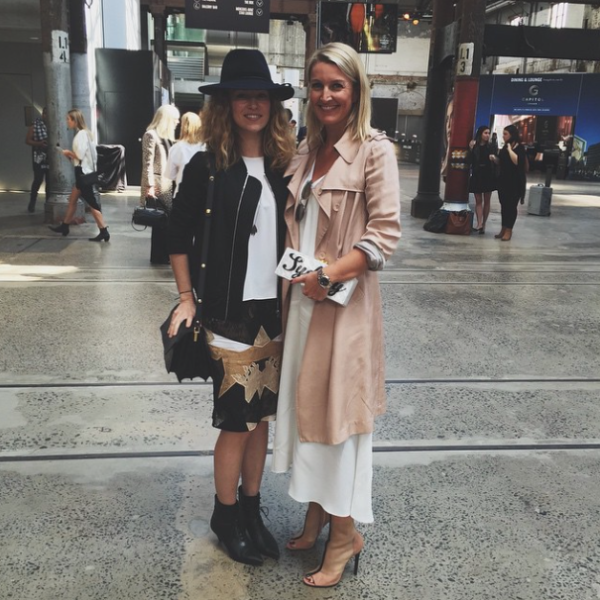 It was  pleasure last week at Mercedes Benz Fashion Week to catch up with Sasha Sarokin, Buying Manager of NETAPORTER.COM who for the second year in a row was visiting our shores to see what our Australian designers have created. I asked her what her thoughts were on personal style and if there was a uniform for the Fashion Girl, the Corporate Woman and the student.
Claire: Well, welcome. What is your favourite part about being in Australia ? You've been here a few times ? 
Sasha: Last year was my first time to the country and to Mercedes Benz Fashion Week Australia. So last year I got enthusiastic and political and wanted to get more alignment between the international buyers and their perspectives and the designers and what they were presenting. Making sure the shows that they were showing us and putting in so much effort to get us out here are actually saleable. So what I'm most looking forward to this week is looking at new talent, seeing how the talent we have been watching is developing and also being able to give them feedback and mentorship in what we want to see from them. Preparing them for the international market.
Claire: What do you think is the one thing that Australia is maybe lacking for that international market ? 
Sasha: I think in short, it's seasonality. That's an easy place to start. In the most simple terms, it's thinking of fabric ways. Not even colour because you can wear colour year round. But a cold weather versus warm weather perspective on the collection as you're developing it. It's an easy way. If I see something that I love, I might be held back because my customers are having the opposite seasons. So, if they can consider that and be a bit more flexible in fabric ways without sacrificing their design vision or what they're standing behind but really showing us that they are considering the needs if the global customer as opposed to what they're experiencing. If MBFWA and IMG are spending money on getting us out here, then clearly they are considering the international perspective.
Claire: A uniform for the fashion girl. What items should she have ? 
Sasha: Oh, easy. It's basically what I travel with a third of a year. Stella McCartney blazers, Saint Laurent blazers or Chloe blazers. I think tailoring has to be very established brands . It's different for everyone but those are my go-to pieces. A bomber jacket. What we're seeing in the coming seasons is that, a blazer is always going to be a statement pieces, but it's more than a blazer. I haven't found a word for it. It's not a top, it's not a shirt, it's not an item top but a piece you layer. Whether it is a trench (I'm loving), bomber jackets, blazers, or The Row did an amazing wrap that you layer over a shirt, or that couture shape that Marni does quite well. It's the versatile factor that is important. I also live with tights. Sometimes I'll scrunch them up so they look like long leg shorts to wear under a pencil skirt to add a different portion. But of course it's all about the separates when travelling . I always travel with white shirts, and I like the crinkle look so that works quite well when living from a suitcase. Jil Sander does a great white shirt and J Crew.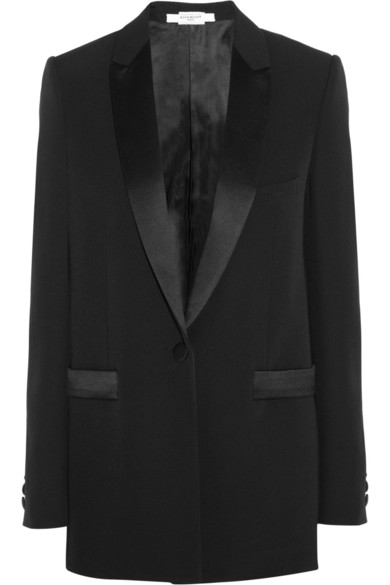 Givenchy blazer SHOP HERE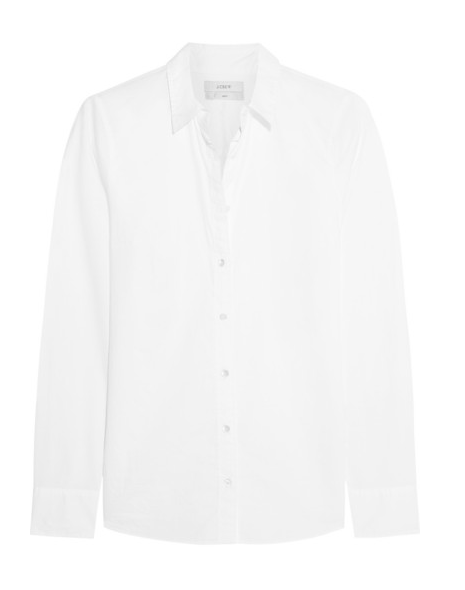 J Crew Shirt SHOP HERE
I'll invest in my tailoring and have fun elsewhere. And of course it goes to the fun statement pieces that you wear those classics back with. Whether it's a Tome skirt, and I was loving the pieces Ellery put down the runway. Layering and very black and white but the proportions are quite a statement. You can wear these pieces multiple times and no one is going to say 'oh, she's worn it 2 times.' So it has a versatility but still quite a statement in a subtle way. Also, accessories, so easy to travel with and no one cares if you're wearing it every single day. I basically live in my accessories … (which I'm not wearing today !)
Claire: What are the four pieces the corporate woman should be wearing ? 
Sasha: Absolutely a blazer. I know I spoke about this for the fashion girl but they happen to over lap. I would say though, for the corporate woman, she needs a blazer that's a bit more buttoned up so I would say Dolce & Gabbana does a great one and McQueen does a great tailored blazer that is long and lean and makes anyone look great. Wide leg pants are coming back into fashion. So a great white wide leg pant with a white shirt (not the crinkle white shirt from the suitcase). Black slim pants, or she can have a bit more fun in the prints we're seeing in pants. I mean, if she's wearing a suit she just has to make sure it's tailored. She doesn't need many but stick to the classics. I always love grey, I think it's flattering on everyone. It has a versatility; they can go through the year, be paired back with boyfriend jeans. For the corporate lifestyle, I love grey. It doesn't feel so serious, sometimes black just feels so serious.
Claire: The student, who is little bit more budget conscious. What should she be wearing ?
Sasha: From a student's perspective I think it's better to invest in the classics and to go high street for the fun. No one is going to expect her to have THE runway piece of the season that will have a shorter life span because it is so statement. So, go for the icons. Whether it's a great bomber jacket, I mean I think every student should be buying a bomber because it's young and old and cool.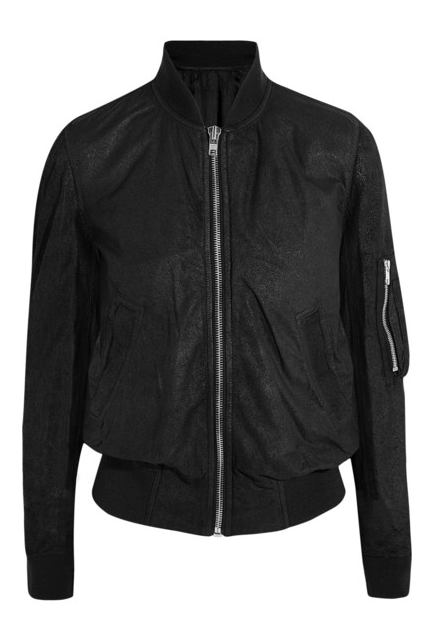 Rick Owens Bomber SHOP HERE