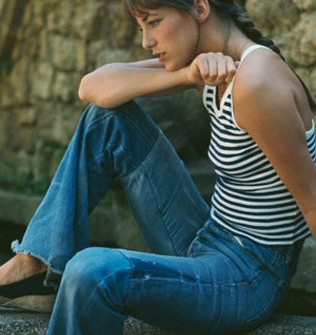 Where there is history there is fashion. Where there is fashion (more so than not) there is history.
No matter what trends come and go there are a few staples that stand the test of time and never get old. The little black dress for example and denim jeans. Yes they come in
different styles depending on the season but they are a necessity, a 'go-to' in any woman's wardrobe. Another hero piece is the understated striped t-shirt. The role this one item can play is key for a chic, seasonal on-trend look.
The stripe t-shirt has been a favourite for some of our well-known fashion icons over the decades. Think of Audrey Hepburn in her classic striped t-shirt and black Capri pants, stretched out on a deck chair on set. Or Brigitte Bardot, the quintessential beach girl and then the timeless chic of Jane Birkin. Not one to forget of course is rock legend, Deborah Harry of Blondie.
Stripes are and have been a favourite print for as far back as I can remember. When I was 6 I begged my mother to buy a striped nautical sailor dress for both my sister and me. I wanted us in matching striped outfits (?!) Then, at 11 my very brave parents gave me the option to decorate my bedroom how I pleased. I chose massive yellow striped pull down blinds. Big, loud and bold. Now, slightly less significant, I can do a whole load of washing purely of striped tops. The have become a neutral go-to in my wardrobe.
I've digressed. The beauty of striped tops is they can be worn with anything. By anything, I mean everything. Especially right now when clashing prints has become so popular. Teaming a loud print with a stripe is a no-brainer. It makes the daunting task of styling this trend, less so. A stripe top back with denim, always a winning combination. Or with a pencil skirt or a leather piece brings a casual chic element to a dressier ensemble. It's a great alternative to wearing grey marle, white or black.
So how do you tell a good stripe from a bad stripe? Well, it's a fine line… (bad joke).
Here are my picks for this season. The good, the very good and the must haves.