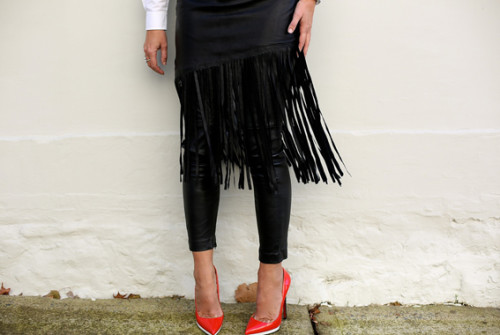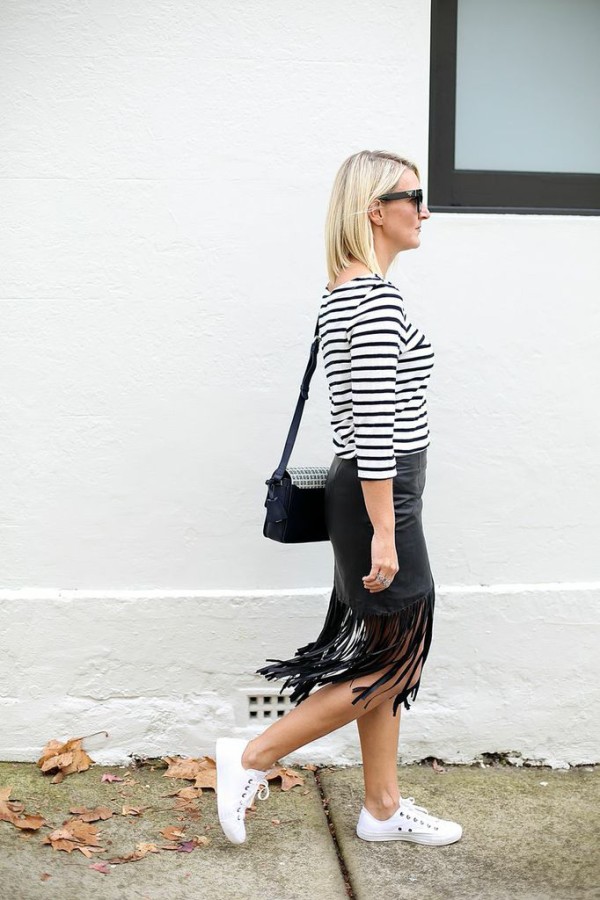 THORN: Billie leather fringe skirt
Fringe obsessed. It's my current favourite trend. Why ? Because I love the way it creates movement and different shapes as you walk.
Many people shy away from styling a piece that is a statement on it's own. But as I always tell my clients, don't save your best only for best. Create different looks and wear it for any occasion from walking the dog to dancing on the dance floor.
Here are 4 different ways you can wear this Thorn leather fringe skirt for four different occasions:
1. On the street, dressed down casual.
2. Winter warmer: chic street.
3. A night on the town.
4. Meeting.
On the street: dressed down casual
Don't reserve your statement or 'special' pieces for best. Incorporate them into your everyday wear. A T-shirt, a pair of sneakers, a great bag over your shoulder and you're good to go.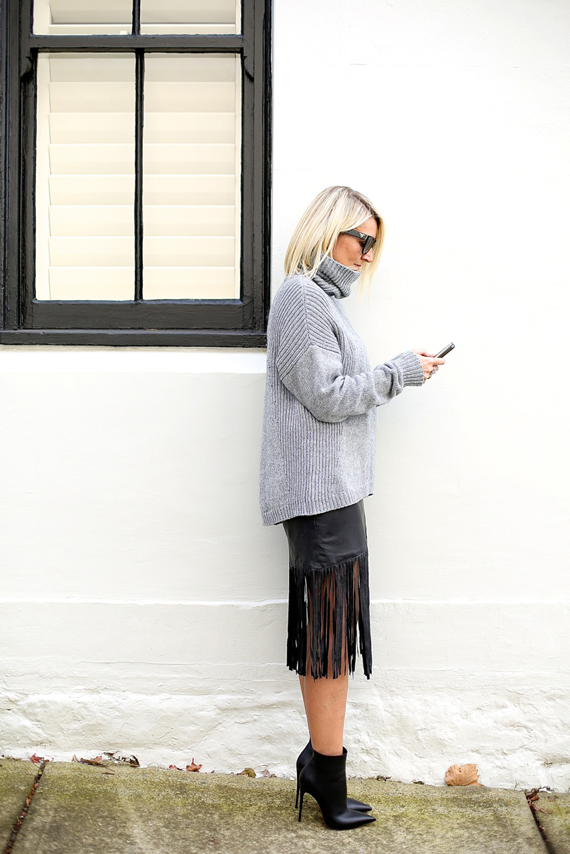 Winter warmer: chic street
Knits are key this winter and teaming them back with a statement piece is a no-brainer, especially something like this grey, roll-neck jumper. Play with textures and shapes. This is one look that will go from day to night and everything in between.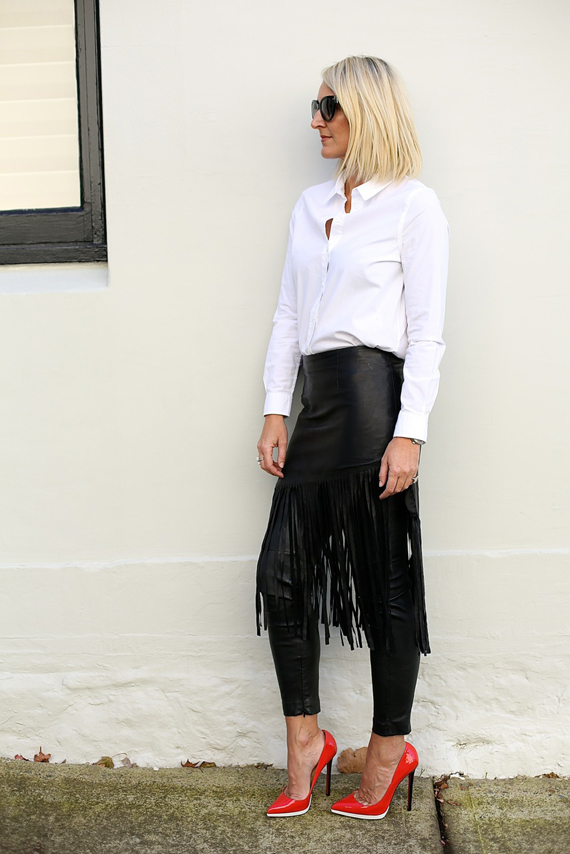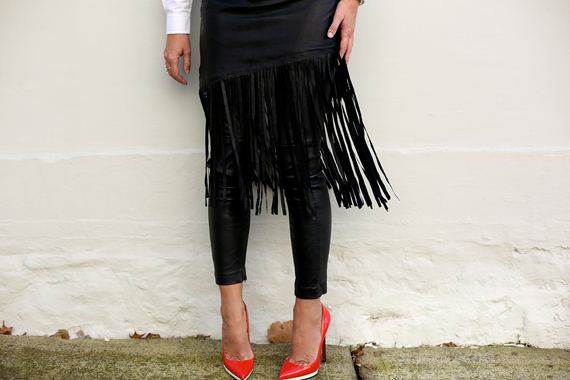 Meeting
Ok, I'll admit this 'look' is not office attire. In some offices (like mine) however it can be. Giving a preppy look more of an edge, layer the skirt over leather pants and a shirt combination with a pop of a red shoe like these Christian Louboutins, give the outfit a different twist.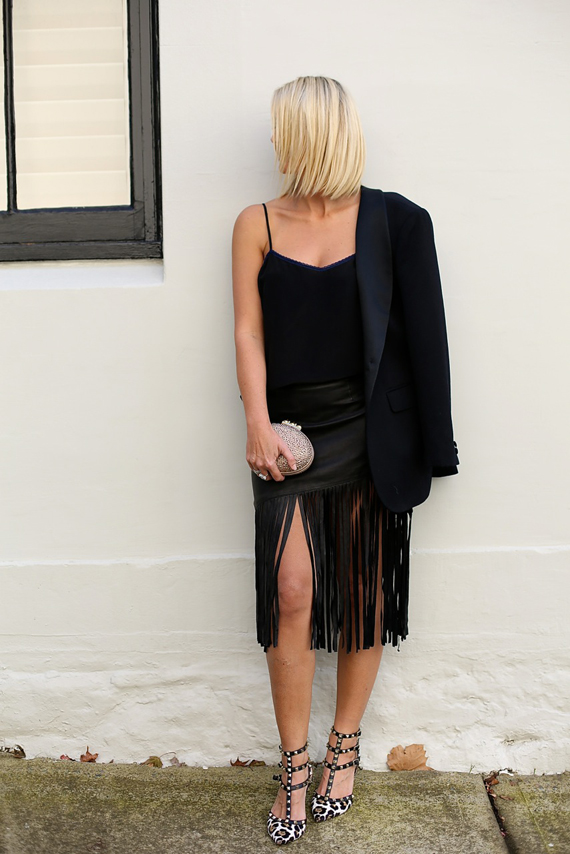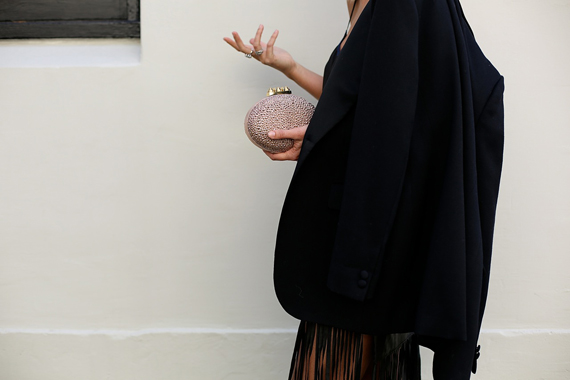 A night on the town
If you can't wear a key statement piece such as this out to dinner, drinks, the theatre or a party, when can you ?
Fashion is a wonderful tool in both branding yourself and expressing your style. Don't limit yourself by feeling like you can't experiment or look outside your usual comfort zone. Feel comfortable in the notion that many of us sometimes feel a bit 'stuck' in our signature style and it's more than ok to play dress ups behind closed doors. And do take cues from the incredible street style you see online, on the streets and in magazines or better yet engage a personal stylist who can help you push those boundaries knowing what pieces are going to suit your body shape and style.