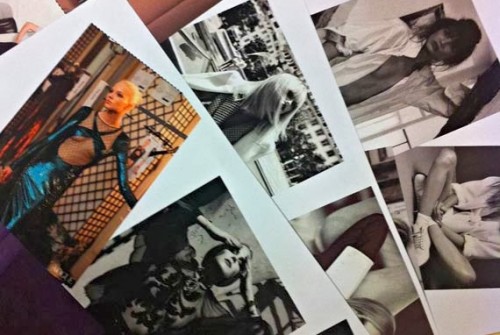 Vogue Fashion Night Out was nothing short of amazing.
There was so much going on everywhere you looked; electricity in the air and so many people ! I have to say it was one of the most wonderful nights I've witnessed in Sydney's CBD for a long time.
For the night itself, I wore a few hats. Firstly, styling five parades David Jones was hosting and, secondly, playing host as I presented my 'trend edit'.
So much planning goes into a night like this and although my contribution was only tiny, I though I'd keep a photo diary.
What is the 'look' going to be? There are two swimwear elements and designer features. I know how I want it to look, now I just need to get what's in my head onto paper, and then onto the models. I want make-up and hair that reflects a modern, strong woman with a nod to our sultry Parisian sisters and the athletic strength of the 90's supermodels.
Model casting.
Selecting the trends to showcase for my edit from some of Australia's finest designers.
Product, shoes and accessories I pulled.
PREP DONE. DAY OF:
Everything's set to go. A lovely Gucci Fiat turns up to take me to FNO. The weather gods are smiling on us as it's the perfect day to be driving with the top down across Sydney Harbour Bridge. Music up, and we are off and racing!
My outfit for the evening: VFNO T-shirt, Camilla and Marc leather skirt, Christian Louboutin heels and Burberry trench.
Media crosses throughout the afternoon and then we set up backstage getting the models ready for the first show.
Each show begins with a host. Edwina McCann, Georgie Abay, Camilla Franks from Camilla, Jessika Allen from Jets and Megan Gale. Then it's my turn.
I talk through the hottest trends and my edit for this summer featuring Australia's finest. It's a great crowd.
Then, it's over! A quick drink at the Pelicano Bar on level 7 before I jump back into the Gucci Fiat, slip my shoes off and listen to the music while the starry night unfolds before me as I'm driven back over the bridge to my home.