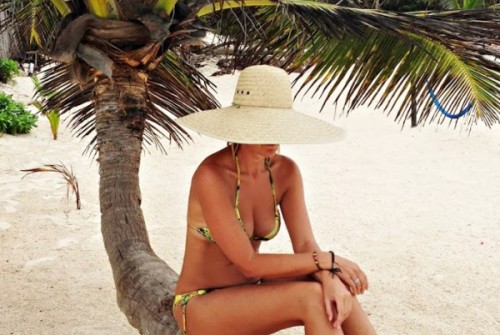 Earlier this year I wrote this travel diary for Vogue Australia and still 6 months later I have been receiving emails asking questions about my New Years holiday. So I'd thought I'd share it with you once more.
Over the holidays I traveled across the world in search of the perfect palm tree and the ultimate beach holiday. Here I share my travel guide to Tulum, Mexico.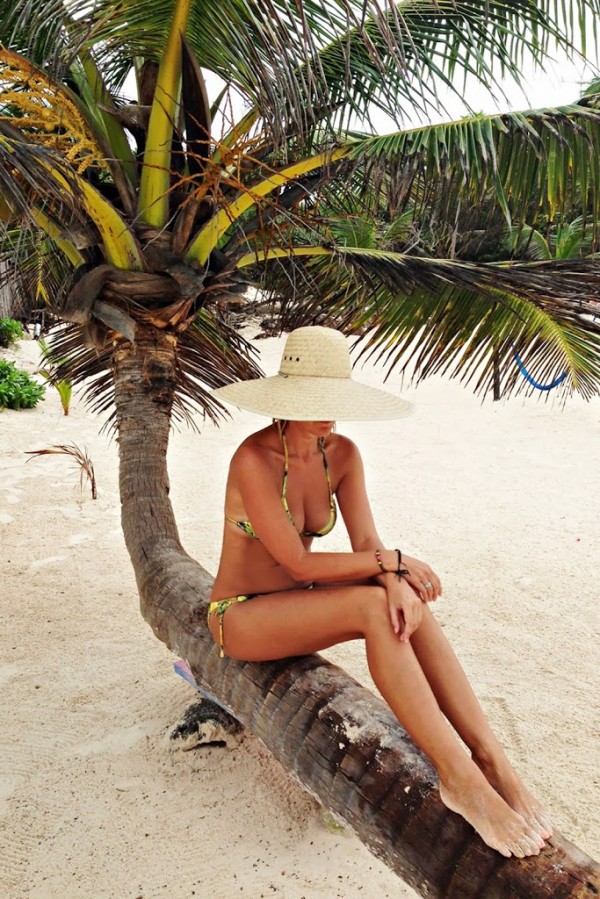 Arriving in the dead of night we had no idea what beauty lay before us as we manoeuvred our way along the sandy dar path dragging our (city) suitcases behind us. The only inkling that we had indeed, arrived in a Mexican paradise (albeit tired and hungry) was stumbling across a small restaurant on the beach which (unknown to us at the time) just happened to be a culinary oasis.
It was here our trip began. After a very long day of travel, the most perfect welcome came in the form of a large, strong, salted margaritas served in a hand-blown Mexican margarita glass as big as our handbags. Then, once these had arrived the most incredible fresh seafood marinara was served. Conversation was minimal as we were weary from our journey. We consumed, and with our bellies full, found our way back to our beach shacks and fell into bed.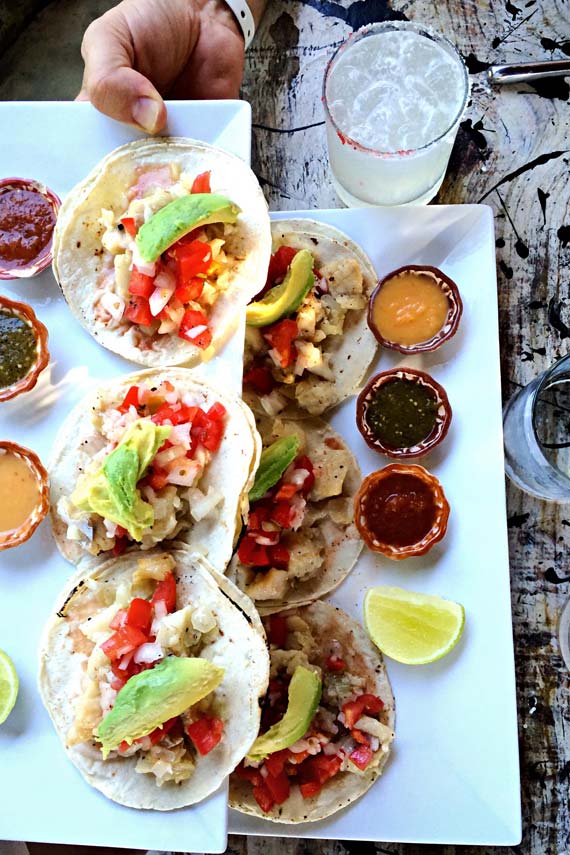 It wasn't until the next day when dawn had broken and breakfast had arrived at my door that I realised the breathtaking beauty  we had travelled across the world for, was now between my sandy toes with the perfect aqua blue ocean in front of me. It was postcard perfect. My belly flipped. We had arrived in paradise.
So where is Tulum? Tulum is on the Yucatan Peninsula, Mexico and is one of the earliest resoirt destinations in Mexico. It offered a place of worship and solitude for the Mayan Kinds, clergy and Gods in early times. The area is as famous for its ruins as its beaches. Tulum beach is a long strip of beach outside of the Tulum township. It's deceivingly long – around 4kms of hotels and restaurants and I'm not talking the high-rise establishemenst or big hotel chains you know. In fact, there was not one hotel I recognised. Each establishment is unique and you can drive or walk the whole stretch just absorbing the Mexican design or each and every business.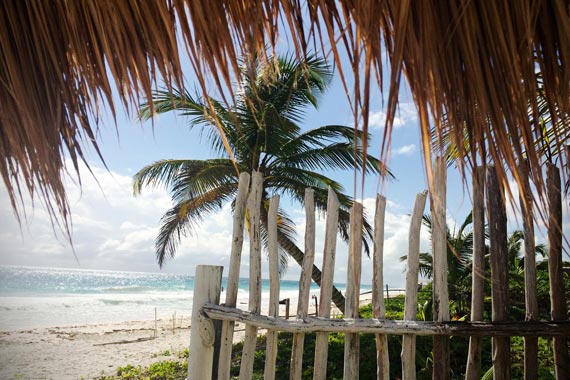 It was a holiday where all of the ingredients were perfect. I was travelling with great friends, met wonderful new friends, lay on the white sandy beach for hours on end, spent the entire trip salty in bikini's (which I haven't done since I was fourteen), I ate my weight in guacamole, danced the night away under the stars and switched right off from every day normal life. But enough! The purpose of this post is a guide. My recommendations fo what are the good parts and just why this New Years break was a destination for travellers (like us) in search of the sun and the perfect tropical location. We weren't alone in our quest. It became quite normal to see Denmi Moore, Emma Hill, Terry Richardson, Brian Atwood, Jared Leto and Carolyn Murphy at the bars and restuarants that we didn't even flinch. Actually, Demi had her tiny Chihuahua at the dinner table. That was a bit strange…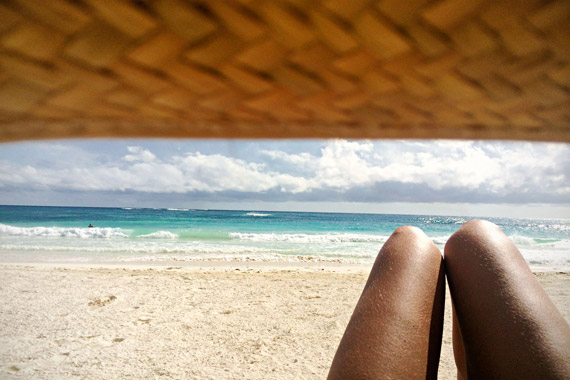 How to get there:
Tulum is 130km from Cancun. The easiest way to get there from the Cancun airport to Tulum is by a shuttle, taci or you can hire a car. You can book these at the airport.
Dress code:
It's nothing like holidays in Bali or Port Douglas. Daytime wear is bathers under whatever beach throw/dress/shorts you feel like. For the nighttime, feel free to dress up a bit more than day, but a blow-dry and a face-full of make-up is far too overdone. Salty hair, a slip of lip gloss and an outfit to wear with flats (or no shoes at all). On one of our last nights, Carolyn Murphy wore a Phillip Lim silk slip, no make-up, hair slicked back in a bun and no shoes at the bar. She looked perfect.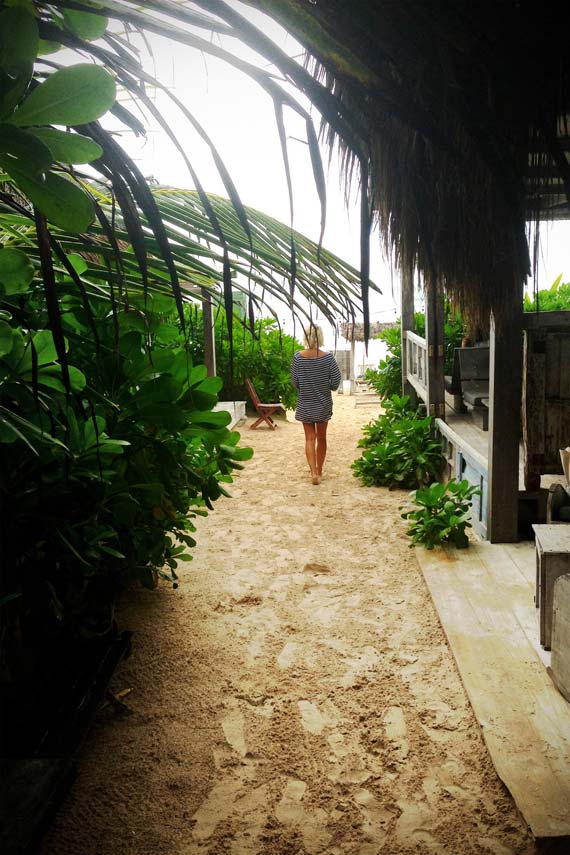 Getting around:
It's one long strip so you can walk, get taxi's (which are plentiful) or hire a bike. It is quite a busy road so I don't advise hiring bikes as a family. Hiring a car from Cancun airport would be a good option.
Shopping:
Tulum is a 10-minute drive from the beach. It's what you would expect a beach town that caters to tourists. Lots of cute shops full of sombreros, trinkets, Mexican tablecloths, silver wear, hand-painted ceramics and so on. It's definitely worth the trip to have a look. On the beach strip there are some very beautiful small boutiques, not many but worth a look as you walk to dinner.
Currency:
Mexican Peso is the Mexican currency, however they do accept US dollars also. Every ATM I went to only dispensed USD so it's a bit 'either'/ or.  If you're well organised get Pesos before you arrive. Also note, most places don't accept credit card. It's cash only so stock up. There are banks in the town.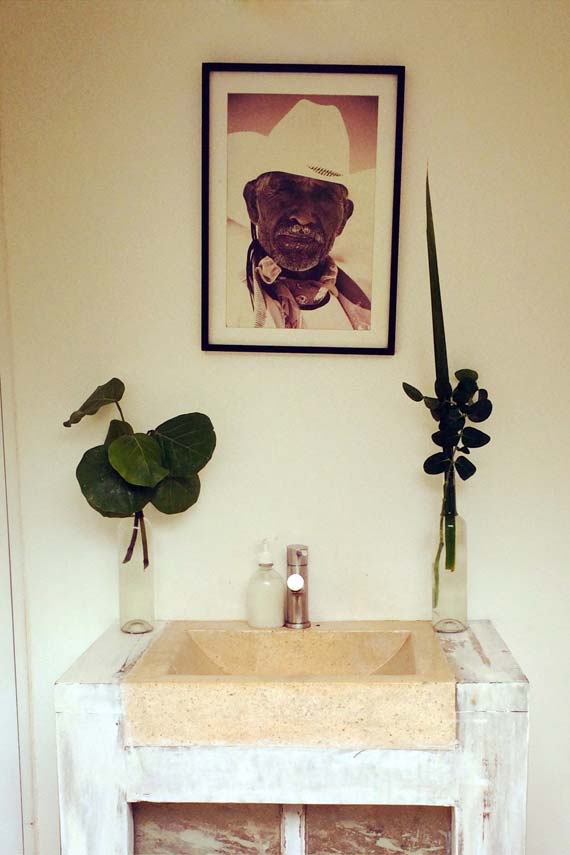 Massage:
Before I arrived I imagined having daily massages. I thought it would be plentiful much like Bali. Not so. There were some places on the beach and at hotels. Prices started at $45 USD to $100 USD for an hour and you need to book during the busy season.
Mosquitoes:
They are plentiful. Take mosquito repellent.
Food:
The food is amazing. The seafood? So fresh. In fact everything is fresh. I ordered a coconut water and we watched the waiter go out the back, hack one down off the tree then present it to me to drink. After a week, there we were, connoisseurs of ceviche. At least one of us would choose this dish at every place we ate. Surprisingly the best ceviche was at a beach bar. It was incredible. The tropical ceviche washed down with a Sol. Heaven.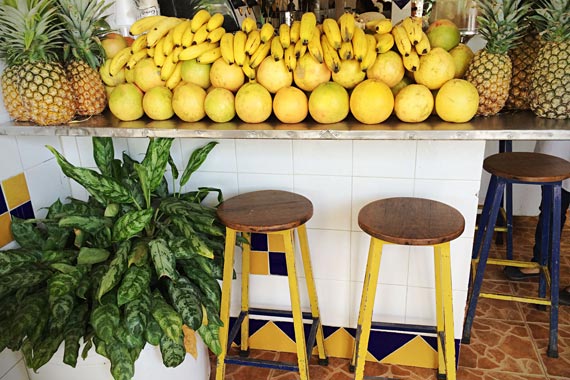 Where to eat:
Hartwood: probably the most popular of all the restaurants.  I would try and go here as early as possible into the week as you may want to go a second time. They don't take bookings so you need to go around 6pm to get a table (this was during their busiest time of the year).
Hemingways: a cosy, romantic spot with great pastas and wine. This is where we landed on our first night. If they have the seafood special for two I would highly recommend it.
El Tabano: this was my favourite 'Mexican' restaurant. Amazing margaritas. Delicious food, almost Mexican fusion. Taco's plus local delights also. Ask the waiter for his suggestions. It has a great atmosphere (Terry Richardson and Jared Leto seemed to enjoy it).
Posada Margherita: this was the restaurant we visited the most. Situated overlooking the beach, fresh grilled fish with perfect pasta options. They also had a great variety of wines (which not many of the others had). Open for lunch, they also have a juice bar for a fresh morning green hit.
Casa Banana: an Argentinean restaurant which has wonderful meats.
Gitano's: we stumbled across Gitano's on New Years Eve. The food was good, not amazing, but the atmosphere was electrifying. It has a great bar and mixes some wonderful cocktails and attracted a mixed group each night. Very cosmopolitan, Europeans, Americans, Australians… Brain Atwood was spotted under the disco ball.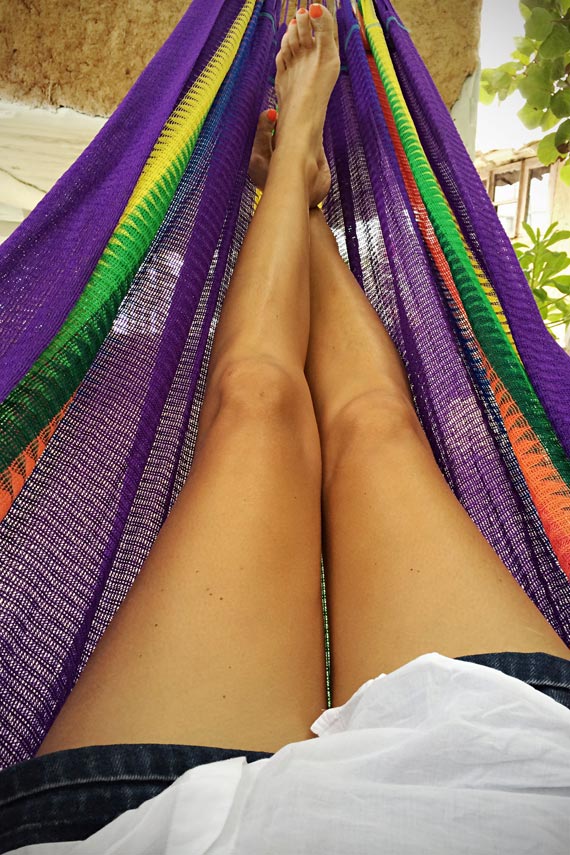 Ruins:
The Tulum ruins are great to visit; the beach is extremely beautiful there and you can swim after seeing them. You can get a guide which I think is really worthwhile because they can give you many facts about the Mayans otherwise it can get a bit stagnant not knowing what you are looking at. The historical stories make it fascinating.
Cenotes:
The area is full of Cenotes, some of them far better than others. One is called Dos Ojos or Two eyes and is about 20 minutes from Tulum on the way to Playa Del Carmen. There is another one called Grand Cenote (5 mins from Tulum) it's smaller and can be a bit touristy, but definitely worth visiting. A perfect option should you get a rainy day.
I could write for days about Tulum. I have never fallen in love with a place quite so whole-heartedly.
If I were to run away from Australia, you know where you'd find me…