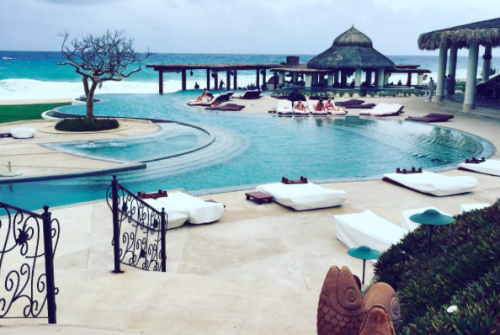 Restaurant hoping in LA, sun soaking in Cabo Mexico, day parties in Las Vegas, unsuccessful bike rides on Venice Beach (there is always that one story) … our mid year getaway was calling. Loudly.
I must admit, I have the travel bug. It's the excitement of visiting new places, the experiences and the priceless memories you make and cherish for a life time, that has me hooked.  The last few years Europe has been our destination and has captured my heart. However, after visiting Mykonos (some would say one too many times) we decided to hold out on our unrealistic consumption of souvlakia and swap the Euro for the America Dollar (timing for currency exchange could have been better … ). We headed for LA LA land. And, well, seeing as Vegas was only an hour flight away … why not ?
August 29th, 9:50 AM, Kingsford Smith Airport. Let the holiday begin.
Los Angeles.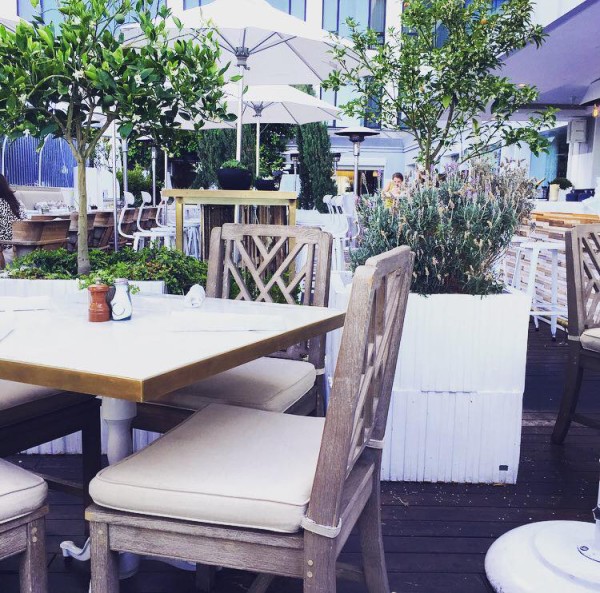 Set amid the Sunset Strip's restaurants and nightlife, overlooking LA city, DJ's playing while the sun set, cocktails at the Skybar and THE best breakfast – the Mondrian Hotel in West Hollywood was the perfect place to call home in LA.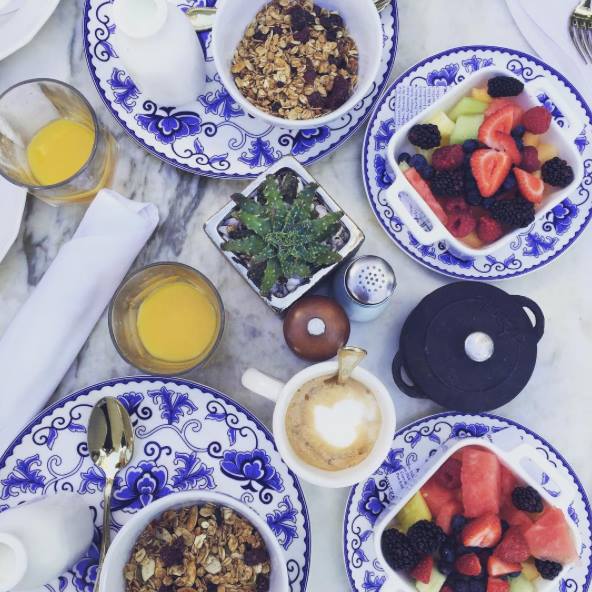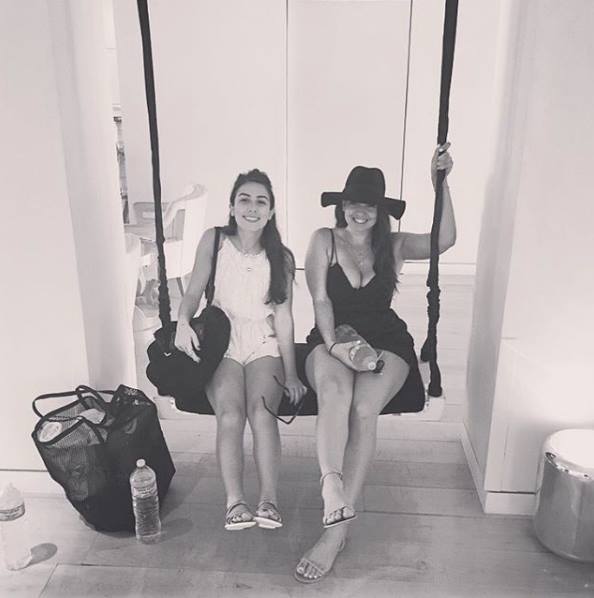 Considering this swing was occupied almost every time we walked past it, we thought it fitting to join in on the obsession and snap the same photo as everyone else. 'The swing' in The Mondrian Hotel lobby; almost as popular as the Hollywood sign itself. Or so we told ourselves seeing as we didn't make it up to the sign. Tourist photo number one.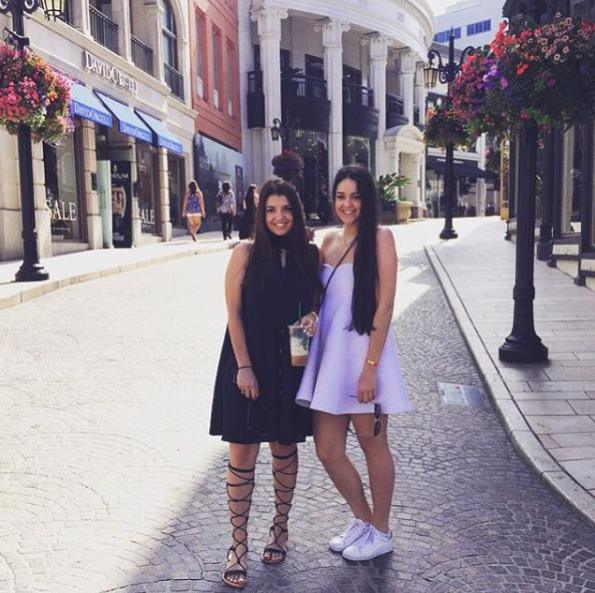 Rodeo Drive; 3 blocks of Saint Laurent, Tom Ford, Chanel … the list goes on and on. After the first block, I was clutching at my wallet that much tighter.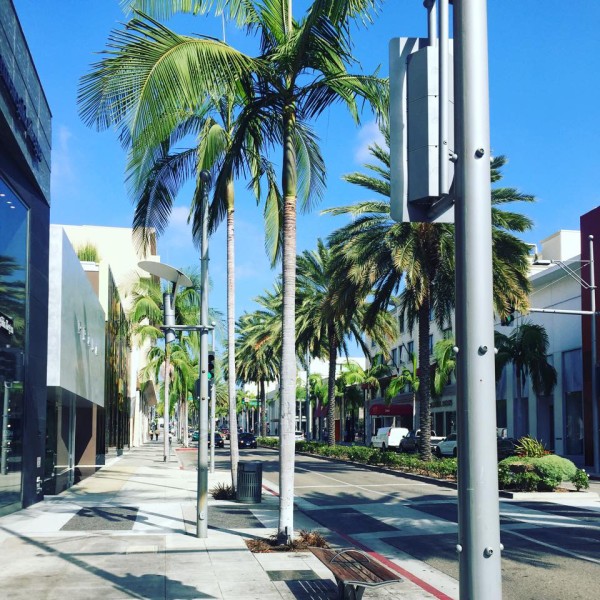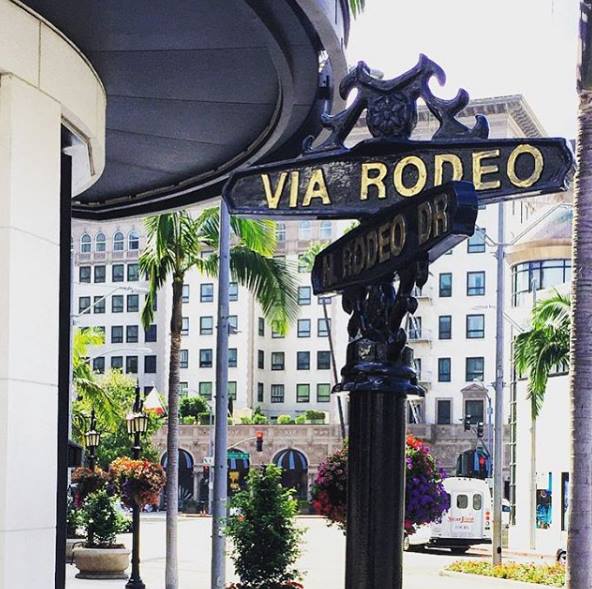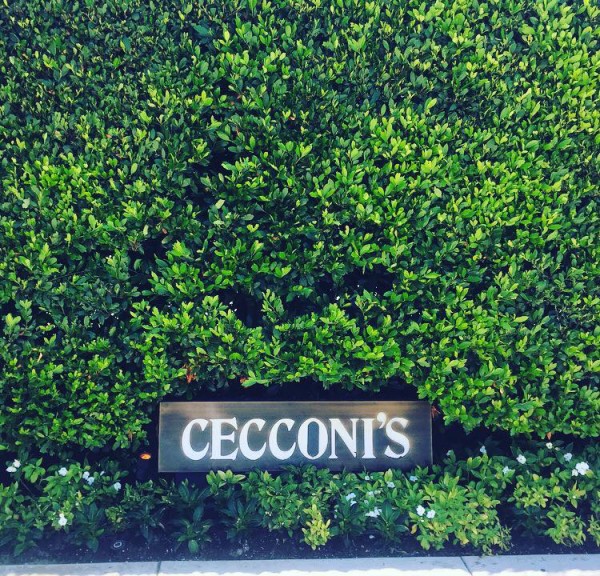 It is no exaggeration when I say that we ate our way around LA. I'll even go a step further and say that our days in LA were planned around food. Where we were going to eat? At what time? In what area? But this is completely normal on a holiday, right ?! It's exactly why we have pre-holiday diets. To then put it all back on while overseas.
Cecconi's, Gracias Madre, EP&LP (photo below) and Katana are sure to satisfy every taste bud.
Best coffee in town: Alfred In The Alley and Intelligentsia.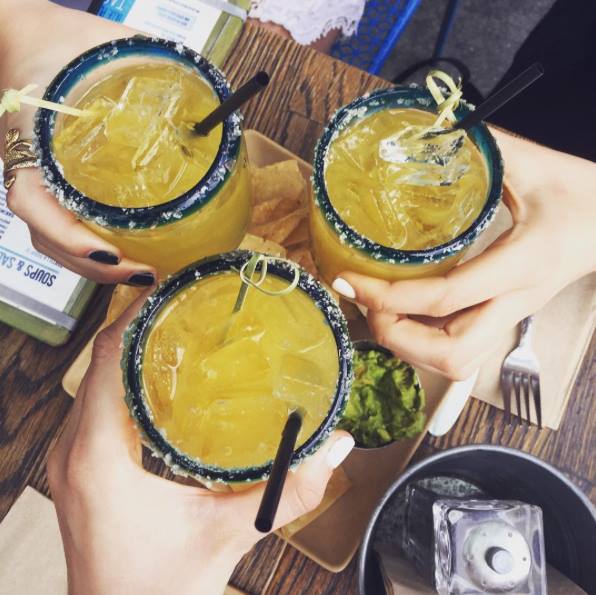 Could NOT get enough of these passionfruit Margaritas at
Blue Plate Taco
in Santa Monica. The perfect way to end a day of shopping on Santa Monica Promenade.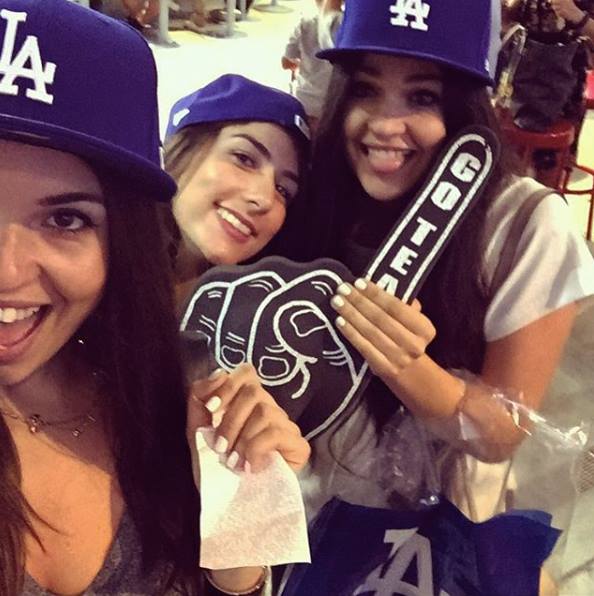 Dodgers vs. Giants. According to 'true' supporters this was a deciding match. One to be taken very seriously. However, after an hour of attempting to understand the in's and out's of baseball and trying to figure out what team was actually winning, we decided to leave the stadium for the closest restaurant. Nonetheless the time we spent at Dodgers Stadium we played the part (or at least dressed the part) of the teams biggest supporters. #welovethedodgers.
NOTE: if you're an international guest, take your passport. We didn't and it was a very sober game for us. Apparently we didn't look over 21, maybe it had something to do with the amount of merchandise we were sporting but … when in Rome.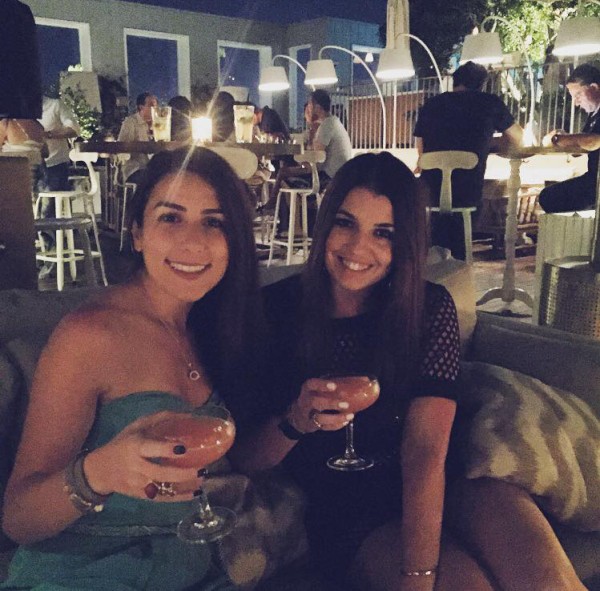 The Skybar by night . Pre drinks before our final pig out at Katana.
Las Vegas:
WE STAYED AT: Encore Hotel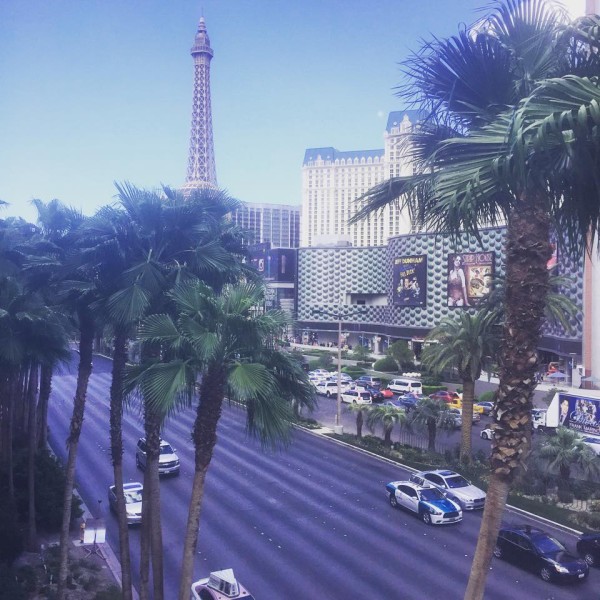 Right before we left Sydney a friend told us 'go to Vegas with no expectations'. So we touched down in this Disney Land for adults with just that advice in mind. Zero expectations. Driving down the strip for the first time, asking our driver a million and one questions, looking left to right … it was the perfect advice, there was no way we could have ever expected this. Let our 6 days (yes, 6 days) in Las Vegas begin.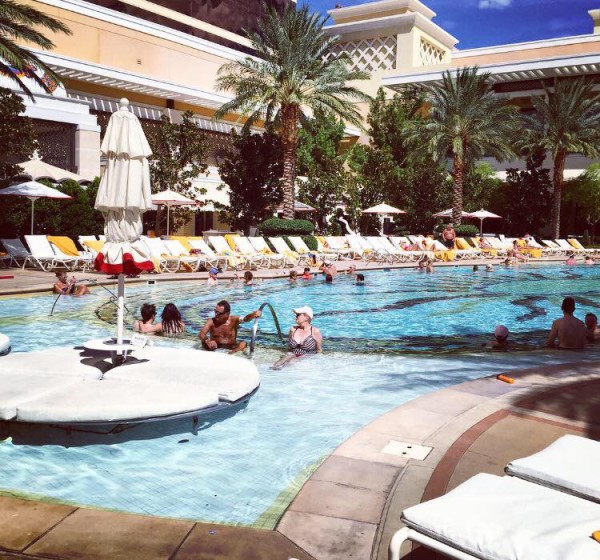 Encore Hotel was just as overwhelmingly exciting as the city itself. We checked into our room on the 63rd floor overlooking the Vegas strip and were straight away mesmorised by our view. We laid on our bed starring out at the most amazing shop fronts, restaurants, spectacular hotel entrances and wasted way too long people watching. (people watching in Vegas is like no other). It was surreal. We were finally in the city we had heard so much about. Where to start, where to go first, what to see, where to shop ? So with our (unrealistic) list of things to do in mind, we decided to ditch them all and head for the pool. Our aim; to be sporting the same tan as the man in the photo above. Looking back now, I can (happily) say we were unsuccessful.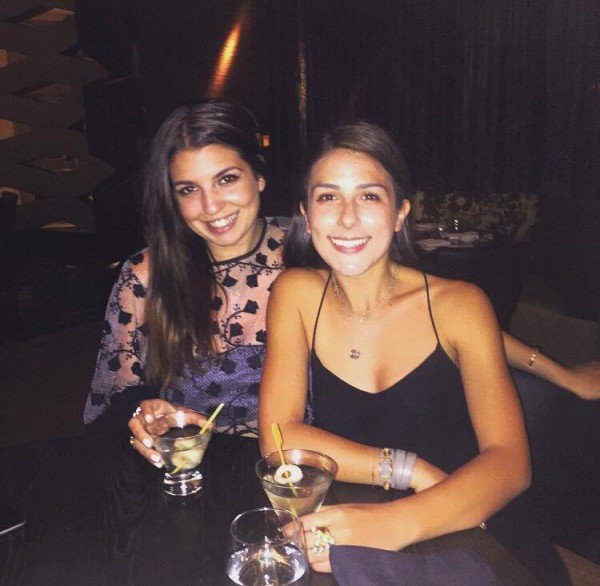 A must; Nobu in Caesars Palace. Our Lychee Martini craving finally quenched.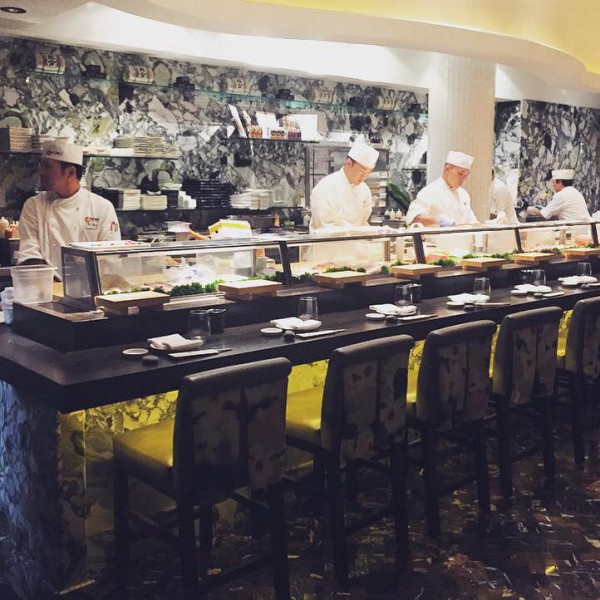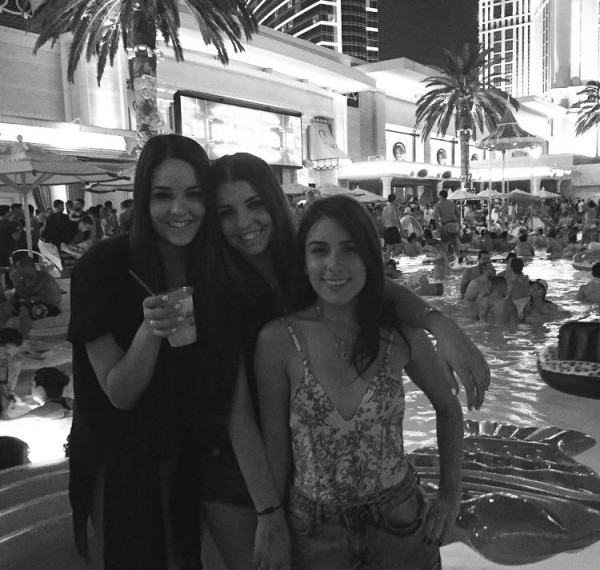 Poolside at Encore Beach Club with DJ Snake and my two favourite girls … Vegas was off to a great start.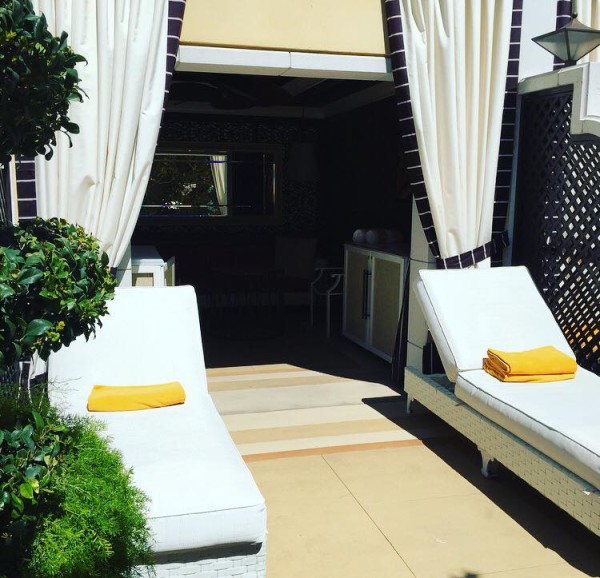 Rolling out of bed and onto these cabana lounges was the best way to start the day. Tan, swim, cocktails, repeat. Numerous times. Until a day party came calling. Next stop: Tiesto at Wet Republic. I could get used to this.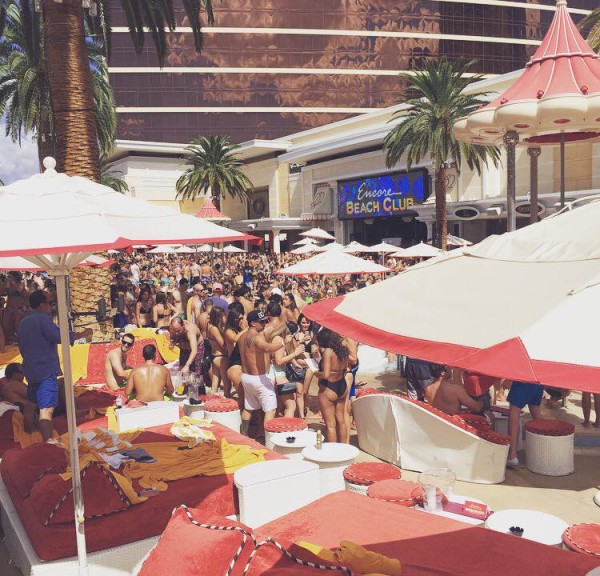 Encore beach club by day … it was like no other! This was the best day we had in Vegas. Cabana number 103, champagne, never ending sushi platters … and to top it off it was Queen B's birthday. Drunk In Love, Crazy In Love and a bit of old school Destiny's Child … DJ Dillion Francis you provided the best soundtrack to our day!
A huge thank you to LV Connect who hosted myself and the girls for the day. You truly made this (surreal) day one to remember, provided us with unbelievable stories and enabled one too many snap chats! Contact LV Connect
HERE
for their full concierge services. Everything from table service, bookings, airport transfers, customised itineraries and anything VIP.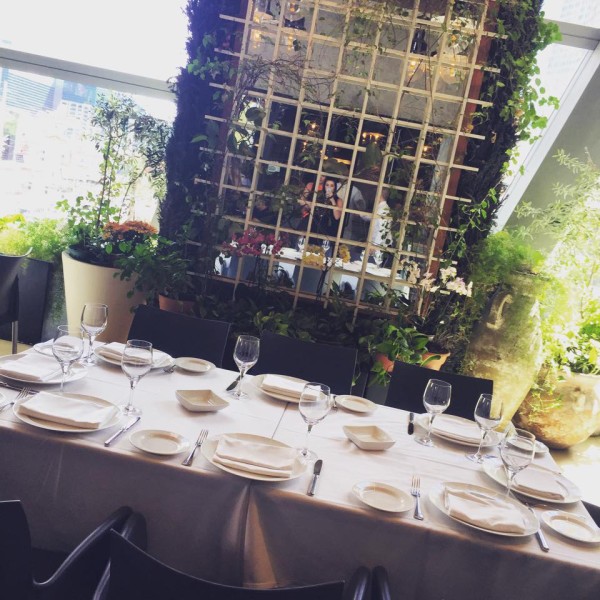 Now it was no coincidence that three Greek girls found one of the only Greek restaurants in Vegas. Estiatorio Milos in Cosmopolitan Hotel was hands down the best meal we had in this city. Sitting on a terrace overlooking the strip, eating the best Shrimp Saganaki (don't tell my grandmother) … we actually considered going back for dinner the next day. And to top it off , it was one of the cheapest meals we had all holiday !
Other places to visit in Vegas
Shopping: Las Vegas North Premium Outlets, The Forum Shops at Caesars, Fashion Show.
For the kid inside us all: M&M world in Showcase Mall and Hershey's Chocolate World in New York New York Hotel.
Kicking off Labour Day weekend table side with Armin Van Buuren at Omnia. Thank you LV Connect for once again showing us an unbelievable night.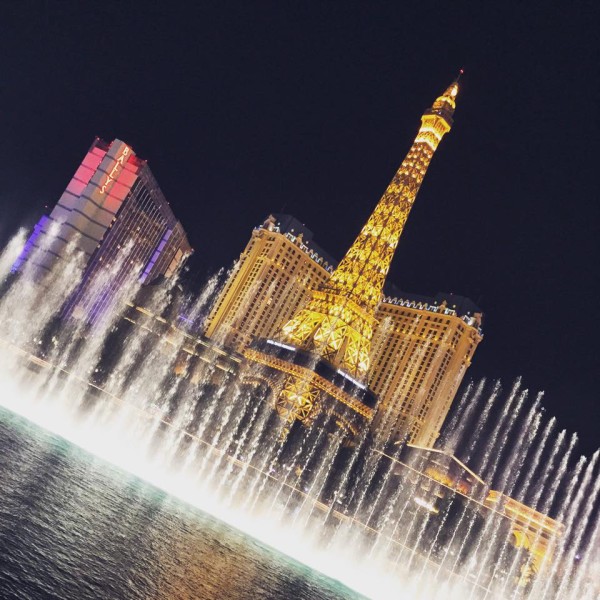 The water show outside the Bellagio hotel runs every 15 mins daily, starting at midday. It is spectacular and completely captures your attention. Celine Dion playing in the background, the Vegas Eiffel Tower as a backdrop, everyone silent … is it dramatic to say that it was actually quite emotional?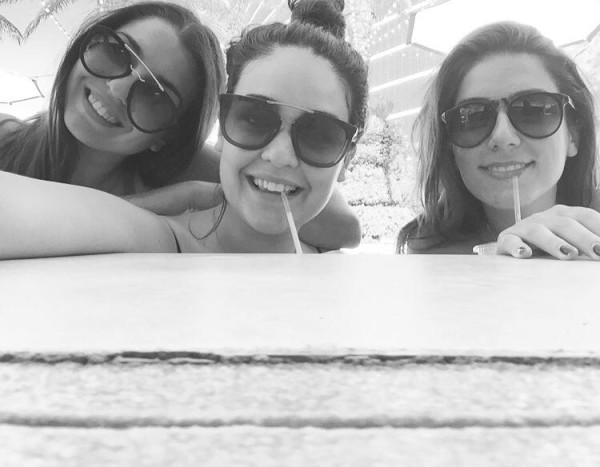 Vegas, you were everything and more. Completely over the top, surreal, exaggerated and overwhelming. Exciting, spectacular and incomparable. We came with zero expectations and left with a million stories !
CABO, MEXICO:
WE STAYED AT: Las Ventanas Al Paraiso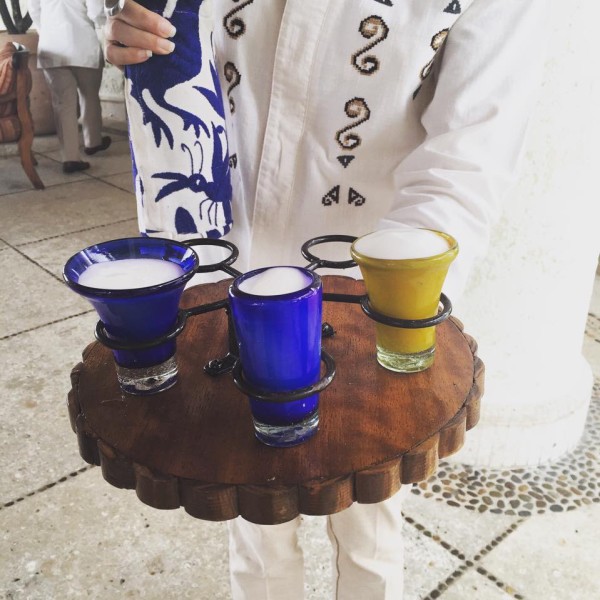 Greeted with not one but TWO shots of foamed Tequila (if you haven't tried it, get whipping) followed by a 15 minute massage … we really did find paradise at Las Ventanas Al Paraiso … and this was only the beginning. We hadn't even stepped foot inside our Mexcian retreat filled with princess beds, a terrace overlooking the Pacific Ocean, a fire place and more tequila … shot number 3 anyone?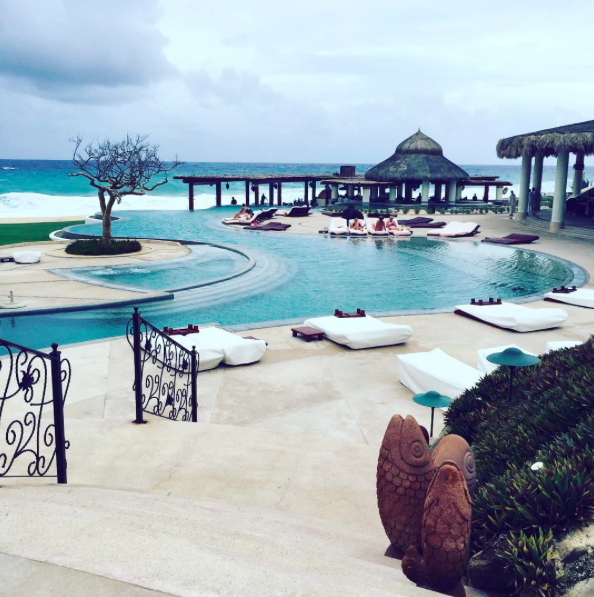 Our hotel was truly breathtaking! No picture can do it justice. Trust me, I tried. To the point of 'full memory card'. From our unbelievable surroundings (not one grain of sand was ever out of place…ever), to our amazingly friendly butlers Melanie and Luis, swimming up to The Sea Grill for the freshest lunch, late night lollies and popcorn delivered to our room  – there is no way this hotel could of got any better ! Located between San Jose del Cabo and Cabo San Lucas it was only a 20 minute taxi ride to either town … see, couldn't get any better !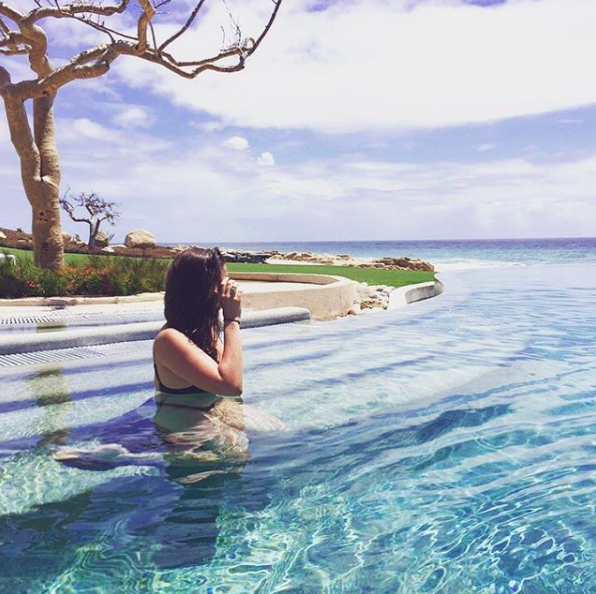 The first day we arrived in Cabo it was raining so at the first sight of sun (which came the next day at 11:00AM on the dot) we ran (no exaggeration) to the pool and planted ourselves. We WERE coming back with an enviable tan ! Nothing but sunshine, infinity edges and blue skies. We did however pay for it that night, to say we were burnt was an understatement. NOTE: The Mexican sun is a thousand times stronger than ours. So, Slip, slop, slap!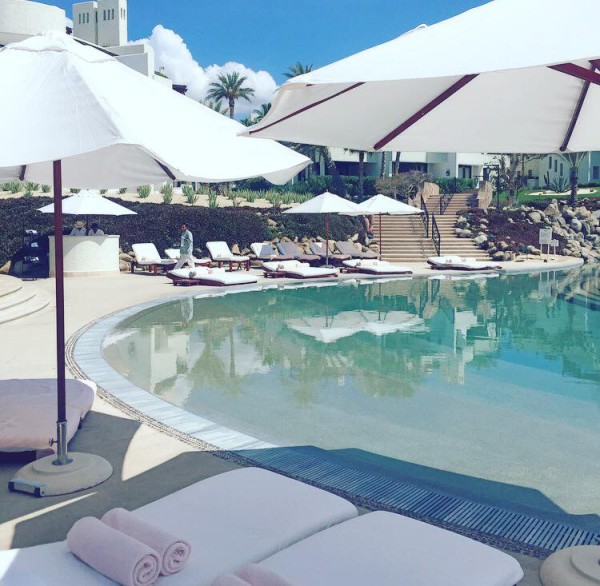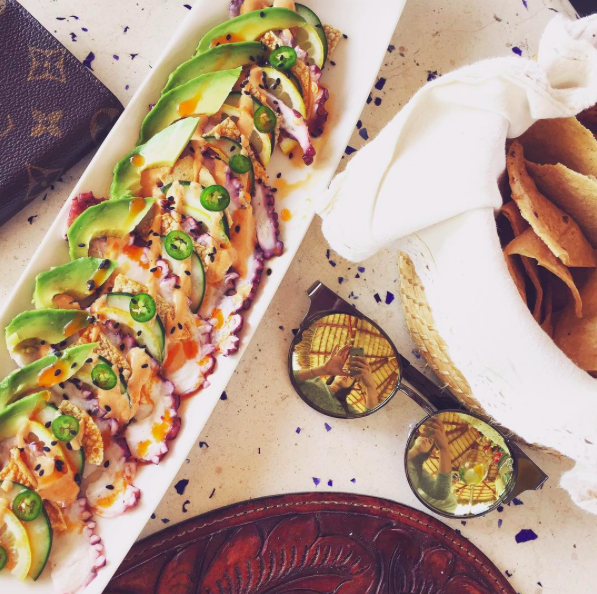 Three Thirty-itis called for a visit to the Ceviche and Tequila Bar. Yes, there was such a bar! THE best Octopus Ceviche in Cabo. You can also taste test the amazing selection of tequila the hotel has. And funnily enough, every sip just got better and better.
Great restaurants to visit outside of the hotel; Hacienda Cocina y Cantina, Nick San and Flora Farm.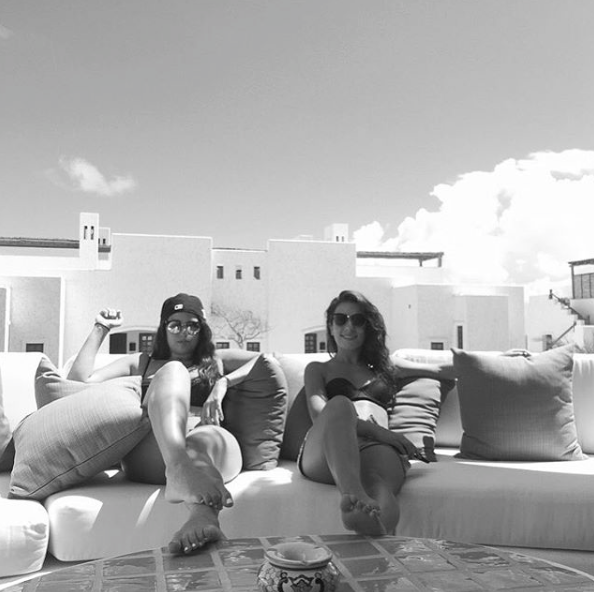 A day full of sunshine, relaxing and an overdoes on guacamole followed by a night in Cabo San Lucas Town. Mexico, we love you !  Squid Roe is a MUST on a night out. Guaranteed to be the funniest outing. Jelly shots, ballon headpieces, conga lines that run out onto the street, all accompanied by 90's music you can sing-a-long to until your heart is content. And if you're ready for more dancing and tequila; Pink Kitty and Mandala are both within walking distance of Squid Roe. Dress Code: beach hair, sandals and whatever clothing your burn allows (the looser the better).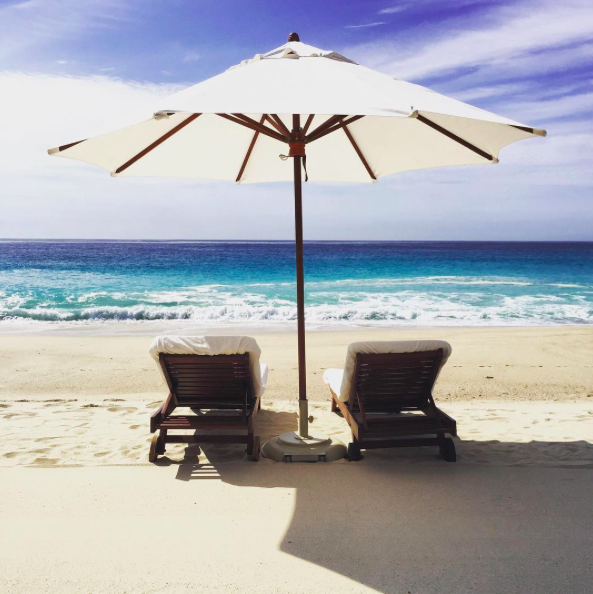 Want to escape everyone and everything, ask the hotel to set this (picture perfect) spot up just for you. Sand, sea and sun. The perfect way to end your holiday.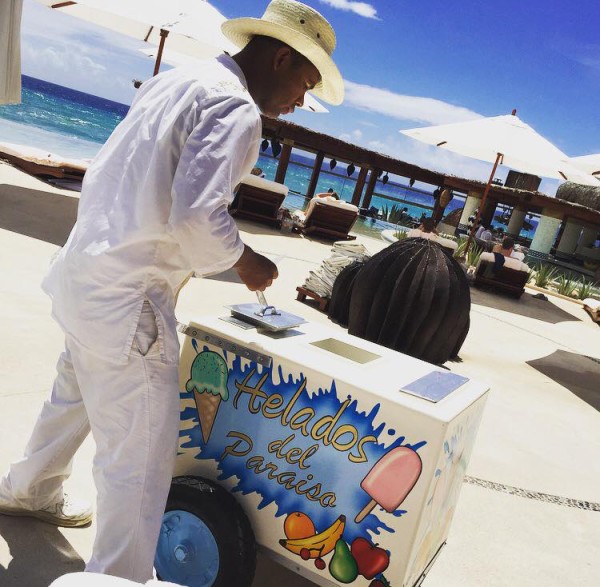 Just when you're craving a little something to take the edge off the Mexican sun … here comes the ice block cart. Strawberry, Mango, Coconut or Banana. Pick your poison. Gracias.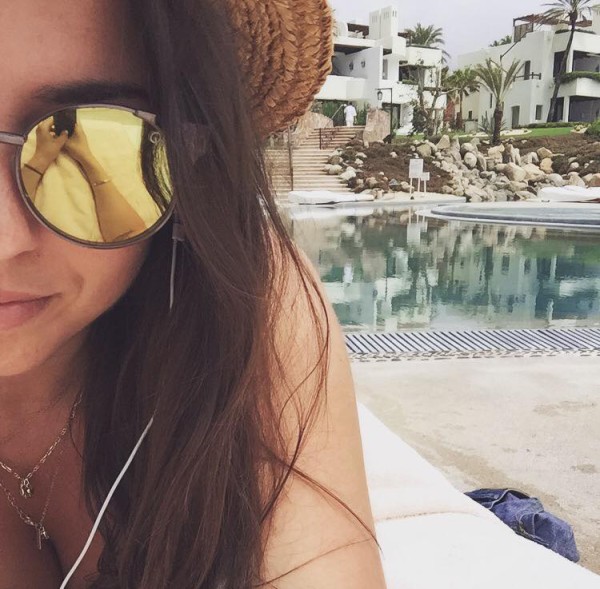 Last rays on our last day. Cabo … we will be seeing you very soon. Here's hoping.