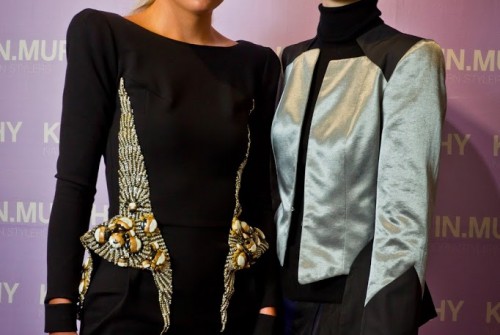 For Myer's AW13 launch on Thursday night, I caught a few moments with Session Master Nathan Gorman from Kevin Murphy (who co-directed the models hair with James Nicholson) to get the low down on the up-do's.
We have 2 looks for Myer this season, what you're actually looking at now is our outversion but because of the silhouettes of a lot of turtle necks and skivvies we've tucking it into. Which its it a beautiful shape of a tucked up fold. Inspiration comes from the late 60s, early 70's and its not that we are doing retro hair but we want to reinvent it. Almost that element of girls getting their hair done every week and combing it up every morning. We want to make it look like the girls have probably brushed out most of the back combing but left a little bit so they have that have that beautiful organic texture and flow.
The secret to wearing a hat for the winter looks, and when you take it off?
To make sure when you build up the bulk and height of the hair isn't too much on top because it will dent it. But a good amount of strategic based back combing will give you the perfect angle to sit the hat on. And a low pony is a standard for a hat.
What is the second look?
Our second look which you can see, is a little reminiscent of a messy Bardot pony tail. So we've used anti-gravtity and built that in to get just the right amount of texture. We've actually done two pony tails here. We have sectioned from about the top of the ears and we've placed in our first pony tail, and in our top section we've gone through with the anti-gravity, drived that in and then we've back combed, left that back coming in to settle for about 10 minutes. And then essentially we've pretty well brushed out most of it. That allows you to get the perfect form and pull up the shape and then you just loosely capture the second pony tail over the top. There is the secret for the perfect pony tail. You see we've used the centre part which is a bit reminiscent with bangs coming down as well, its not height its form.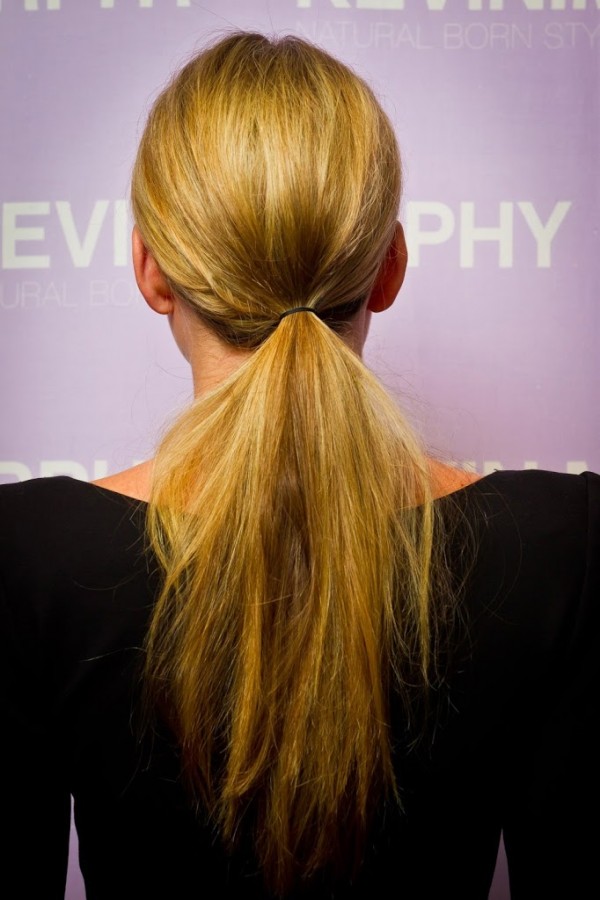 Key products you're using?
Powder Puff is great because Powder Puff is like back combing in a bottle so that allows you to get that perfect texture to hair if you're not so good at back combing.
Anti-gravity is a great product to fatten it up but for this look you do need to have quiet thick ends.
If indeed you're a bit challeneged with the amount of hair you have or perhaps its been a bit over coloured, or too many layers in the past then we can use our Full Again which is rayon which has rayon particles. This is like a last extend mascara, so you place that in the mid-lengths to the ends and it will fatten out those ends again and that will give you the illusion of the thickness that you need.
What is the inspiration?

Well its a bit of a Bardot, into the early 70s. I think it really is going back to a time where girls used to style their hair, layers were a whole lot longer and it was about the form. It does have a bit of Carnaby St and French cinema as well.