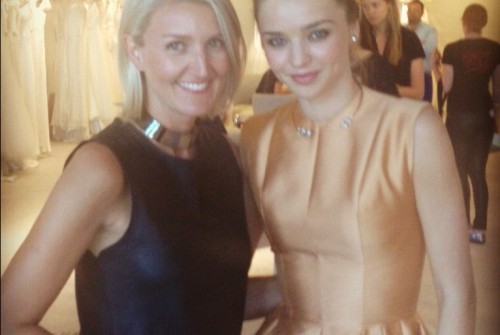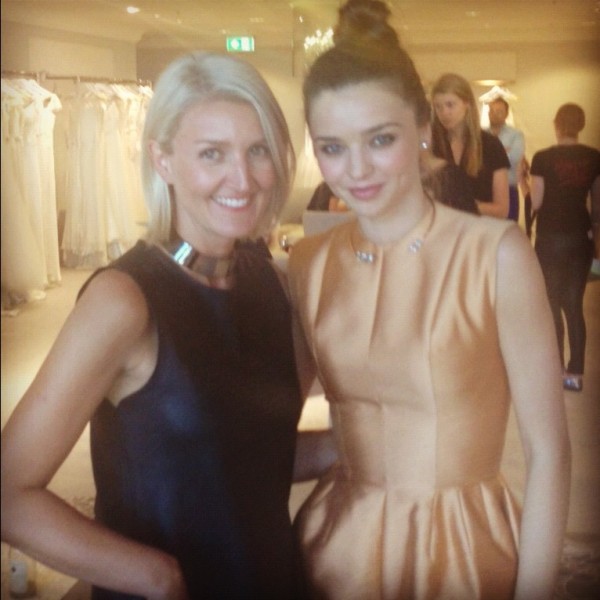 On Wednesday night David Jones hosted their Winter fashion launch in spectacular form. 22 chandeliers hung over the catwalk (yep, I counted them) as the floor became a glorious stomping ground with an array of fabulous winter footwear and fashion from our talented Australian designers.
Here for a few weeks, Australian golden girl and David Jones ambassador, Miranda Kerr led the charge in showcasing the autumn winter trends. I caught up with her pre-show.


Q: Growing up who was your style icon?
A: My grandma she's a very stylish women and she was really a great source of inspiration to me my whole life. She's a really great cook she has a really wonderful heart and used to offer me pearls of wisdom. AND she had a big trunk full of dress up clothes and my cousin and I used to dress up in.
Q: Is there one piece you can remember dressing up in as a stand out?
A: Oh yeah, a red velvet long dress and we would always argue who was going to wear it, my cousin or I.
Q: What is your favourite trend for this season?
A: Hmm it's a hard one because I love the print on print and there is also a lot of embellishment and also a great use of colour.
Q. Personally what would you wear?
A. There is a jacket from Ellery, it's hot that I love because I love a blazer and with a little touch of leather its a bit luxe and that extra special something. And the shoes I'm wearing right now which are Valentino, I've been in them all day and I love the studded detail. A classic shoe but with a modern edge with a little stud and gold highlights. And comfortable!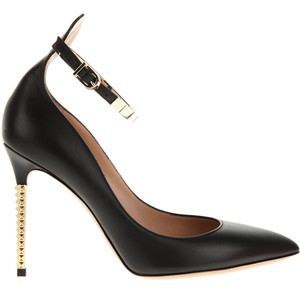 Q: Are you a shoe girl or handbag girl?
Aww that's a hard one. I'd probably say shoes. I just went through my whole closet and gave away so much stuff.
Q. What size shoe are you?
A. Ha ha I'm a 7. Clothes, shoes, handbags. So much stuff I just got rid of! It's nice to clear out. You feel so much better when you clean out your wardrobe. I had bags full.
Q: How do you manage multiple wardrobes or are you mainly based in one place?
A: No we have New York, LA and London. You try and keep the wardrobe simple but then people send you stuff and you get inspired and think you may as well have fun with it. And its one of those things… I think fashion can be a great expression of how your feeling, it can be a fun way to express yourself. Most of the time when people get my picture I'm going to work because other than that I'm a home body and I'm at home in my robe. I'm a robe girl.
Q. Robe and Ugg boots? I quite like mine….
A. Ha ha, no. No shoes. I generally like to be barefoot in my robe and just a pair of undies. I love just being at home, especially in LA where we have a lot of space, we have a garden area, we have trees and there is space there and it's great for Flynn to run around. Then when I go to work I like to get dressed up because its my job, so I may as well have fun with it. And I'm a complete homebody. I just love being at home. When I'm there it's no make up, no nothing, no clothes. Ha ha, well the robe. When I work, I dress up – so I might as well have fun with it.
Q: Working and travelling can be hard when you have a family. How do you keep in touch with Flynn?

A: Facetime, I try my best to avoid being away from him as much as possible. At this point you always have to think what is in their best interest and now that he's two so we do a lot together, but otherwise Face-time.
Q: You're exposed to every designer in the world…who are your top three Australian designers?
A: Aww thats too hard. I grew up with these designers and I love them all. Each season it depends on what I'm feeling for the season. Its like trying to choose your favourite child.