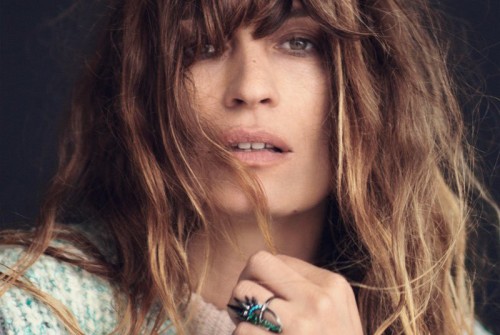 Caroline de Maigret; mother, model, muse and professional French enigma. She has seemingly formalised her vocation with her recently co-authored book, How To Be Parisian Wherever You are: Love, Style and Bad Habits.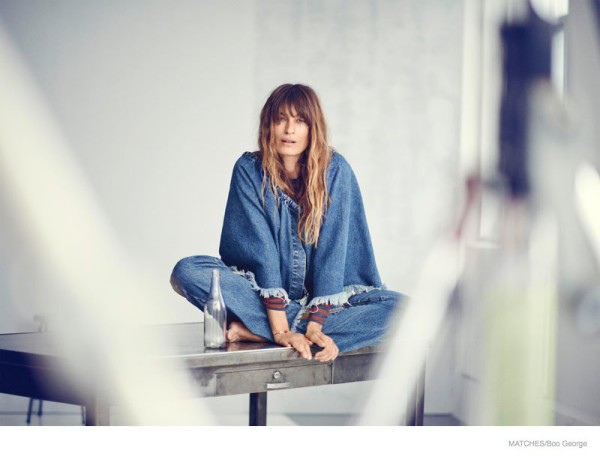 Today, de Maigret, 39, is in London. Outside the Chelsea hotel where we meet, it's drizzling. Her terrific abundance of hair has taken on an even more expressive, let's say, volume. 'Who does it for me? Who cuts my hair? non, non, non ! I have someone who dyes my hair, Stephane Pous; he's got a little salon and does all the Parisian girls, like Josephine de la Baume, Lou Doillon. But cut my hair? Non! And you should never use conditioner,' she says, peering out from under that fringe, looking me square in the eye. I think she's deadpanning, but  an after-thought email arrives a week later: 'Just make sure you use a mask once a week to balance it out; I don't want you calling me in a year saying your hair is ruined!'
And that, in short, is how the modern French woman thinks and lives.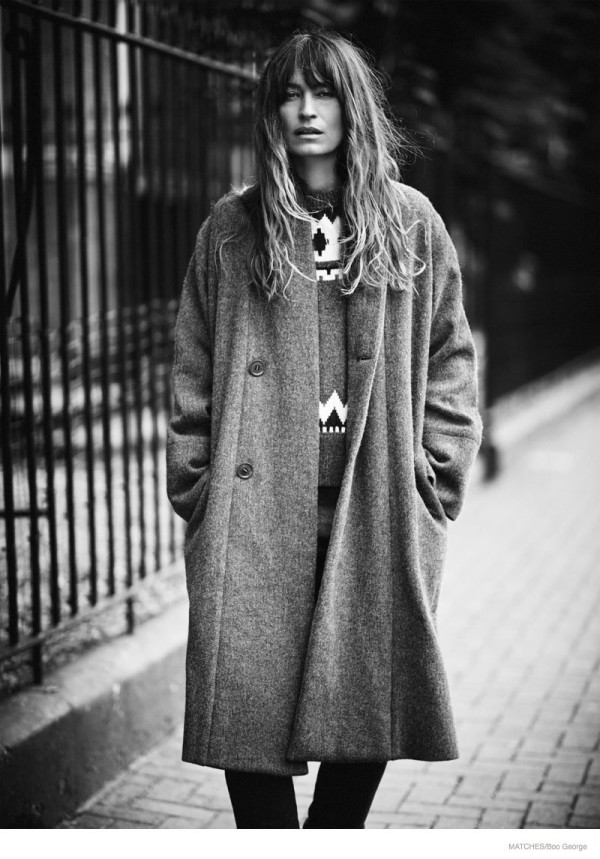 So why all the fuss about Parisian style now ? 'It feels new again for one reason,' says de Maigret, tapping once on the table definitely. 'We've arrived at a stage of consumerism that's a bit over the top. Nowadays, moderation and quality are artefacts of a good life. It's the food you eat, too. In fashion, it is to buy one amazing dress rather than 10 cheap ones. You don't need all … this,' she says, gesturing towards an imaginary overstuffed wardrobe.
It's true, then, that French women do craft their can't-put-your-finger-on-it style from a wardrobe of few but very beautiful items? 'A cashmere sweater,' she lists as her primary essential, pulling at her own pale grey boxy one. 'A very nice handbag …' she trails off, struggling to name others. Apologising for her 'travel outfit' of straight-leg jeans, a military-green satin bomber, love-worn white sneakers and the requisite cashmere knot, she hastens, 'If I'm going to make an effort, I will add one important piece to my outfit – too much and I feel disguised. I love people who go for it but that's not me. Maybe I'll grow up into a crazy, eccentric lady,  but it's just not who I am.'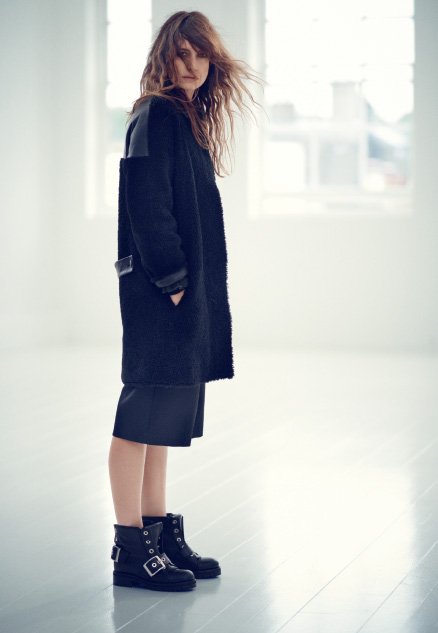 So, where does it come from, this innate ability in Parisian women to self-style their lean wardrobes and create statements from little more than a white line-dried shirt and jeans ? 'It's not in our habits to show off; we're a socialist country,' comes the reply. 'It's ingrained. I always like to say that women usually want to be liked for their personality and not for their décolletage, you know?' As someone who has spent more than 20 years in the modelling industry, de Maigret is well aware of what does work for her – 'high-waisted trousers, the ultimate chic!' – and avoids jewellery altogether – 'too heavy, although I love it on other people'. She continues, relaxing into the velvet sofa. 'The more I age, the more I dress up. I wish I could just wear a white T-shirt and jeans all my life, but I can't get away with that as easily as before, unless I'm in Paris. But once I dress up, I'm happy. I put more make-up on than I used to; concealer under my eyes and a lot of mascara. It's more out of respect for the person I'm meeting,' she jokes, rolling backwards into peals of husky laughter.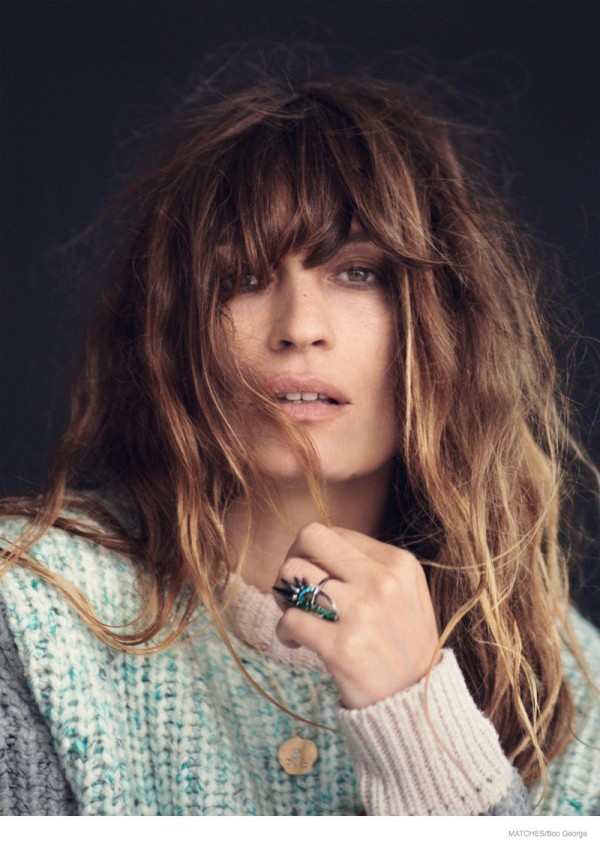 From her mid-teens, she worked for a decade as a model, being photographed  by legends including Steven Meisel – 'He has the strength of making careers' – as well as Mario Testino and Peter Lindebergh. 'Starting modelling was like entering another reality – a different kind of education,' she says, in reference to her scholarly upbringing. 'You have people that come from all over the world with different background, which I didn't even know before. I was in a very good school in a good area of Paris and you're only supposed to go out with particular kinds of people.' The daughter of Count Bertrand de Maigret (her mother was a champion swimmer) and granddaughter of Print Michel Poniatowski (former minister of the interior and health in France). Hers was a traditional aristocratic family. 'French aristocrats are very different from the British aristocrats – they're not so fun and decadent,' she half jokes in her syrpy drawl. Home life was focused on academic study and her parents forbade her to pursue art, so instead she dived into books, going on to study modern literature at Sorbonne University. By 15, she was sneaking out to explore the dive bars of Paris. 'it's strange to wake up one day and realise what you're being told is not exactly how life is,' she says.
She took a conscious step back from modelling around 2004. 'There is this thing,' she says, leaning in conspiratorially, 'when you become a woman, that you actually need to be active and to take your life in your hands. It wasn't even to do with having my son; it was a natural step as a woman. Being a model, you're still very passive. My frustrations were getting bigger and bigger; your brains starts overworking, you start having anxieties. It's very hard to wait behind a phone for people to call. I had the chance to have a great education and I really needed more.'
For de Maigret, the answer was music. She had recently returned to Paris after several on-off years living in New York when a friend took her to a rock concert. She was enraptured by the front man she saw on stage, Yarol Poupaud, and his music – 'old soul mixed with blues and dirty rock 'n' roll, exactly everything I loved.' They met backstage after the show and before long had co-founded music label Bonus Track Records and starting dating. Their son, Anton, now aged eight and a keen drummer and saxophonist, was born the following year. After de Maigret's soundtrack for the film Bus Palladium received a Cesar nomination in 2011, Karl Lagerfeld spotted his former model in the press, called her up and asked her to walk in his Chanel show (coincidentally at a time when indie music labels were struggling to compete against the internet and they had decided to wind it down). 'It's exhilarating for a woman of 39 to be back in fashion,' she says. 'The difference is that, this time around, it's not really modelling as people photograph me for the woman I am.'
In front of the camera, she's at home playing the part of herself; on set she sways to the Rolling Stones, gently collapsing into her hips like a puppet on soft strings, head cocked, hands lost up the sleeves of an oversized Balenciaga shearling and then on tiptoes in heavy-soled Alexander McQueen boots, making them appear weightless. Under the lights, she could be a front woman on stage.
'I like quite androgynous women who play with men's clothes,' she says, shrugging on a Christophe Lemaire grey overcoat. 'I find it sexy. I always enjoy seeing a part of the neck rather than the breast. Sexy for me is in the attitude, the gestures, the way you talk, a woman's pose. I love Charlotte Rampling and Jane Birkin,' she says. There's an almost undetectable flicker as her mind is taken elsewhere – to her son, her partner, her charity work for CARE France, her next flight – and she freezes momentarily with a piercing gaze. 'I guess I love women who are beautiful, but when you can see there is something more in the eyes.'
Images and text via: matchesfashion.com