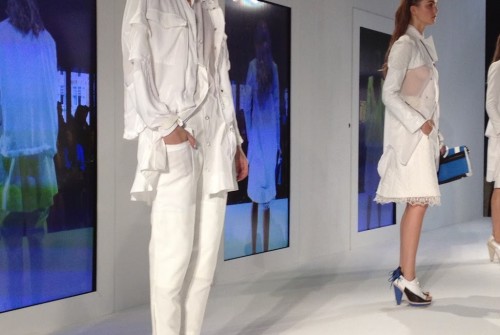 When I turned up to see the show there was a throng of people, paps and a whole lot of commotion going on outside the new Rag and Bone store in Slone Square. The next thing I knew Anna Wintour was walking across the road with her security and a million photographers trying to get a snap. She was in fine spirits smiling and laughing as she smashed the champagne bottle to open the store.
The show itself was quite amazing. You can see the screens in the pictures above. How it worked is they took a snapshot of the models, then as the models turned, the screens would follow them in slow motion. Really technical, trippy and quite mesmerising. A really innovative idea.
The collection itself was quite simply, amazing. I would wear every single piece, on any given day, in a heartbeat.