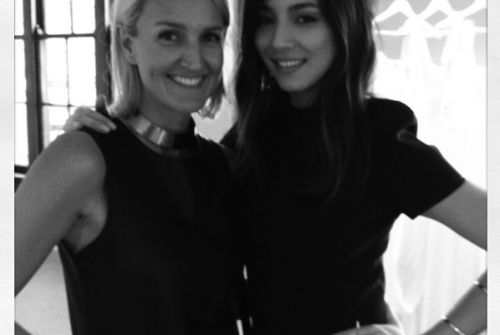 A few weeks ago at the David Jones show I caught a few moments with the gorgeous Jessica Gomes. Approachable, upbeat, fun and authentic, she was great catch some moments with post rehearsal and just before the main event.

Q: From little-old Perth girl – to an internationally recognised name. Is it a bit surreal? From the outside world it seems like your success has all happened very quickly.
A: Yeah, from the outside world it has happened very quickly. Thats interesting because I've been modelling for a long time, for 10 years. For me its kind of been a gradual build up. So now I feel really happy and comfortable in my own skin. I just really enjoy my job now. I really enjoy these amazing opportunities I get and I absolutely love coming home and working, I love David Jones, they are such a big iconic brand in Australia and to be part of that calibre of girls and obviously walking next to Miranda its incredible. I feel really honoured and its so much fun and everyone is incredible down here, and fun and easy. Everyone is so talented and the clothes are amazing. Every time I come home I'm like 'I love all the Australian designers!' I m always like "I want to take this back to America" because everyone overseas loves Australian designers.
Q: Who are your favourite Australian designers?
A: I love Ellery, Josh Goot and Dion Lee. They are my three top.
Q: And who are your favourite international designers?
A: I love Celine, The Row and Stella McCartney.
Q: Where are you based?
Im based now in LA, I lived in NY for 6 years. When I left Perth and I just turned 18 I went to Asia first and I'd come back to Sydney for fashion week. Then I went to NY when I was 20 and lived there for 6 years. And now I'm in LA and LA for me is a nice balance. Its easy to get to NY, Sydney and Asia.
Q: Do you miss Australia?
I do, I love it here. The light, the people and the food. It's just really easy here. I'm close to my family, they're still in WA. My parents are here tonight they flew over to watch me in the show. They are really proud and they're having a good time. They're just really happy they are seeing me happy. I love working in Australia because my family gets to see it. Where as when your overseas your doing all these amazing things but non of your family get to see it. My parents aren't on facebook or twitter. They don't get it. Im like "mum you have to follow me on instagram because you'll know where I am in the world". And she's like "I don't know how to use it."
Q: Style icons. Growing up, who's style did you admire?
Early teenagers it was Destiny's Child. I don't know if that's just tragic. Ha ha. I loved RnB. I used to wear the white hipsters with the boob tubes and wear the Adidas pants with the jumpers. Now that I've matured and travelled and obviously met amazing designers and in the industry you get given clothes and I'd like to say I've gotten a bit more chic.
I love Kate Moss, she's always been someone that I've looked up to since I was 17. I actually really love Salma Hayek's style too – she's sexy and classy. And I love Pheobe Philo from Celine.
Q: What is your off-duty style?
Denim Rag & Bone jeans, a comfortable Alexander Wang t-shirt with my Nicholas leather jacket that I'm obsessed with! I love Nicholas, they're a brand from Melbourne, I love there stuff. And just a pair of loafers. I've got some great Emma Hope loafers, they're velvet. Just casual, comfortable. Or just in my free city trackie pants that I love, Madonna and Gwyneth wear them, I've got a pair of those that i love and I've got an amazing Banjo & Matilda cashmere sweater. I have lived in it, there are holes in it. I love buying classic pieces and wearing them throughout the seasons and then bringing in new pieces and mixing and matching them.
Q: What are you most looking forward to tonight?
A: Getting out there on the run way. I love it!