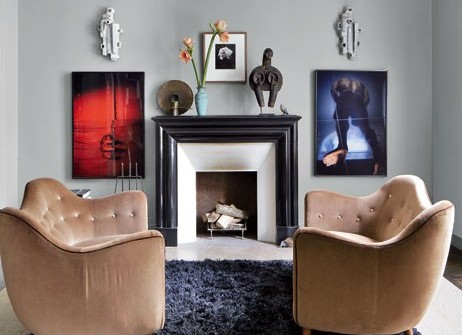 Ask fashion designer Stefano Pilati why he chose his apartment in Paris, and the creative director of Italian menswear brand Ermenegildo Zegna explains it was because of his white boxer, Bepi. While friends warned that the puppy, now 12 years old, would rip apart furniture, pilati was more concerned with the practicalities of having to walk him several times a day. His solution? Find a place with a private garden where Bepi could roam.
Pilati thinks his apartment's most exceptional work is the shelving system commissioned from furniture designer Martino Gamper. A sculptural assemblage of polished and lacquered wood boxes, it frames the opening to a rectangular space that was the original master bath and is now the funmoir, or smoking room. There, Pilati reveals, many chic garment has been born. "Before I go to sleep, I sit down, have a cigarette, and draw."
"Everything is coordinated around my way of living", asserts Pilati, who has a penchant for combining wildly disparate objects; the television room, for example, contains a chaste Louis XVI desk bearing a lamp made from a zebra leg.
The dining room's mural of an autumn woodland, painted by Mathias Kiss and Olivier Piel, would not look out of place in a Roman palazzo, though its inspiration was actually a scene from THE Reese Witherspoon movie Vanity Fair. But Pilati asked the decorative artists to leave the landscap unfinished, because "I didn't want it to seem too retro or old-school"