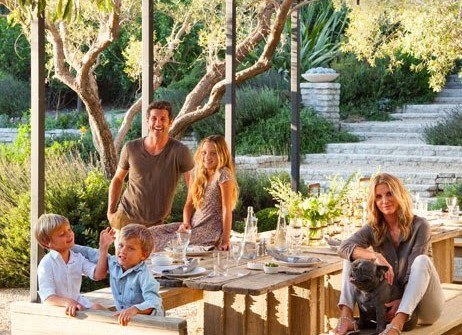 At their residence in Malibu, California, actor Patrick Dempsey and his wife, Jillian, are joined by their children – daughter Talula and sons Darby and Sullivan – and their French bulldog, Horton, in an outdoor dining area appointed with Teak Nicholas Design furniture. Conceived by architect Frank Gehry in the late 1960s, the house has been updated with landscaping by Shrader design and decor by Estee Stanley Interior Design.
A vintage Jacques Adhet daybed from Blackman Cruz beckons in the entrance hall.
Custom-made sofas upholstered in a Great Plains fabric stand before the living room firepalce, which is surmounted by a Waldo's Designs mirror; the painting at left is by Thomas Helbig, the large round table is by Dos Gallos Furniture, and the Alma Allen low stool (used as an end table) is from Heath Ceramics. Jillian Dempsey made the sculpture displayed on the cocktail table.
The kitchen features a concrete sink and countertops as well as a Wolf range and a Best hood.
The sculpture studio's custom-made Shrader Design sofa is clad in a Great Plains fabric and features decorative pillows by Brenda Antin; the cocktail tables are by Lucca Antiques, the leather daybed/ bench is by Caste, the floor lamp is from Obsolete, and the Moroccan carpet is from Lawrence of La Brea.
Darby and Sullivan leap into the swimming pool, which is surrounded by a recycled-wood deck; the seating is cushioned with Perennials fabrics.
Flowers, herbs, and vegetables flourish in a garden's raised beds, which are constructed from reclaimed scaffolding; the area is paved with gravel and stabilised decomposed granite.
Olive trees shelter the corrugated-metal dwelling, dubbed Tin House by its previous owners.