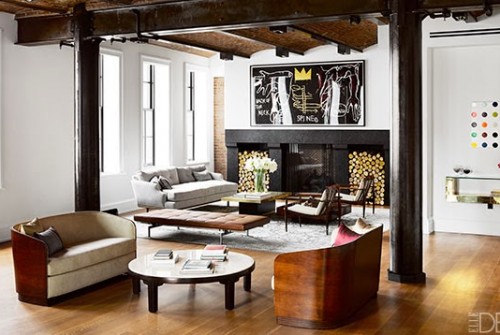 Developer Jared Kushner enlists the aid of a style expert – his wife, Ivanka Trump – to create the ultimate model loft in SoHo's historic Puck Building
Elle Decor: What is it about the Puck Building that appealed to you?
Ivanka Trump: "The building has such a presence in SoHo. I love the arched windows and slightly mischievous Puck sculptures on the exterior. But it wasn't until I met Jared that I began to understand the building's important role in shaping the culture of New York City, with its connections to publishing and the arts.
Elle Decor: What were the principles behind the renovation?
Jared Kushner: Our goal was to moderate a conversation between an industrial structure and the highest level of luxury. We tried not to be conformist and to design and custom-fabricate every single detail. My standard throughout was, "What would I do if this were my own home?"
Elle Decor: Why did you choose Jose Ramirez as your architect?
Jared Kushner: Jose understands space, layouts, and how people want to live. His lack of ego allowed him to put the building first. He has an impeccable eye for detail and wasn't afraid to make changes as the project progressed.
Elle Decor: You used high-end materials and finishes throughout. Was there an effort to make them natural as well?
Jared Kushner: Absolutely. We didn't want the apartment to feel forced or over-the-top. The challenge for the design team was to incorporate unexpected materials in an elegant way. The countertops in the kitchen, for example, are lava stone from Mount Etna in Sicily, with a crackled glaze. And there's even a little mother-of-pearl in the terrazzo floor to give it a subtle sheen.
Elle Decor: Ivanka, how did you interact with the designers?
Ivanka Trump: Jared likes to say that I was an "editor and adviser." The process was extremely collaborative, and I would help decide whether a piece was right or not. At other times I would offer suggestions for certain pieces or alternatives to certain materials that were presented.
Elle Decor: What was the inspiration behind the ceramic tile that you used on the kitchen ceiling?
Jared Kushner: Bill brought the tiles to us, and we immediately loved them. They're a classic feature, with a nod to New York, but the application to the barrel- vaulted ceilings and the iridescent finish gives them a reflective quality that makes the room glow.
Elle Decor: There's a lot of great furniture here, including 19th-century antiques, vintage mid-20th-century classics, and new "design art" piecs. Do you have any particular favourites?
Ivanka Trump: I love Lindsey Adelman's lighting designs, and the custom eight-arm porcelain-disk chandelier she made for the foyer is spectacular. Also the custom BDDW bed in the master suite-that piece stops everyone dead in their tracks. The slab headboard is maple and nearly 20 feet long, with bronze butterfly joints that highlight the perfect imperfections of the wood.