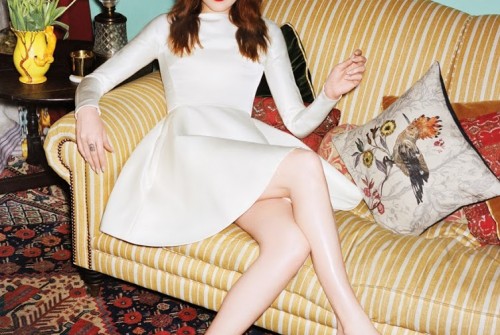 The singer, on her reupholstered sofa and antique tribal Turkish Bergama rug, wearing a Louis Vuitton dress and Dior Haute Couture pumps.
"I went from singing at the Met ball to coming home and sleeping on a mattress in my mon's living room," recollects Florence Welch, explaining why, at the age of 26, she has just acquired her first home, and not a moment too soon. "I really needed to move out – my clothes had taken over my bedroom and my brother's room! My space looked like an old lady's brain explosion."
Even the kitchen is filled with Florence Ephemera.
The Avian-themed living room also features a Keith Haring poster, a family heirloom.
Welch, in a silk Saint Laurent by Hedi Slimane dress, near her nineteenth-century English mirror and Victorian fireplace in the living room.
A sleigh bed, covered in a tapestry of flowers, was purchased on eBay.
Welch owns up to having multiple radios on constantly…
… even in the bathroom.
A small collection of fiction, poetry, and music books in Welch's bedroom.