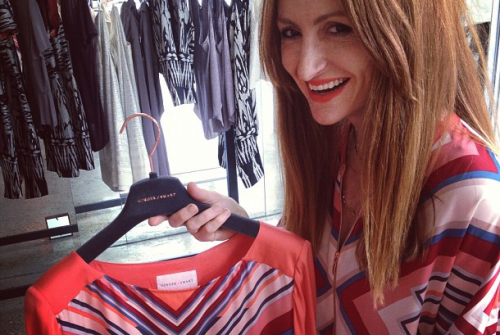 The talented Genevieve talking me through Ginger and Smart's AW2013 collection. Inspired by the ordered disorder of ancient rug techniques created by tribes in those interesting places… Between Somewhere and Nowhere.
Take off the heels and add a pair of converse. The key to keeping it casual and cool.
We love all things water in our house and this week the little fish have turned into mermaids… best invention ever.
Sheer delights.
Star.
Bassike denim. And my collection grows.
How could you ever not love Luna Park? And incredible party tonight here with Hermes.
Dancing to a swing band under a ceiling of Hermes silk… (and about to go on the slide-swinging??)
Knots and crosses.
Found: The Perfect little black dress on Vogue.com.au.
Whites, tones, layers and textures. A beautiful winter wonderland.
Getting close to finishing packing all the boxes but my little helper had gone MIA…
D.D.
Black to basics.
Too damn cute.
The mistress of make-up and YSL ambassador Natasha Severino wearing traffic stopping wheels… Alexander Wang.