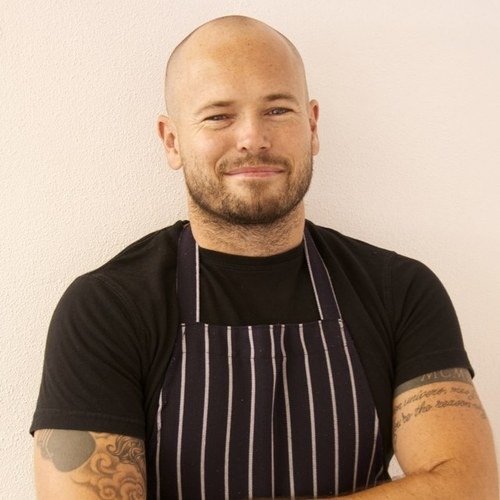 I've long been a fan of this Chef's work and I'm so thrilled that Clancy Atkinson will be joining us as a contributor on Style by Yellow Button. Private chef, food writer & stylist, Clancy passionately encompasses all aspects of the food industry. His food and recipes have been featured in such publications as Gourmet Traveller, Feast, InStyle Magazine, The Wentworth Courier and the Daily Telegraph. Clancy has worked with luxury brands such as Gucci, Louis Vuitton, Giorgio Armani, Salvatore Ferragamo, Lancome and Swarovski where he designed menus for intimate cocktail and dinner parties. Clancy provides a highly customised service specialising in bespoke dining experiences and cocktail events working directly with the client from inception to completion.
Here we hand it over to Clancy Atkinson …
It doesn't matter what you call them – canapés, hors d'oeuvres, or finger food, canapés should be miniature versions of beautifully prepared food. They should offer an appetising variety of flavours, satisfy our senses and continually provoke curiosity. Just when you are thinking, "I wish I had one more bite," another platter is offered – presenting a different vibe, a different experience. And so it goes on. Here are some simple, chic canapés you need to serve at your next cocktail party.
Pre-made tart cases are available from delicatessens. Simply refresh in a moderate oven for 5 minutes, fill and serve, Goats cheese topped with thinly sliced marinated artichoke is a timeless combination. For something more extravagant serve tarts filled with balsamic glazed fig, gorgonzola cream and prosciutto (see recipe)
Pre-cut salmon and tuna sashimi is available from most fish markets and Japanese restaurants. Serve sashimi in an asian spoon with wakame salad (available from Asian grocers) toasted sesame seeds and a drizzle of light soy for an elegant canapé.
King prawns make a great canapé. Ask your fishmonger to peel and devein the prawns for you. For an interesting combination of flavour and texture serve the prawns on toasted brioche rounds with a whole-egg mayonnaise flavoured with shredded fennel, lemon zest, capers and chives.
Freshly shucked oysters are quintessentially Australian and make a sophisticated and chic canapé. Perfect with champagne-serve on a bed of rock salt natural or with a squeeze of lemon juice.
Rockmelon wrapped in prosciutto is simple, fresh and classic. Add some sliced buffalo mozzarella and basil leaves to the fold for a fresh take on a classic combination.
For homemade sausage rolls with a twist, wrap chorizo sausages in ready made puff pastry, brush with egg wash, sprinkle with fennel seeds, bake until golden then cut into elegant bite sized pieces. Mix together tabasco and aioli for a spicy dipping condiment.
Tapenade crusted lamb cutlets make great carnivorous party food. Sear a lamb rack consisting of six cutlets in a hot pan, rub with tapenade then bake at 180c for 30 minutes. Rest the meat then simply carve each cutlet following the bone and serve hot or cold.
Croute are incredibly easy to make and are a perfect vessel for an endless number of flavour combinations. Simply place thin slices of baguette brushed with olive oil in a moderate oven and bake until crisp and golden. For a Mediterranean inspired canapé served croute topped with crushed peas, mint and baby bocconcini.
A standing fork supper is a great way to add a more substantial element to your event. Although technically not a canapé, a fork supper is designed to act as a bridge between canapés and dinner. Simplicity is the key to success – a salad of flaked smoked trout, shaved apple, radish, almonds and fresh herbs is a contemporary combination and can be prepared ahead of time. 
A dessert canape is a perfect way to punctuate your event and a lemon and raspberry posset will steal the show. Boil 600 ml of double cream, 140g of caster sugar and the zest and juice of 2 lemons for 30 seconds. Pour into small serving glasses and chill for 2 hours. Garnish with fresh raspberries.
Recipe: Tartlet of Balsamic Glazed Fig, Gorgonzola Cream & Prosciutto
Ingredients makes 40 (use pre-made tart shells)
For balsamic glazed figs:
40x dried Persian figs
2x cups balsamic vinegar
2x cups brown sugar
1x cup water
Place all ingredients in a saucepan and bring to boil then reduce to a simmer. Place on the lid and slowly simmer for 3 hours
Allow figs to cool in the syrup then transfer to an airtight container and refrigerate until ready to use. The longer they macerate the better the flavour. The figs can be made ahead of time in bulk.
For prosciutto:
20 x thin slices of prosciutto cut in half
For gorgonzola cream:
200 g gorgonzola cheese
200ml pouring cream
Process gorgonzola in a food processor until smooth, add cream and process until very smooth and the mixture forms medium peak. Transfer mixture to a pipping bag and refrigerate until required.
To assemble tart:
Pipe gorgonzola cream into the tart shells, tool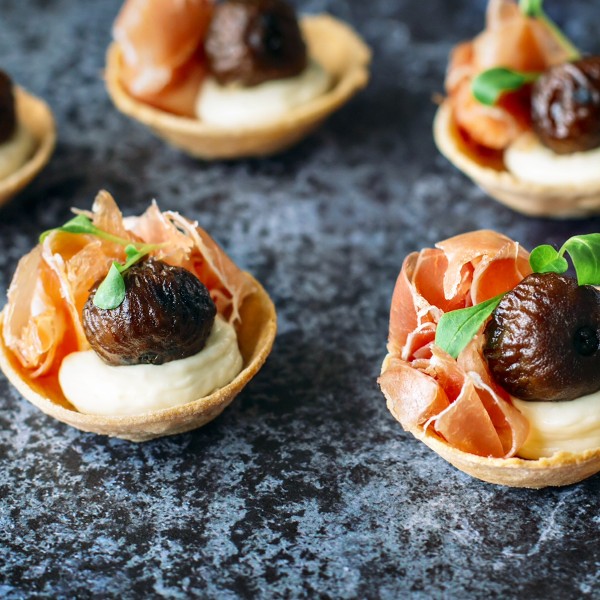 Balsamic glazed fig, gorgonzola cream. prosciutto tart  
Clancy Atkison
(e): clancyatkinson@gmail.com