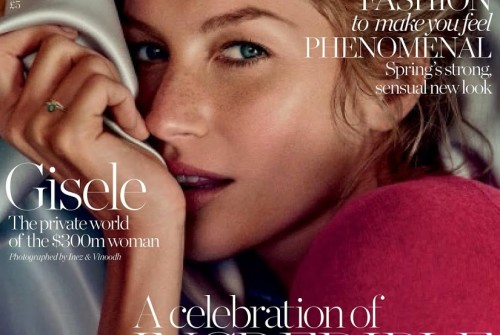 Her physical perfection and natural instinct for business have made Gisele Bundchen the world's most famous- and wealthiest – supermodel. Yet, she is not without her vulnerabilities or doubts. On location at artist Brice Marden's home in upstate New York, she reveals a softer side to Jennifer Dickson.
Daylight streams through the glass panes of American artist Brice Marden's upstate New York house, dappling the floorboards, splashing across the hugh bed doing something quite extraordinary to Gisele Bunchden's naked skin, highlighting its beauty in a way that even the most artfully applied makeup could never achieve. It feels almost voyeuristic, this vision, as though were encroaching on her the early hours of the morning, that magical moment between dreams and reality. There is no doubt that we are seeing a side of one of the world's most photographed women that few people, save her husband and children, even know exists.
The usual visual message conveyed by Gisele – perfectly complementing her image as the world's most successful supermodel (the enterprising Brazilian has skincare, lingerie and flip-flop brands to her name that reportedly bring her fortune to within a whisper of the $300 million mark), until now, has been on of preternatural perfection and unwavering strength. But she herself calls the bold, self-condifident persona we attribute to her "an invention", one that she created to deal with her spiralling fame during her late teens and early twenties. "This other person was able to be ballsy and risky and sexy", she later explained. "I had to believe in myself as this person that was strong, up-front, invincible – who knew what she was doing, even though I really didn't"
She is less physical in the flesh, more gamine and somehow prettier, with defined, delicate features. Spend just a few minutes in her company and you realise that, unexpectedly, the best word to describe her is 'soft'. She is unmistakable genuine, passionately positive and appealingly vulnerable – and never more so than on set today, shooting the cover story for PORTER's inaugural issue. Her hair scraped back, removed of article, the last of the great supermodels defies preconceptions. This is the real Gisele.
"She's a very loving, warm person." says Inez Van Lamsweerde, a close friend of the 33-year-old model and one-half of celebrated Dutch image-making duo Inez and Vinoodh. "She's on a road to self-discovery and she's so open and excited to share."
For Inez and Vinoodh, who have photographed Gisele many times over the 15 years of their friendship, PORTER is the perfect platform to finally show her rarely glimpsed softer side. "it's always, 'Gisele, a superwoman," explains van Lamsweerde. "We wanted to show her as a woman with feeling and ideas and sensitivity. We wanted to be more authentic."
In authenticity's pursuit, today everything is stripped back. For the first time, cameras have been allowed into the home of the artist whose muted, large-scale minimalist panels led the New Yorker to Iabel Marden "the most profound abstract painter of the past four decades." Built in 1843, the huge house, perched on a cliff overlooking the Hudson River, had fallen into disrepair before Marden and his artist wife Helen Harrington purchased it in 2002 and undertook a full-scale renovation. Although everything in the house is on a grand scale – huge windows, an incredible onyx floor – it is the details that truly thrill. Many-hued candles are carefully arranged in individual holders; a vast kitchen table is laid with colourful kumquats and squashes. Despite its modern touches – underfloor heating, even a Smeg fridge – the house feels old to its brick bones. It is a house where stories begin.
"The idea is to see her surrounded by art and beautiful things", explains van Lamsweerde. "We're using daylight for authenticity. It's not a fashion story; more a documentary of a person. We want people to love her and to show the love she has in her". Gisele embraces the concept with her typical enthusiasm.
Submitting to a vision, she is a true artist's muse. When Gisele commits to something, she does so entirely. Almost two decades after she took her first modelling assignment at the age of 14, she still approaches every job with the attitude that , far from being the most important person on set, she must make a good impression. "I still feel that I have to prove myself every day," she insists. "I feel fortunate I have found a job that allows me to be creative and to have fun. But I always have to prove myself."
Such dedication could be attributed to the fact that her success was not instant. In 1996, age 16, two years after leaving her rural home of Horizontina, Brazil, where she lived with her mother, father and five sisters, Gisele made her New York Fashion Week debut. She stalked the runway in stilettoed slipstreams of girls whose physical presence differed greatly from her own. androgynous waifs, their figures refusing to acknowledge hips or breasts, dominated runways and editorial pages. White now we may look at Gisele, the highest-earning model of the past decade, and surmise that her success was assured by her bombshell beauty, that trait could as easily have been her weakness. Had it not bee for the likes of Alexander McQueen – who heralded "the return of the sexy model" when, as a virtual novice, she walked in his 1997 show – and photographers Patrick Demarchelier and Mario Testino, who championed her difference, her "healthy" appearance and "perfect proportions", Gisele may have been beaten by her very embodiment of feminine strength, In the end, though, it was her difference that captured the hearts of the fashion world. "We choose her as the face of our fragrance at a time when models were very skinny and androgynous," says Stefano Gabbana, who also designed the model's wedding dress with his partner Domenico Dolce. "She was la donna, with a fresh edge," explains Dolce. "She's Latina, she's Brazilian; her blood is full of energy and passion."
Gisele, charmingly, attributed her work ethic to her mother, "She was a cashier at the bank," she explains. "She'd wake up at 6am to make sure we were taken care of. At the weekends, I never forget, she woke up at 5 or 6am. She would spend Saturday washing clothes. I think of her and she gives me strength. I don't have a problem with working hard. I enjoy it; it's electrifying; it's what I'm used to – it's what I saw all my life."
Family remains Gisele's inspiration. Motherhood, she says, changed her fundamentally. Her brood of three "has taught me to prioritise what's most important in my life. Because before it was about me," she admits. "I'm a very sensitive person, but it's a beautiful thing, this love that you feel for you children. I think it makes your heart grow. Not only for them, but for everything and everyone. I feel like every time I'm with someone, I want to really, fully, truly be there for them, really give them that love."
Daughter Vivi, whose one-year-old feet feature regularly in her mother's Instagram snapshots, is the youngest. Vivi and Benjamin, aged four, are Gisele's children with her husband, American football player Tom Brady, while John, whom everybody calls Jack, is her stepson. Jack's mum is actress Bridget Moynahan and it is testament to the three parents that this fact seems to matter little – though he lives primarily with his mother, Gisele loves him as her own.
Given that Gisele had already begun dating Brady when Moynahan announced her pregnancy, she found herself portrayed in a dim light by the ill-informed. But their relationship has thrived. Gisele says she is "lucky to be married to my best friend". and mutual support seems to be hallmark of their five-year marriage, with his wife still celebrating a win for Brady's New England Patriots team the day before our interview. "I'm so happy for him and he's always so happy for [my success]," she says. "It's really about that partnership, that trust. I think what makes our relationship strong is we both believe that lvoe is the foundation of everything. Sometimes he loses a game or something doesn't go [to plan], but we're always there to support one another. It's like that song, 'Lean on me, when you're not strong…"
She may give and receive support, however Gisele is not the kind of woman who needs a husband, or in fact anyone, to guide her. Soft she may be when it comes to her emotions, but she trusts her own opinions, a quality that has stood her in good stead int he capricious modelling world. "It's human nature to judge other people, but I feel that it's really about what you choose to focus on", she says thoughtfully. "Do you choose to listen to other people's opinions about yourself? When I need advice, I have conversations with my friends and my husband, but it really comes down to me. My dad always said, 'You have to live with the decisions you make , no one else,' and that stuck with me. I like to take responsibility for the decisions that I make. That gives me a lot of strength, because I'm in the driver's seat."
From time to time, that forthrightness has landed her in trouble. It is not in Gisele's nature to hold back. When she said there should be a "worldwide law that women have to breastfeed for six months," shortly after Benjamin's birth, some saw it as anti-mother – another high-profile woman heaping pressure upon others to toe a demanding maternal line. "I'm a very direct person – maybe it's because I'm from Brazil," she explains. "English is not my first language and it's not my second language, either, sometimes I get misundnerstood. I don't take things personally. I stopped doing that a long time ago." She is still a huge advocate of breastfeeding, though somewhat less vocally, recently letting a photograph of herself feeding Vivi – while having her hair and makeup done – send a message for her.
In fact, Gisele is a 'girl's girl', a woman strongly in favour of supporting her own sex. "I'm a huge admirer of women, especially these days when women are expected to be everything and do everything. I like to call them 'warriors of love'. It's that balance between love and between the warrior, the one that goes after what she wants, that works hard, that is committed to family. I think the balance is what makes women able to play all these different roles." Sisterhood is perhaps to be expected from someone who grew up with five of them, though she says she "can't stand gossip. If people are gossiping while I'm in hair and makeup i just don't want to have any part in it. It is not something I'm willing to put my energy in. Ever."
If all this seems like a depiction of a woman who is a little too perfect, Gisele herself is aware of the impossible standards she is setting.
"I keep trying to be more forgiving when there are times I don't fulfil all the obligations I put on myself," she says. "I've always dreamed of being a mother and I felt it happened at the right time. But it has still been an adjustment. when Benny was born, we became three. I admire my mother for raising six girls and always working. Being a career woman and a mother is a constant balancing act, but I think of my mother and it shows me that I can always work harder. I can always do more."
Inez and Vinoodh's portraits lay Gisele bare more than any amount of exposed flesh ever could. The intimacy that blossoms reveals her softer side. "It's about finding strength through vulnerability," explains van Lamsweerde. "I think strength comes from the inside – from accepting yourself, loving yourself, understanding yourself," Gisele says. "I wish for all women to realise how special and unique they are. That's what I want for my daughter, that's what I want for my kids. That's what I want for myself."
PORTER magazine available on newsstands and here now.
Gisele Bundchen photographed by Inez and Vinoodh.
Images courtesy of PORTER