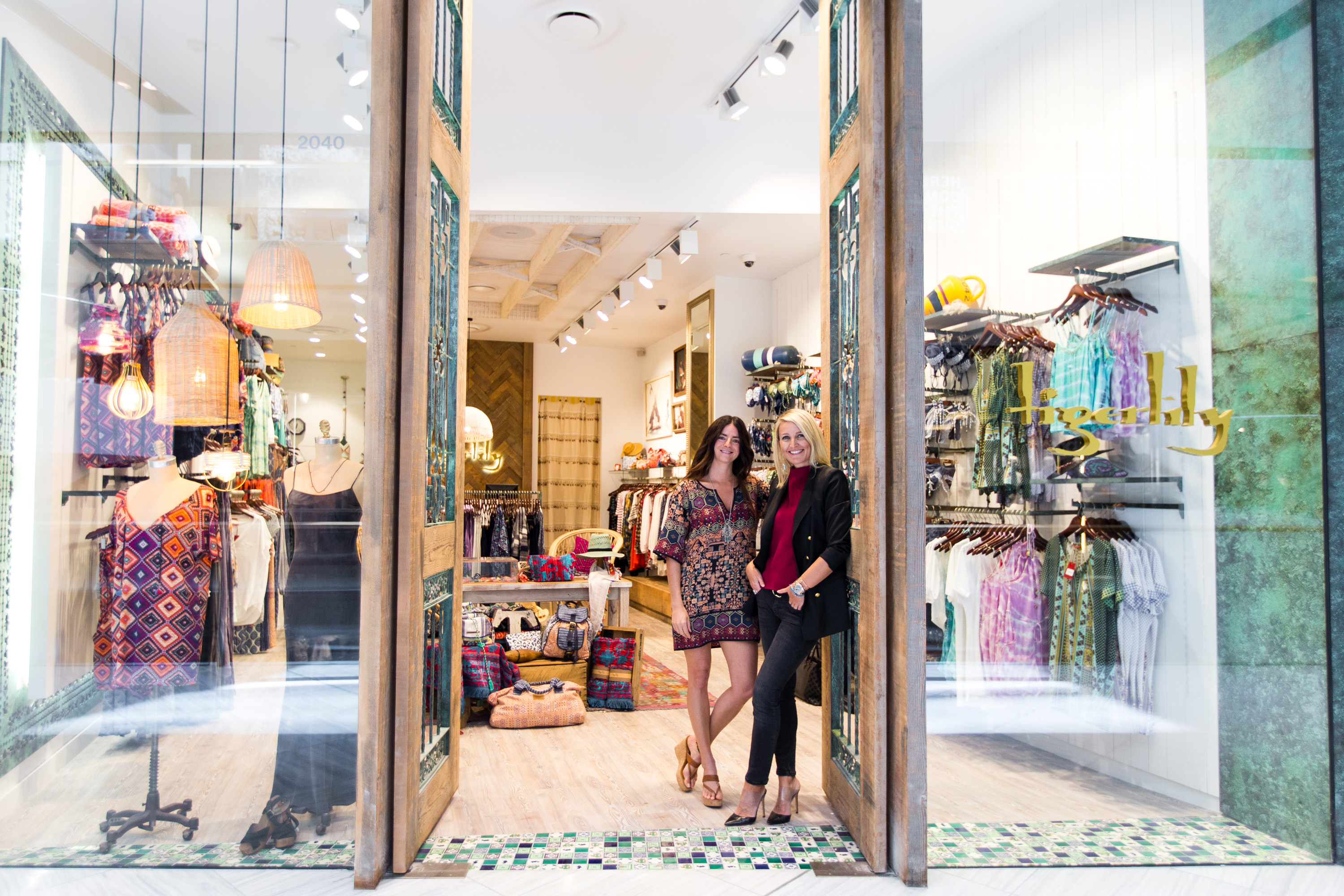 When you think of Tigerlily, summer, Australia, the beach and beautiful prints come to mind. Their Creative Director Amelia Stanley embodies everything Tigerlily represents. She is the epitome of the Australian girl. We had such a delightful lunch up at Mejico after seeing the store and the new collections that have landed at Tigerlily. Here is our chat.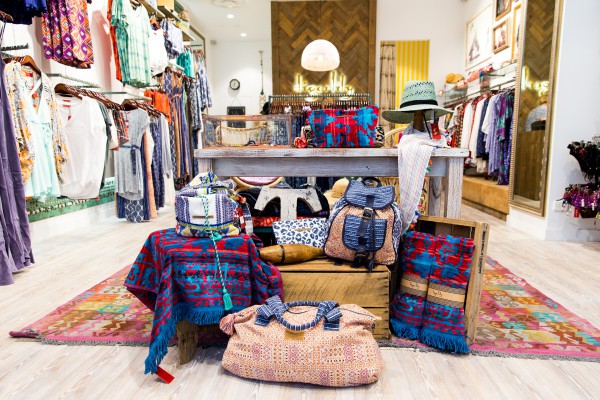 Claire: It's been so wonderful looking through Tigerlily and the evolution of Tigerlily. As you mentioned before, the focus was really on swimwear on it's inception and now the clothing is 75% of what Tigerlily is about. Can you tell me a little bit about that ?
Amelia: Yeah, well I mean right from the very beginning, Tigerlily was created as a lifestyle brand and I think part of that is completely being able to access all elements of a lifestyle and it's not just about swimwear but it is always about the beach for us. So we now introduce a line of clothing which ranges from beach wear through to ready-to-wear, we also have some beautiful knitwear in winter. Knitwear is a very strong thing for us. Anything really where we can just display our textiles on. We do all the research and we create all these beautiful patterns and prints and really see swimwear and clothing as a blank canvas for us to display our prints and our inspiration on.
Claire: So it's like a no brainer, opening here at Westfield Miranda.
Amelia: Exactly. The lifestyle fit is spot on. Everyone here loves the beach, the sun, they love being healthy and outdoors. I think all Australians have the absolute passion to travel, we're so far away from everything and I feel that when I'm overseas I bump into more Australians than anyone. We are completely fine about jumping on a plane for 24 hours – we just do it !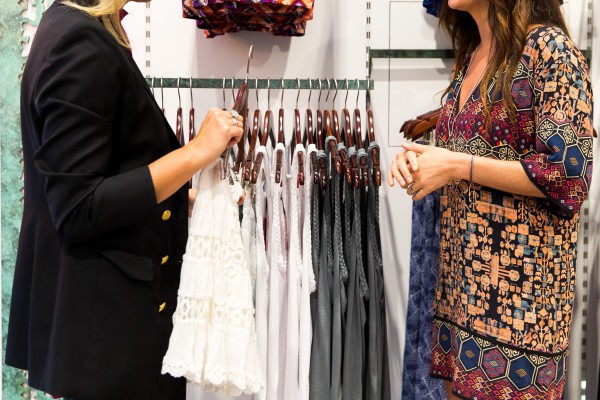 Claire: So how have you found opening a store here? What has the reception been?
Amelia: Oh Miranda has been fantastic ! It's one of our star stores. We absolutely adore it. The response has been incredible. Miranda is the perfect lifestyle fit for us; being so close to the beach. All of the locals have grown up with that beach culture that Tigerlily represents.
Claire: And I think there is a misunderstanding that only size 6 to 8 women can wear Tigerlily.
Amelia: Yeah, look there definitely is a misunderstanding and I think Tigerlily feels youthful and it kind of always has been. Jodhi named Tigerlily after the Indian Princess in Peter Pan. So it kind of has this 'never grow old' vibe to it. We don't want Tigerlily to have an age bracket, it's a lifestyle and we have customers ranging from all ages. And because it is a lifestyle brand we have really beautiful, relaxed clothing and there is nothing worse then wearing something completely structured and fitted to the beach. We're all about comfort, practicality and clothes that travel well. So we do a lot of loose fitting garments, we do amazing mumu's. They are great throws that you can wear to the beach, you can roll up in your suitcase and travel with, you can wear them shopping. I have a collection of them and I think most Tigerlily diehards do. They are just an easy fit and comfortable, that's what it's all about.
Claire: Comfort is so important in my wardrobe now. Over fit and everything.
Amelia: During leisure time, on the weekends or on holidays you just want to be comfortable. I've seriously spent my entire design career designing around zippers and all of this structure. I've sort of mastered the art of loose fitting clothing and how to get form and fit without it having stiff structure. Fabric is really important but also the way we design at Tigerlily is that we are designing for our lifestyle, it's a completely different approach to design.
Claire: What is your hero item in your collection this season ?
Amelia: I would have to say the Basak Tri Bra. It's digitally printed and engineered, meaning every bikini has the print placement in the same spot. This is something that we really pride ourselves on and it's a print technique that we have been doing since day one. It's a really difficult thing to pull off in production, it's really technical. Our design team and textile designers just nailed that print. It was inspired by a tribal dress that we all loved and there were so many colours, sequins, mirrors and braids – we loved everything on the dress ! So we completely built that bikini to be the wow piece. It's so cool. You can wear it under low cut t-shirts or sheer tops. It's on of those cross over styles that in the past season or two we have really sold more bikini bras. So they are bikinis that you can wear under garments. They're versatile and great for travelling .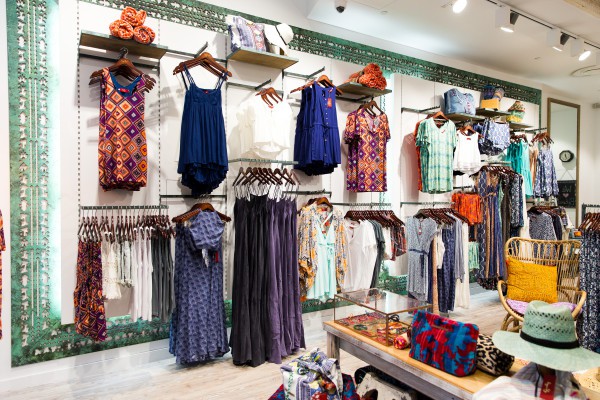 Claire: More about you. What does summer mean to you ?
Amelia: It's beach days. Winter is head down, lets work and get along with things. Then summer we have the long nights, I leave the office and it's day light, so I love nothing more then heading down to my favourite swimming spot, like Clovelly or Mackenzies Bay at Tamarama, and just actually enjoying the product that we have been working on all year. To be able to wear the bikini's ! That's probably the most rewarding part of summer for me, I actually get to take a step back and really enjoy everything that we pour so much of our heart and soul into. And also, I don't travel a lot over Sydney summer, I tend to cram all my travel into the winter months … might be strategic ! I normally don't travel from October to February because I love being here in Sydney during that time of year. Being with family and friends and there is so much going on I hate missing out so I try and structure my travel year around being here for Sydney summer. If I can.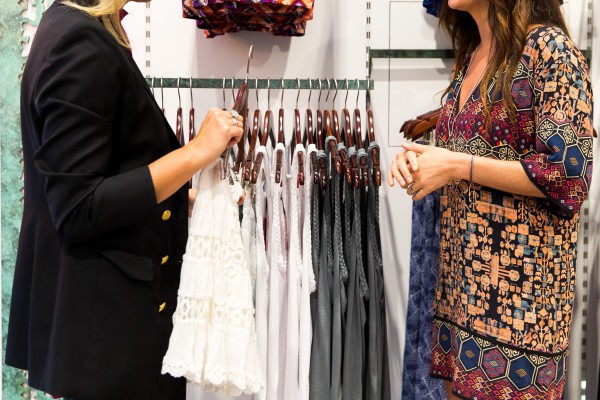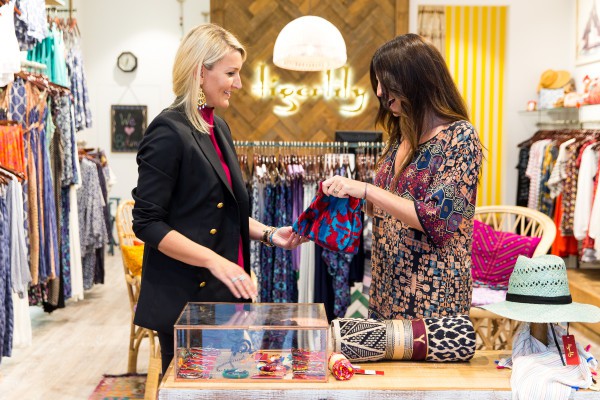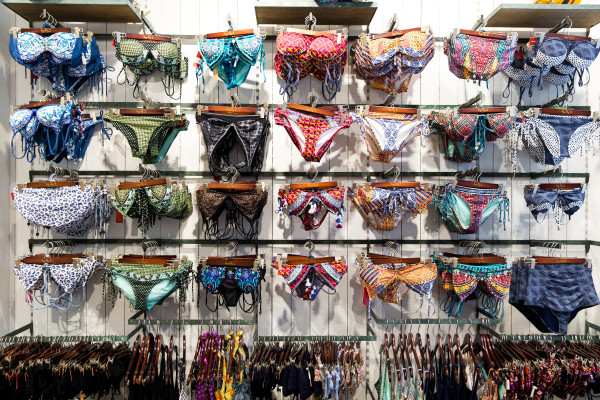 Claire: How do you relax ?
Amelia: I have got much better at that in recent years. I do a lot of yoga, I've been practicing yoga for over ten years now but I really learnt that I need to do it more. So I'm practicing three times a week. And I love running, I grew up at the Athletics track. My dad used to coach, it was in my blood. Mid week we would be at the track, it's just what we did when we were growing up. I've always done that, so running for me is a great release, it helps me clear my mind especially when you're designing. The amount of concentration. You could be sitting on your bum all day drawing, it could be a 12 hour day drawing and you think you wouldn't be tired. But the concentration and what's going through your mind is exhausting so just going for a run gets the oxygen back. So exercise and the occasional glass of wine !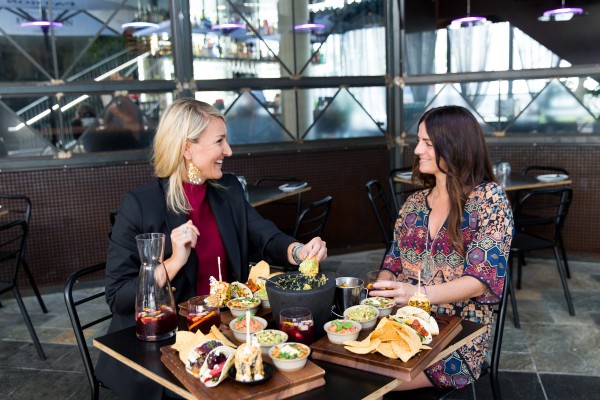 Claire: How do you spend your time when you're not working ?
Amelia: I'm kind of always working and I think that comes with being a Creative Director of an incredible brand like Tigerlily. It's not that I don't feel like I'm working when I'm working. It's just that I've been at Tigerlily for 11 years and I'm so attached to it that I don't really feel like I'm working when I am. If I'm on holidays flicking through a magazine and find something I like I take a screenshot, or if I see something on the weekend I think that could be amazing for a design. I'm constantly collecting. I'm like a collector of images. I'm also really sentimental and never throw anything out. The girls in the office are like oh my gosh we have archives in the office of so many things; prints, little bits of embroidered tea towels that I picked up in Paris and funny things like postcards and memorabilia. We refer back to it so much. So being a collector and hoarder is key. You just have to surround yourself with things you love and eventually it will turn into something.
Claire: Are you a foodie?
Amelia: Big time. I'm a Taurus so not only is it embedded in my star sign but I am such a foodie. It's probably one of the biggest things I struggle with, I love food so much and then I'm like 'have to get to training to wear my bikinis that I love so much'. It's the balance. At Tigerlily, we talk about food just as much as we talk about bikini's, it's so funny. When we are preparing a collection we get inspired by whatever it is; a place, a muse, a place in time. And then we're like ok so what sort of food? And when we do our presentation we cater and decorate to match the theme. We create the whole experience. From the colours of the flowers down to the catalogues we are printing for our customers, we make sure we theme everything and it's consistent and food is an important part of that.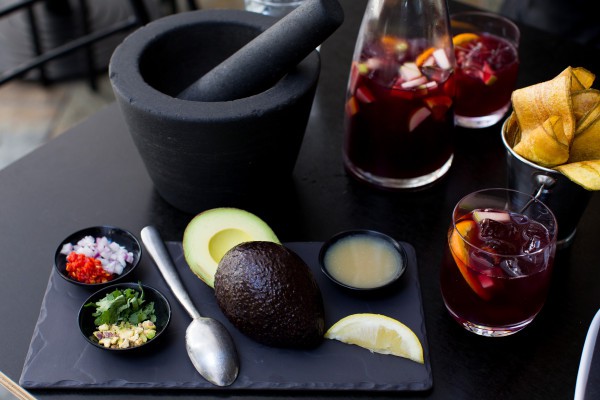 Claire: What about bubbles? Red or white ?
Amelia: I'm a red drinker. But I do love bubbles, I particularly love Bollinger and Billiecart. I do love French on special occasions.
Claire: What is your favourite food ?
Amelia: Mexican, I am obsessed. After coming back from Mexico recently and I've travelled to Mexico three times now, I am obsessed. I've actually been making a lot of it myself but it's not quite the same … ha ha !
Claire: So this is the perfect place for us to eat lunch then ?
Amelia: This is perfect ! The other things I really love would have to be pizza, Vacanza in Surry Hills is amazing. It's the closet to Italian pizzas. Really rustic and homemade. I love a spicy salami pizza.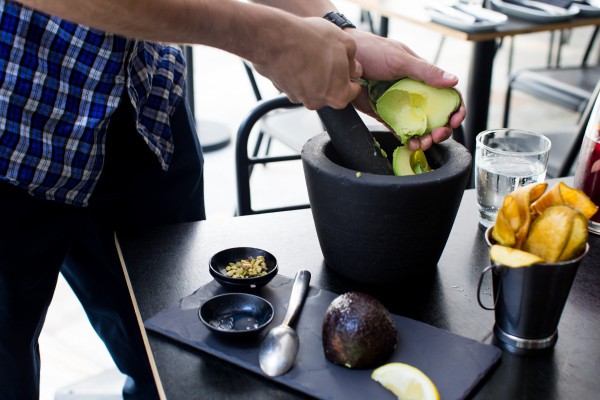 Claire: Flowers or candles?
Amelia: Flowers. I'm such a flowers girl.
Claire: What should every woman have in her wardrobe?
Amelia: I would have to say a Tigerlily bikini and mumu.
Claire: And if there was a drink to describe you, what would it be ?
Amelia: I have a tea that I'm obsessed with at the moment. I also collect teas. One is from Ovvio Organics, called 'Silk Road Spice' and it's the most delicious. It's almost like a cocktail with rum, it's not but it has that ginger root to it and all the spices. I'm a chai drinker, I drink so much chai and after spending time in India I'm obsessed with finding the ultimate way to make chai. There are so many different ways to do it. But I had this tea and it reminded me of chai and ginger and it's refreshing but spicy.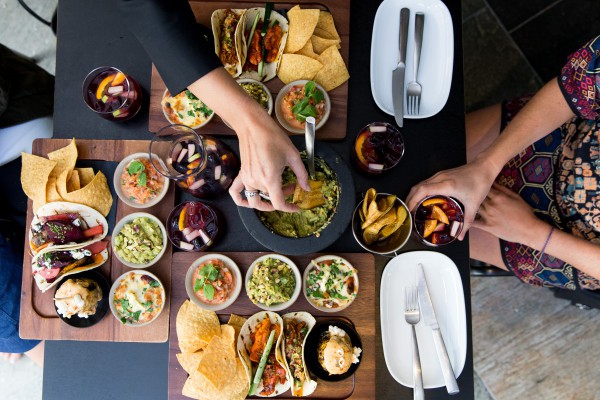 MEJICO
Shop 2202. 600 Kingsway, Miranda. (02) 9525 4032
WE ATE:
Guacamole; smashed table side
Corn Lollipops
Three-bean dip
Chicken Tacos
Pork Tacos
Churros
WE DRANK:
Red wine sangria