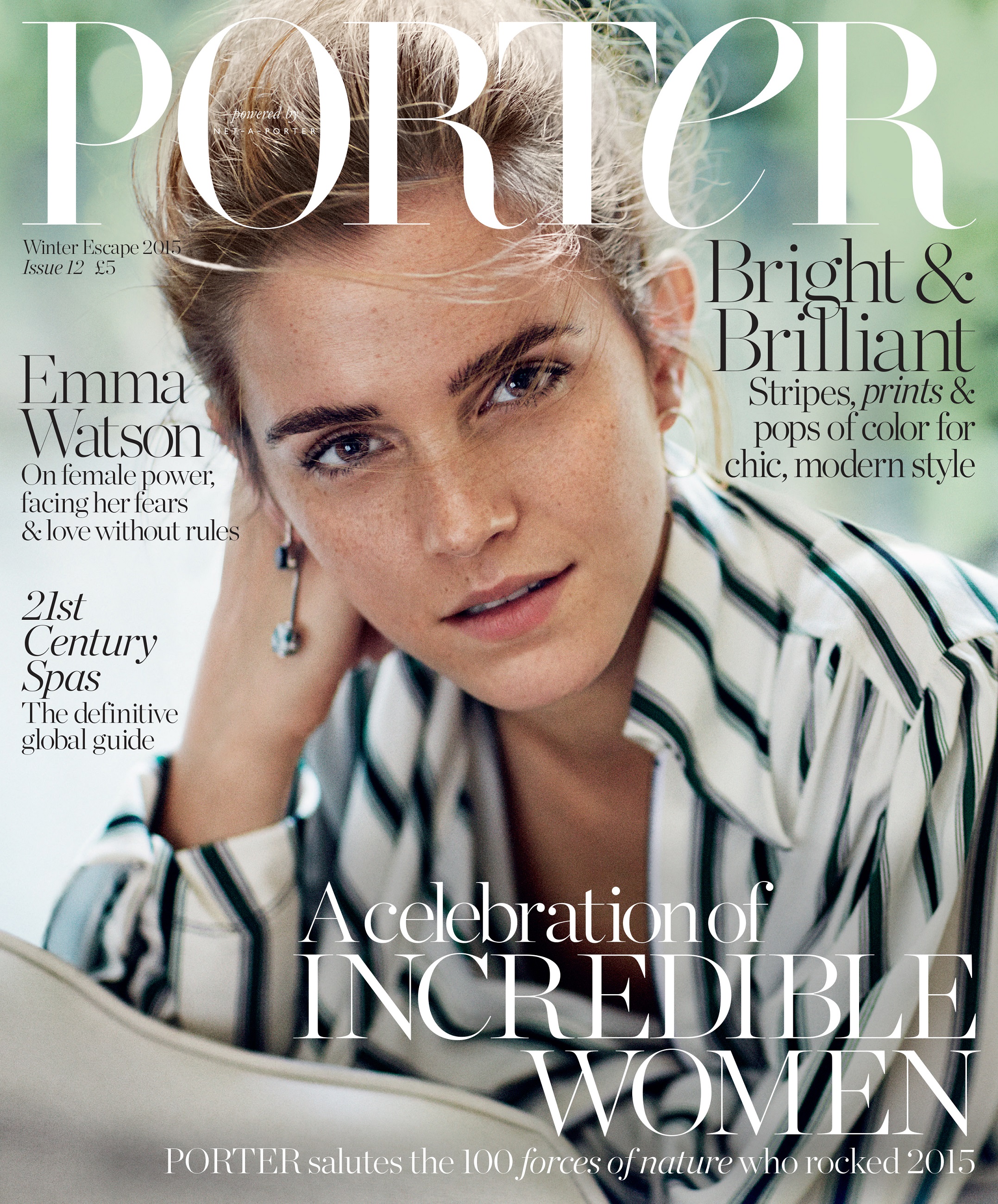 British actress and "global role model" Emma Watson talks to the award-winning global fashion magazine PORTER about why she thinks fashion is a feminist issue, the impact of that explosive HeForShe speech and growing up on the world stage.
Watson, who graces the cover of PORTER's Incredble Women issue (on sale December 4), is photographed by Cass Bird and styled by PORTER's US fashion director-at-large Alex White in a series of playful yet contemplative images across 14 pages of the issue.
Inside the magazine, Watson also features as one of seven "global role models" in PORTER's first ever 100 Incredible Women list – sponsored by Elizabeth Arden – which celebrates women around the world who have had an impact on our lives and make us think differently in the past 12 months. In the comprehensive and thought-provoking list, Watson is nominated by historian Amanada Foreman in the How We Connect category for leading the fight for gender equality and connecting men to the cause.
In PORTER's cover interview, Watson talks to the documentary-maker Lucy Walker about how difficult it was growing up under the spotlight and talks about how liberating her move to America in 2011 to study at Brown University felt. She also discusses finally feeling comfortable in her own skin at the age of 25, especially when it comes to fashion, and says that as a result she is prioritising just feeling "awesome" over wearing something uncomfortable.
Watson also talks to PORTER about why she decided to use the word "feminism" in her ground-breaking HeForShe speech on gender equality at the UN last year, despite initially being discourages from doing so, and says giving the speech was akin to "standing completely naked in front of the world". She says she constantly thinks of new ideas for the HeForShe campaign, scribbling notes whenever she can, and describes herself as someone who is completely driven and focussed and, ultimately, only interested in the truth.
The self-assured young actress, who is soon to star in an adaption of the classic fairy tale Beauty and the Beast, also shares her tips with PORTER on how young women could navigate difficult decisions in life, her thoughts on fair-trade fashion and working conditions for women, and talks about her passion for Ashtanga yoga and dance classes, describing how they stop her body from just being "this thing that carries my head around.".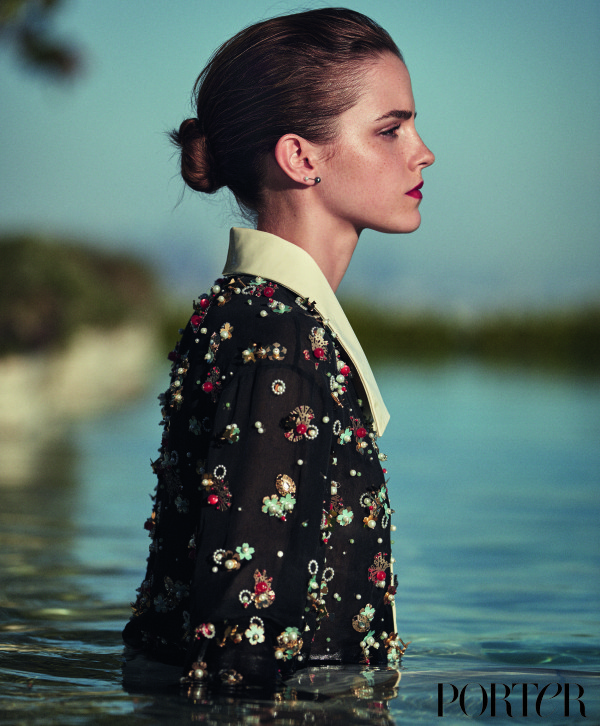 In the PORTER article, actor Jared Leto, who is also a HeForShe activist, and writer and director of The Perks of Being a Wallflower Stephen Chbosky are also quoted on their views about Watson, with Chbosky describing her as "like an octopus with many arms. She manages to balance all her identities – movie star, actress, student, activist, friend and daughter – and she uses her celebrity for good, not profit."
Historian Amanda Foreman also pays tribute to Watson in PORTER's special 33-page editorial 100 Incredible Women supplement in the same issue, describing the young actress as an inspiration, a beacon of hope and someone "eager to take on the world." Other global role models alongside Watson nominated on PORTER's 100 Incredible Women list for using their celebrity status and "airspace" in a powerful and impactful way in the past 12 months include Julianne Moore, Angelina Jolie Pitt, Oprah Winfrey, Christy Turlington Burns, Diane von Furstenburg and Taylor Swift.
PORTER's editor-in-chief Lucy Yeomans says: "Emma Watson is a woman who truly represents the very thing that PORTER stands for -giving women a voice – and we are so proud to feature her in our Incredible Women issue. Emma is someone who has not only had to grow up on the world stage, but also came to dominate it in the most unexpected way with her HeForShe speech at the UN. It was a moment that paved the way for incredible women everywhere."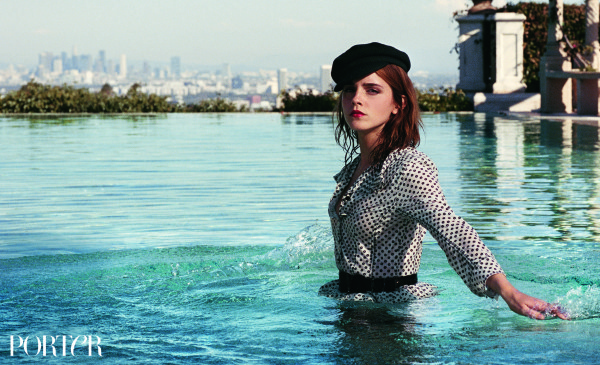 "I was encouraged when I was writing the speech not to use the word 'feminism' because people felt that it was alienating and separating and the whole idea of the speech was to include as many people as possible. But I thought long and hard and ultimately felt that it was just the right thing to do. If women are terrified to use the word, how on earth are men supposed to start using it?"
Emma on pushing herself when it comes to work:
"It takes a whole for people to realise that I don't care if I don't get any sleep, I don't care if I'm freezing cold, I don't care if I work a seven-day week. The only thing I care about is leaving nothing on the table. I don't know why I have to push myself, but I just don't know how to be any other way. It's just the way I am made."
On her advice for young women:
"Sit with the discomfort. Don't run away from it. Lean into it, take your time with it. So many people jump into things just because they can't stand the discomfort of not knowing."
On finally having a sense of self:
"Now at 25 for the first time in my life I feel like I have a sense of self that I'm comfortable with. I actually do have things that I want to say and I want to be my most authentic self. I don't want there to be a big separation between the public and the private person. It's definitely the harder road to tread, but without a doubt, ultimately the most rewarding. And the women I really admire are the ones you feel you're getting something truthful from. It sounds like a ridiculous thing to say, but I'm very interested in truth, in finding ways to be messy and unsure and flawed and incredible and great and my fullest self, all wrapped into one. When you watch the work of someone like actress Emma Thompson, you feel like you're seeing something true, and I aspire to that."
On fashion being a feminist issue:
"I think using fashion as a means of expression is brilliant. One of the ways I became a UN Women Goodwill Ambassador was through my interest in fair-trade fashion. Because so many women design and make the clothes we wear, it's primarily the working conditions of women that are affected by the decisions we make, so fashion is a feminist issue."
To see the full interview, buy the latest issue of PORTER, on sale December 4, available in both print and digital editions or click HERE.