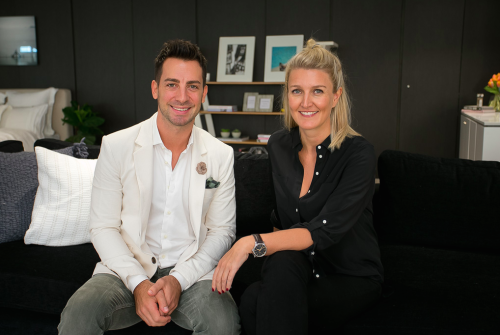 I was so delighted to catch up with super stylist Steve Cordony yesterday when he popped into our Yellow Button Pop-Up home at Westfield Bondi Junction. (Oh the pressure!) A year ago Steve went out on his own as a freelance stylist after being a Interior Design Editor for Belle Magazine.
Claire: Congratulations, you've done so well. You're like the master of interiors.
Steve: It's been busy, it's been a good few years. There's a lot of exciting projects happening.
Claire: Can you tell me what they might be ?
Steve: I'm working on a couple of product collaborations and product ranges, which has always been the dream so that's exciting. And still doing lots of work with clients and great brands, really exciting creative brands and I love that collaboration.
Claire: Have you found that because of popular culture, especially with the TV show 'The Block', that interiors has gone very mainstream. Have you found that more people are jumping on board and taking an interest in what you're doing ?
Steve: Yes, absolutely. I think it's kind of 'The Master Chef' phenomenon of five or six years ago. Now, it's going into the interiors and design world and I think that's great. Whether it's the mass kind of stuff or the premium, I think it's great to have everyone excited about interiors and get everyone into the home and interested in design.
Claire: Definitely. And I think as you get older, you love fashion but it's your home and it's interiors that become almost more important.
Steve: I think they go hand in hand. Especially with a lot of the work I do. If I'm doing a trend page for Belle, fashion and interiors really cross over and I love that. I think, you present what you're wearing with fashion but I think when you get home it's your space and it's such an emotional thing and I think that's exciting.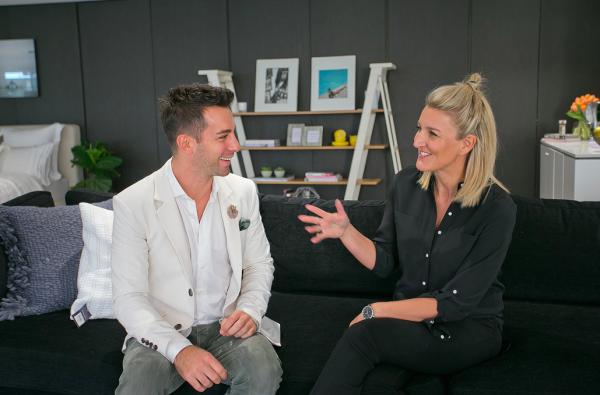 Claire: Well it is. We talk about personal style from a fashion perspective all the time but your personal style in your home environment totally relates.
Steve: Absolutely. And its funny, when I go to someones home that I know works in fashion, it's totally a reflection of their personality and style.
Claire: Oh goodness… what does this space say about me ?
Steve: It's slick and polished, with a bit of heart and soul. But interiors is such a personal thing, as is fashion.
Claire: What are your top tips for reflecting what your personal style is in your home ?
Steve:
A) Don't over think it. I think sometimes you read a magazine and you think 'oh, how am I going to do this? I'm going to have to change everything in my home.' You've already got the things, you might just need to edit or pair back.
B) Keep it simple, it's the oldest trick in the book.
C) Do a floral arrangement if you have people coming over for a dinner party, just do one block beautiful colour in a nice vase, simple down the table with some candles and you're good to go.
D) I always say to people who don't know where to start 'You're going to invest in a great sofa that's a big piece and you're going to spend thousands on this piece, so keep that neutral. Don't go for colours that are fad trends that's of the moment, like a dusty pink (which really big at the moment). Go neutral with the sofa and then get some beautiful accessories which are more interchangeable.
Claire: Really it's the same as fashion. It's the accessories that tell the trend.
Steve: Exactly. You can get a $5 accessory or you can get a $5,000 accessory but I think those interchangeable elements differ season to season. Even me, I get tired of the things I have at home and I've got about 4 sets of cushions for the sofa on rotation. So,change it up, even if you have a little coffee table (I do this every fortnight) I mix it  up. I change the books, I change the accessories and the flowers. It keeps the space reinvigorated. Change the things you have and move them around.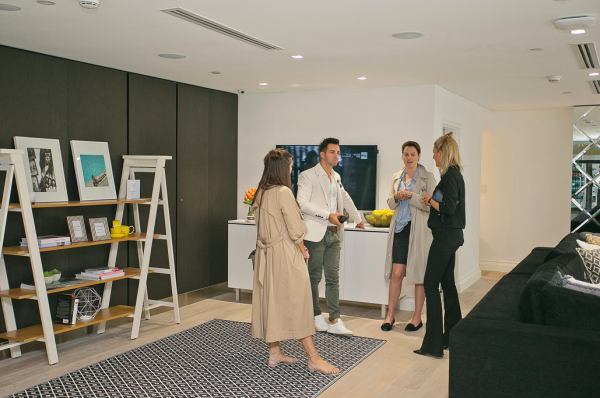 Steve: Personally for you, what is your favourite flower at the moment ?
Steve: My favourite flower ever … I love a hydrangea. They are so easy to work with, you throw them in the vase and they look amazing.
Claire: Favourite candle and candle company.
Steve: That's hard. I am in love with candles ! I will give you three. I love Diptyque, any Cire Trudon scent and one from Giambattista Valli.
Claire: Moving forward, what is your favourite interior trend ?
Steve: My favourite interior trend… I would probably say modern luxe. What is modern luxe ? I think for me, I love that New York chic, ultra glam, black and white with accents of gold and marble. But I also like a space to have a soul so It's kind of like, yes it's luxurious and yes it has those neutral tones across the board but it still feels quite modern with those accents and accessories. I also love using textures and layering, that's probably what I see as a contemporary, luxe kind of look.
Claire: Is there someone's apartment or place you can think of that would reflect this ?
Steve: I love Joseph Dirand's work, he is a interior designer who is very slick and very expensive looking but I love the way he uses textures. He also uses some contemporary pieces and then some more traditional pieces. But I guess actually, and this just came to me, my one idol that sums this all up is Nate Berkus who is an interior designer from America who was discovered on Oprah. He embodies that modern luxe feel. I look at his interiors and they're really slick and they're really polished but they have so much soul because they have so many character pieces. Pieces that he has collected on his travels and that's what I love to do at home. So any Nate Berkus interior, I'm there. His latest book is 'Things That Matter'.
Claire: Off the interiors topic for a moment. Lets talk about you Steve, If you were a drink, what would it be ?
Steve: A mojito. I don't know what that says. I actually don't drink but If I'm away I'll have a cocktail, or something with vodka. Or if it's the alcohol brand, I'd be vodka.
Visit our very first Yellow Button Pop- Up Home at Westfield Bondi Junction on level 6 until Sunday.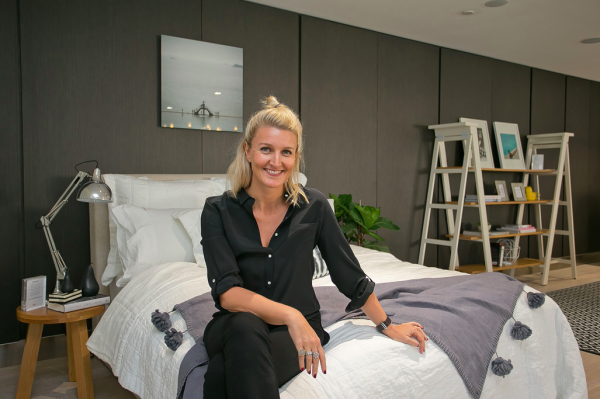 Gorgeous Sheridan product makes the bedroom.