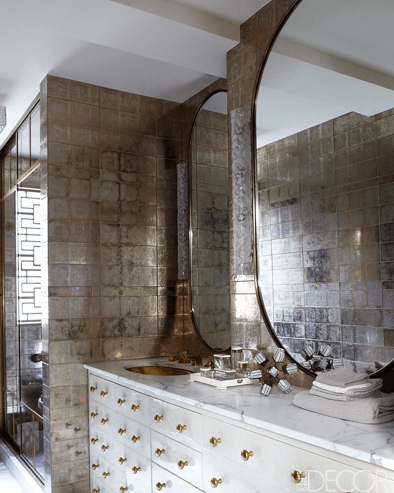 When it came time to rethink the interior of her apartment in Manhattan's West Village, Diaz looked to the West Coast's reigning queen of razzle-dazzle, Kelly Wearstler, to give the space a healthy dose of Hollywood swagger.
In the living room, which was designed by Kelly Wearstler, the swivel armchair by the window is by Milo Baughman, and the Murano-glass chandelier, cocktail table, and stools are vintage; the armchair is upholstered in a Clarence House fabric, and the wallcovering by de Gournay and rug by Mansour Modern are custom designs.
"The palette reflects Cameron herself – it's innately sexy without being overly flashy", says Wearstler, who considered Diaz more collaborator than client.
The custom-made parchment-and-brass dining table is flaked by Vladimir Kagan armchairs covered in Groundworks linen by Kelly Wearstler, and the circa-1960s chandelier is Spanish;  paintings by Fabrice Penauz hang on a wall of mirror tiles.
The kitchen's backsplash, counters, and sink fittings are brass, the brass-trimmed cabinetry is lacquered in a custom color, and the range is by Viking; the wood floors were treated with an ebony stain and then cerused.
A Pierre Chareua-designed lamp on a circa-1960 chest by Drexel in the living room; the fireplace screen is by Charles Edwards, and the painting is by Hunt Slonem.
Silk linens and a ruched skirt and headboard dress the bed in the master bedroom, where a snow-white chair upholstered in plush mohair recalls 1970s fashion. And like the finest couture, the rooms are luxe from the inside out. Drawers are lined in raw black silk, the back sides of doors are clad in hammered metal, and the interiors of closets are covered in custom wallpaper or in vivid paint.
"I learn new things with every client, but Cameron taught me to be more sensitive to the hand of fabrics and textiles," Wearstler says. "She was so involved in every step, every choice, that I'm delighted by how well the place represents her."
For Diaz's part, if the acting thing doesn't work out, she could see herself indulging her design passion professionally. "I'm really going to miss those four-hour-long meetings with Kelly. I got to look at, touch, and talk about beautiful things," she says.
In the guest bath, the walls and vanity top are pink onyx, the sink, by Bates and Bates, and fittings, by Waterworks, are brass, the vintage sconces are French, and the shower stall is custom made.