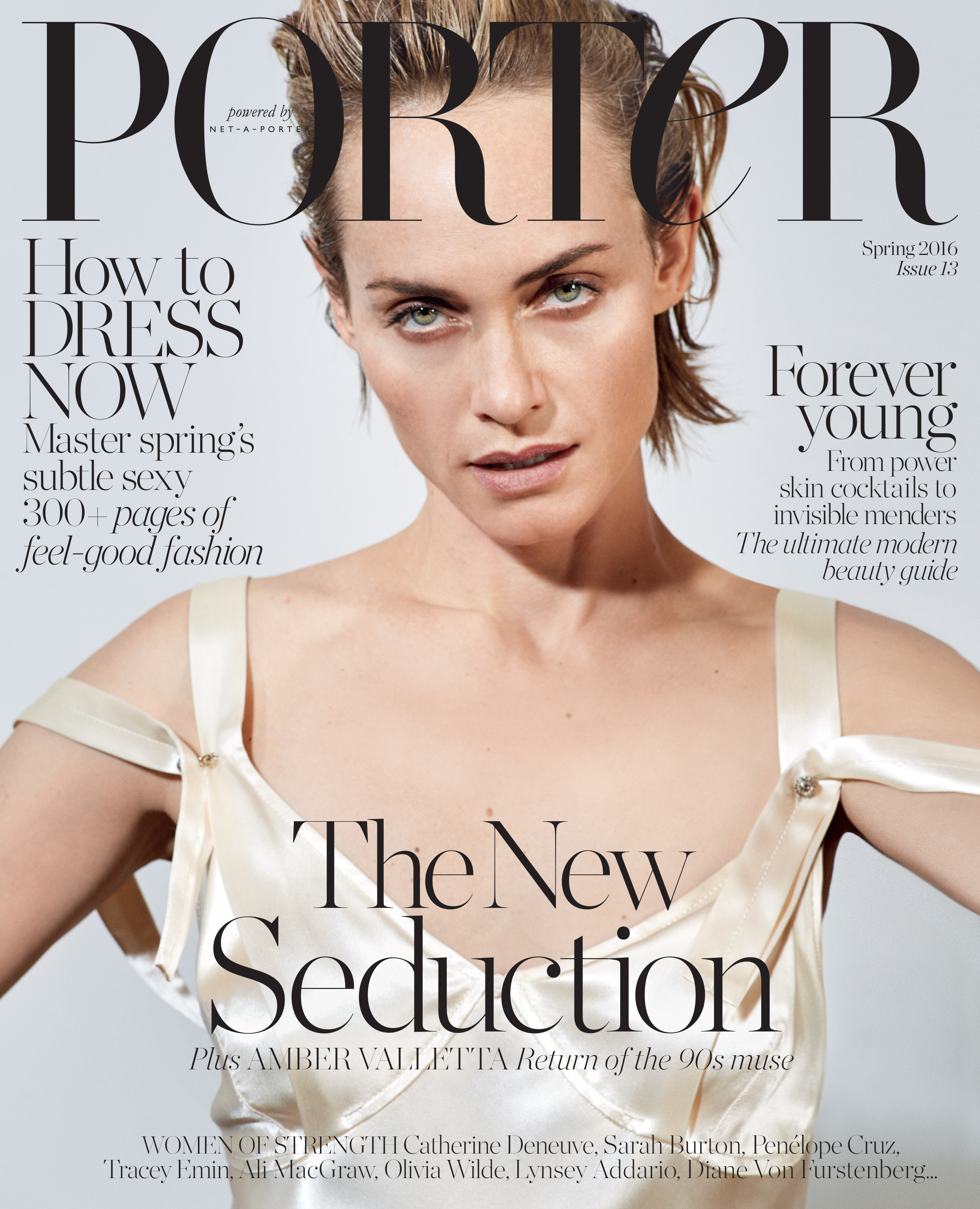 Iconic 1990s supermodel and actress Amber Valletta gazes out intensely from the cover of PORTER's all-women photography issue in a sensual shot by avant-garde American female artist and photographer Collier Schorr.
In a nod to 1990s minimalism, Valletta reprises her role as queen of the slip dress in a simple Calvin Klein piece for the cover of PORTER's New Seduction issue – on sale February 5.
As part of its cover story, Valletta talks to PORTER about the resurgence of 1990s fashion, the future of the fashion industry, recovering from drug addiction, her success as an actress, her work as an environmental campaigner and why working with female photographers makes her feel "safe".
PORTER's Editor-in-Cheif Lucy Yeomans says: "I have long admired the work of talented female artists and photographers such as Collier Schorr, Nan Goldin, Lynsey Addario, Pamela Hanson and Sam Taylor-Johnson, to name just a few of the women who have contributed to this issue, and it is a huge privilege to be championing their talents in the latest issue of PORTER. It is time fashion magazines celebrated the female point of view, not to mention the breadth and richness of talent working in the fashion industry today, and our theme also perfectly embodies all that PORTER stands for – female power, individual style, confidence, strength, sensuality and charisma."
PORTER's Art Director, Rebecca Mason says: "With seduction being the theme of our issue, I began to think about how it is so often represented in fashion magazines through male photographers and their vision of women. This brought me to the idea of how fascinating it would be for female photographers to shoot all the features and fashion and to witness what seduces them. What we have is a mood that is more honest and more intimate."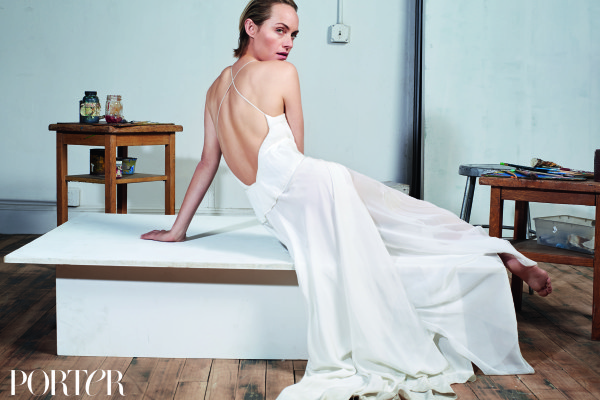 Amber Valletta on the rise of social media
"There was no social media [in the 1990s]. There weren't even cell phones! We know so much today. To be honest, I think a little mystery would be nice. I don't want to see that you went to the dentist and got your teeth cleaned, that you're drunk falling over at a concert. We have to see every frickin' bloody detail of a shoot now. I just don't want to see everything."
On recovering from addiction:
"Everybody finds their way, whether it's through AA, or meditation, or abstinence. For me, it was finding something that's spiritually based. I'm always asking the questions, 'What's my part? How can I make the situation better? How can I be of service? That's the beauty of what I've gotten from the work I've done – the 12 steps and stuff. It's really about continually looking at your part in things. To me, that's more interesting, cultivating my inner life."
On how having a teenager has given her a new perspective on her mom's decision to let her leave home at the same age her son is now.
"I'm like, "What was she thinking?" I think she was really naive. We were naive, both of us. We were all naive. Everybody's constantly growing. It's just whether or not you're  observing it or not, you know? In your twenties you can learn a lot and you can be very smart and clever and savvy. Especially these kids today. They seem like they have it all together. But let's talk to them again when they're 40 years old and see really who they are. Is it who they thought they were at 25? I feel so much more aware of who I am today as a woman since I turned 40. I don't know, it's kind of like the light bulb clicks on and you're like, "Okay, who I used to be is sort of behind me. Who do I want to be and how do I want to live for the next 20 good years?"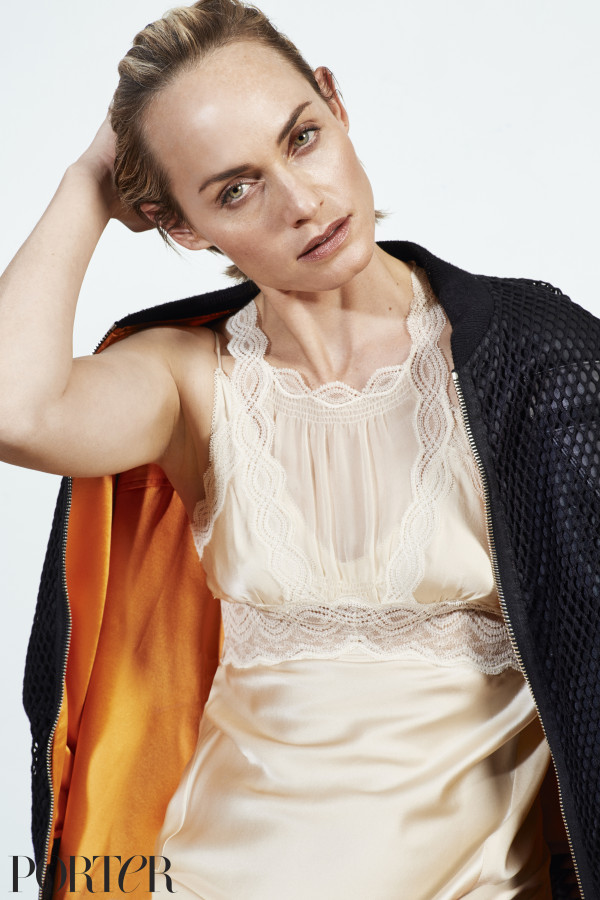 On diversity and gender equality in the fashion industry and beyond:
"Fashion has come a long way to embrace different body shapes, ethnicities, even looks. I find it an exciting time culturally for these reasons. Women are really coming into their own. When we look back on this time, we are going to see a real shift … in equality, in pay structure, in running companies, in coding. Maybe even in the presidency. Hopefully."
On the revival of 1990s fashion:
"I love the slip dress and I love 1990s fashion. It's cool and it's fun to see those things back on the street. What made it stand out then was that it hasn't been seen in a while. It was so minimalistic – more minimalistic than it is today, even. But fashion always references itself."
On the future of ethical fashion:
"We have not progressed in how we make clothing, or in how we treat people who make it, or the planet … We are one of the most innovative, creative, powerful businesses in the world, and we have the potential to make a major change. To me, that's exciting. Fashion thrives on creativity, and all we need is ingenuity and innovation to make major shifts. It's wonderful and fun to play and express ourselves in clothing, but not at the price of another person or the planet we live on. Then it stops being fun and feels exploitative. Fashion should be empowering. It's a complicated problem, but it's exciting and interesting. It makes my brain turn, to try to find solutions. I'm talking about incremental changes, like using 3-D printers to produce less, or looking at new technologies that separate fibbers so we can reuse them to make new things, instead of tossing it all into landfill. It's just modern capitalism. It's not about tree-hugging. It's about innovation and collaboration."
To see the full interview with Amber Valletta and find out more about PORTER's all- female photography issue, buy the latest issue of PORTER, on sale February 5, available in both print and digital and on Apple iPhone.